Lakeport Plantation, Arkansas State University Delta Heritage Initiative
Introduction
Lakeport Plantation is the largest remaining antebellum mansion in this part of Arkansas and an example of Greek Revival architecture. Founded in 1831 by Joel Johnson and later owned by his son, this plantation prospered owing to the labor of the enslaved women and men whose histories are recorded only in the ledgers of tax records and bills of sale. At the war's end, Lycurgus was home to sharecroppers who continued to labor with little chance of acquiring wealth. The current plantation manor was built in 1859 and was added to the National Register of Historic Places in November of 1974. Today, Arkansas State University operates the home as a museum and educational center. As a result, this plantation is unique from others that serve as wedding venues and tourist destinations on its emphasis on including the stories of the slaves and sharecroppers who lived and worked around the manor house for generations.
Images
In 1831, Joel Johnson moved from Kentucky to Chicot County, Arkansas, where he founded the Lakeport Plantation.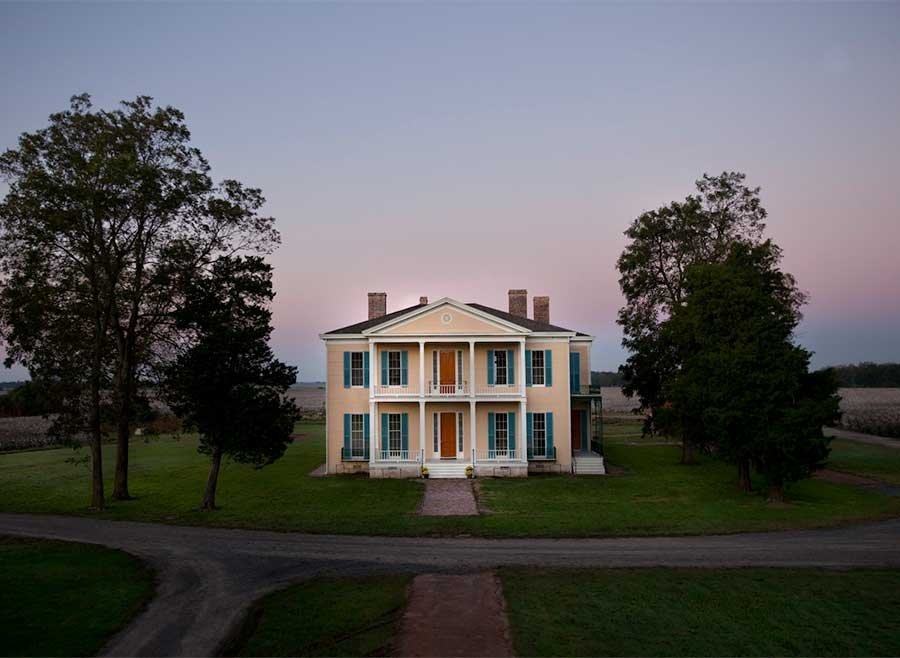 Joel Johnson's oldest son, Lycurgus, built a house on the plantation in 1859. While Lycurgus lost wealth during the Civil War just as many other planters, he was able to recover and the plantation continued to thrive in post-Civil War Arkansas.
The Lakeport Planation house was added to the National Register of Historic Places in November 1974. Today, it is operated as a museum and educational center by Arkansas State University.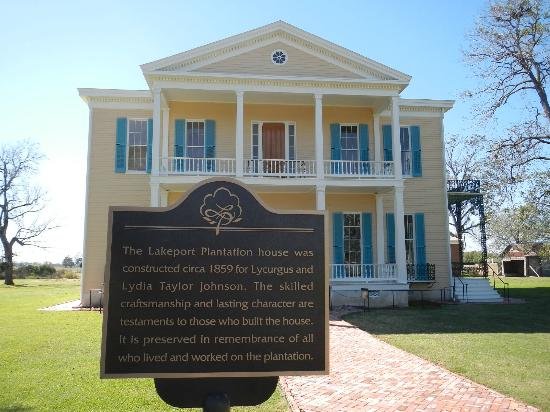 Backstory and Context
Lakeport Plantation was originally established in 1831 by Joel Johnson, the descendant of an influential family in Kentucky. After selling his home and grist mill in Kentucky, he traveled to Chicot County, Arkansas, where he purchased land near Lake Chicot. He named his plantation Lakeport in response to a local steamboat landing. Over the following 15 years, Johnson broadened his land assets and increased the number of slaves who cultivated the land. When Joel died in 1846, he possessed over 3,700 acres of fruitful land and 95 slaves. Portions of his property were given to his 6 children, the oldest of which, Lycurgus Johnson, was given the biggest portion.
Lycurgus Johnson moved to Arkansas to be with his father in the mid-1830s and bought land south of Joel's plantation holdings. Lycurgus married Lydia Taylor in 1842 and the couple had twelve children. During the 1840s and 1850s, the wealth of the county's planters grew and declined in relation to the price of cotton. In 1856, cotton prices were the best they had been since 1838 leading to an immense profit for families that owned many enslaved laborers.
By 1860, Lycurgus possessed more than 4,400 acres and 155 slaves. the year before, Johnson started building the current plantation house which features the Greek Revival style and had two stories. the manor utilizes a L-shaped design that included 17 rooms and about 8,000 square feet. The manor was built from local cypress and was planted along the cotton fields and looks at the river. The home was an example of Arkansas's "cotton aristocracy."
During the Civil War, Chicot County suffered severely as partisan bands scouted the countryside, confiscating or simply stealing items of value from people living nearby. During 1863 and 1864, Union troops confiscated mules, horses, and cattle. Guerrilla warfare plagued the area and rich planters such as Lycurgus faced ruin until the system of sharecropping allowed him to once again be the beneficiary of the labor of others.
Emancipation resulted in the loss of an estimated $100,000, but Lycurgus Johnson was able to recover financially and live comfortably while most small farmers never recovered their modest wealth. Many of his former slaves became sharecroppers and in 1870, 600 bales of cotton were produced at Lakeport making Johnson the largest cotton planter in the area. At the same time, this represented a significant decline from the 1,300 bales Lakeport produced in 1860.
Lycurgus Johnson passed away on August 1, 1876. Lakeport stayed in the family's possession until Lycurgus's son, Victor, sold it in 1927 to Sam Epstein for $30,000. Epstein was a Jewish man from Russia who moved to the United States for better opportunities in the area. Epstein sold clothes and eventually created a small store and became one of the area's most esteemed residents. When Epstein died in 1944, Ben Angel, his son-in-law, became the trustee of the property and continued Epstein's work in civic service.
The house was placed on the National Register of Historic Places in November 1974, and in 2001, Sam Angel, Ben Angel's son, gave the Lakeport home to Arkansas State University. The Delta Heritage Initiative program at ASU launched a huge restoration of the home and opened as a museum and educational center on September 29, 2007.
Sources
"Lakeport Plantation." The Encyclopedia of Arkansas History and Culture. Accessed on March 26, 2018. www.encyclopediaofarkansas.net/encyclopedia/entry-detail.aspx?entryID=1117
"Lakeport Plantation." Accessed on March 26, 2018. http://lakeport.astate.edu/

Additional Information