T.R.R. Cobb House
Introduction
The T.R.R. Cobb House looks at different ways to present 19th-century Southern History. Whether through changing exhibits, or period furnishings, the Museum seeks to tell the story of what it was like to live in the mid-19th century in Georgia for T.R.R. Cobb and those around him. In doing so we seek out the most up to date, credible research to support that story and present it as part of our shared history. The T.R.R. Cobb House is divided into two basic exhibition spaces. The Main Floor is set up as it might have looked during the period of 1852-1862 and is furnished with original pieces from the Cobb and related families. The Upper Floor is of a more contemporary nature, with changing exhibits and display cases housing objects, documents, and ephemera on particular topics. From Cobb's Legion artifacts to copies of speeches by T.R.R. or Howell, these exhibits will attempt to tell another part of the story.
Images
The House at it looks as of 2018, now located at 175 Hill St.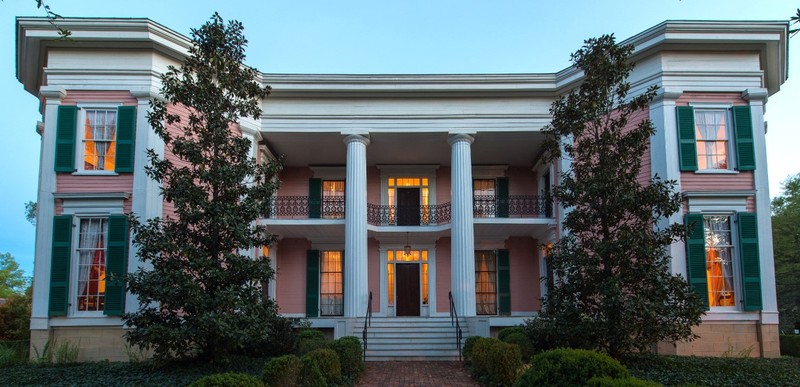 Front of the House as it appeared in 1975 at its original site at 194 Prince Avenue, Athens, Clarke County, GA.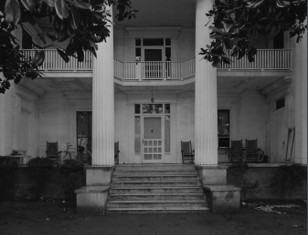 The House as it appeared in 1940 when it was in use as a fraternity house. Photograph was taken by Thomas T. Waterman.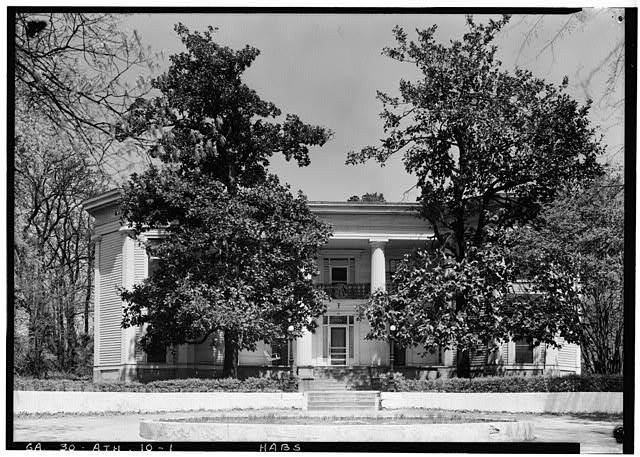 T.R.R. Cobb House around 1900 in use as a Fraternity House for Phi Delta Theta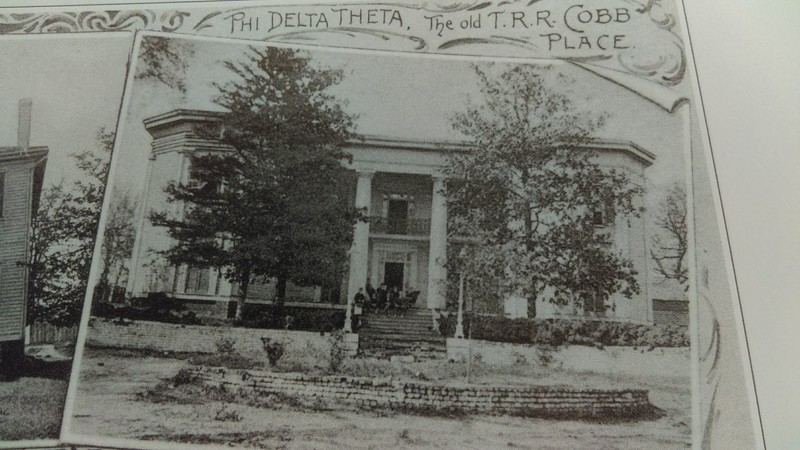 Backstory and Context
Thomas Reade Rootes Cobb was a UGA graduate, a lawyer, a co-founder of UGA's school of law, a slave owner, a Confederate General, and principal author of the Confederate Constitution. T.R.R. Cobb House is believed to have been built by Charles McKinley (is anything known about him?), the original part of the house was a four over four "Plantation Plain" built about 1834. The house was a wedding gift in 1844 from Joseph Henry Lumpkin, the first Chief Justice of the Georgia Supreme Court, to his daughter Marion and T.R.R. Cobb.
With success at the bar, T.R.R. Cobb grew in influence and wealth. In the late 1840s, Cobb enlarged his relatively modest home to include additional rooms. By 1852, he added the signature octagonal wings and an imposing two-story portico with Doric columnns, an aesthetic development consistent with the construction of other stately Greek Revival mansions that defined the architecture of antebellum Athens.
Following Cobb's death in 1862, Marion continued to live in the house until 1873 when it was sold. The house was next used as rental property, two separate fraternity's houses, and a boarding house until purchased in 1962 by the Archdiocese of Atlanta for the use of St. Joseph's Catholic Church. The House was added to the National Register of Historic Places in 1975, but by the 1980s, the house was threatened with demolition when St. Joseph's began pursuing expansion plans. Stone Mountain Memorial Association stepped forward in 1984, bought the house, and moved the structure to Stone Mountain Memorial Park near Atlanta the following year. The structure sat unrestored on cinder blocks for almost 20 years at Stone Mountain before the Watson-Brown Foundation purchased and restored the house at its new location on Hill Avenue in Athens, GA. Its new address is only about two blocks from its original site. Open to the public as a house museum, it is being restored to reflect the styles of 1852-1862 when Thomas Reade Rootes Cobb was at the peak of his short-lived career.
With the return of the T.R.R. Cobb House from Stone Mountain, Georgia, and the restoration and construction complete, the T.R.R. Cobb House is poised to serve a unique educational purpose for Athens and the surrounding region as a museum and resource center illuminating the life, character, and accomplishments of Thomas Reade Rootes Cobb, as well as aiding those interested in the history of the South during the 19th century. Tom Cobb's legacy and a vestige of our antebellum Southern History lives on in the T.R.R. Cobb House in Athens, Georgia. It is much more than merely a museum. It's a historic facility dedicated to historic conservation and conversation. The House was relisted on the National Register of Historic Places in July of 2013.
Recently, the museum has been making an effort to include the stories of those who were enslaved at the site. There is now a booklet located on the main floor near the elevators with information on individuals and families that were enslaved at the Cobb House. Plaques detailing more information about the lives of African-American life at the site are set to go up in late 2018.
Sources
"Our Story". 2018. T.R.R. Cobb House. Accessed March 20 2018. http://www.trrcobbhouse.org/.

"T.R.R. Cobb House Asset Detail". 1975. Npgallery.Nps.Gov. Accessed March 20 2018. https://npgallery.nps.gov/NRHP/AssetDetail?assetID=fa5420aa-ccf8-4f0f-b64d-e8cc19e8c06e.

Nash, Steven, and Matthew Bailey. "Thomas R. R. Cobb (1823-1862)." New Georgia Encyclopedia. 09 December 2013. Web. 10 March 2018.

Historic American Buildings Survey Thos. T. Waterman, Photographer 1940 GENERAL VIEW - T. R. R. Cobb House, 194 Prince Avenue, Athens, Clarke County, GA ". 2018. Loc.Gov. Accessed March 22 2018. http://www.loc.gov/pictures/collection/

Hajos. Souvenir of Athens Photo-Gravures Centennial Edition. Athens, GA. Reade Printer, 2000.


Additional Information