Fonthill Castle
Introduction
Designed and constructed by archaeologist, tile maker, curator, and collector, Henry Chapman Mercer, Fonthill is truly an American castle. Mercer's home, designed without blueprints, was constructed from 1908-1912. Mercer utilized the relatively new method, for the time, of poured-in-place concrete to construct his 44-room, 19,000 square-foot mansion. Mercer lived at Fonthill from 1910 until his death in 1930. It is now maintained and operated by the Bucks County Historical Society and is open to the public as a period museum. Along with Mercer's Moravian Pottery and Tile Works and the Mercer Museum, Fonthill is part of what has come to be known as the "Mercer Mile." Fonthill has been designated a National Historic Landmark and was added to the National Register of Historic Places in 1972.
Images
The unique architectural style of Fonthill is quite evident from this photo.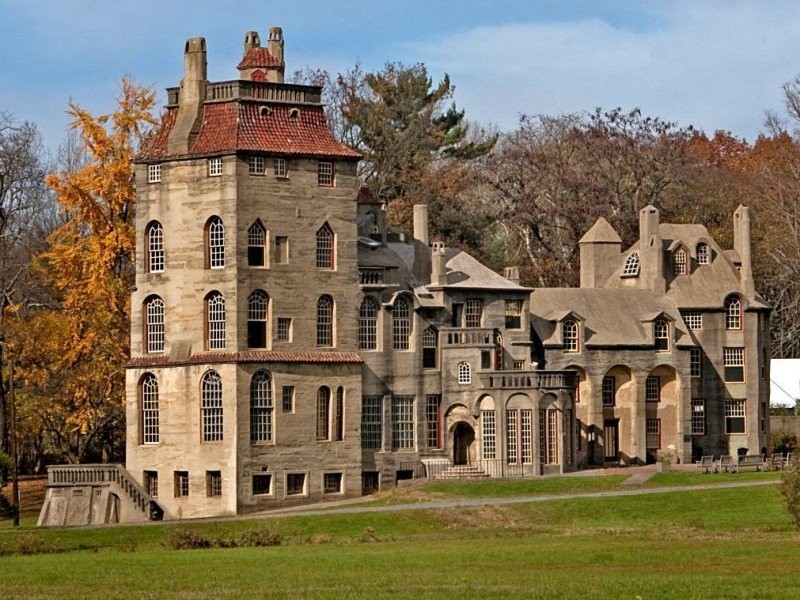 A trio of massive windows within the castle...three of more than 200.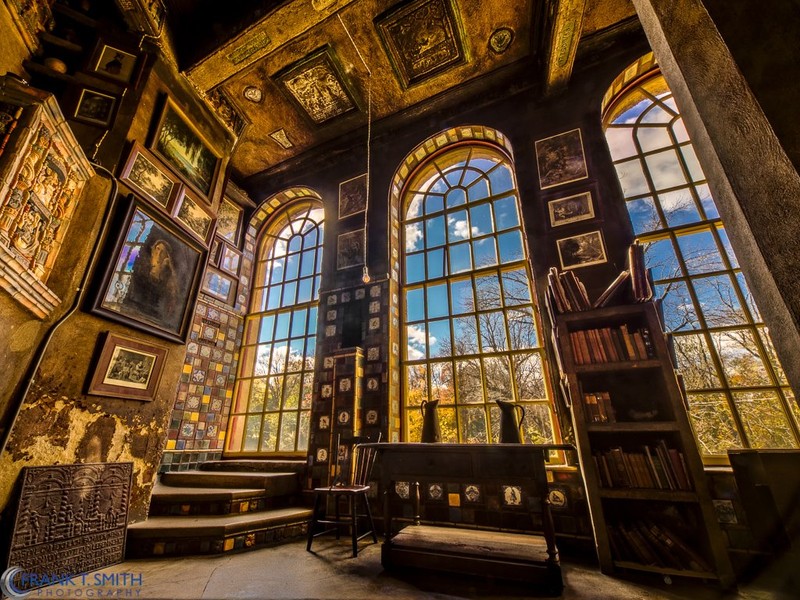 Henry Chapman Mercer's bedroom, where he passed away in 1930.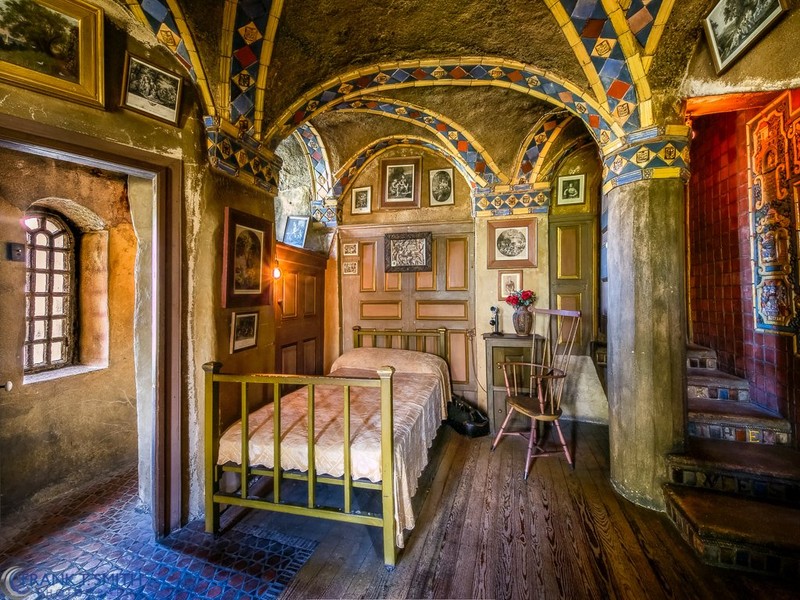 A mosaic tile ceiling within Fonthill.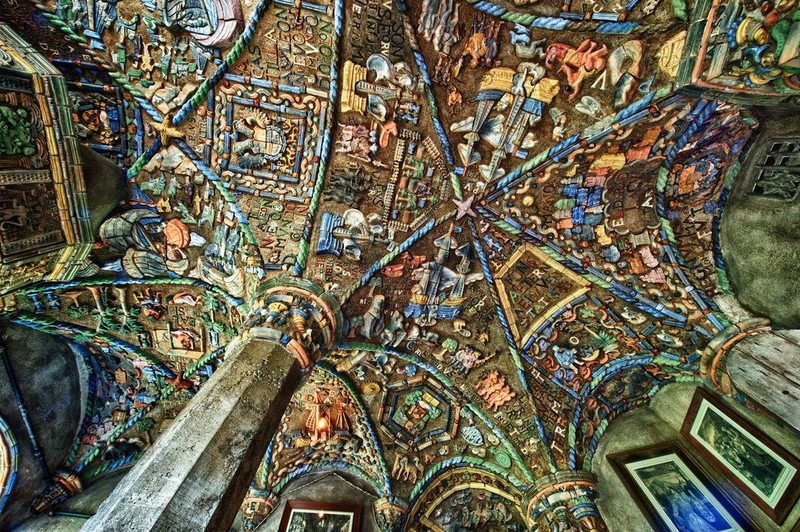 Fonthill looking rather ominous at night.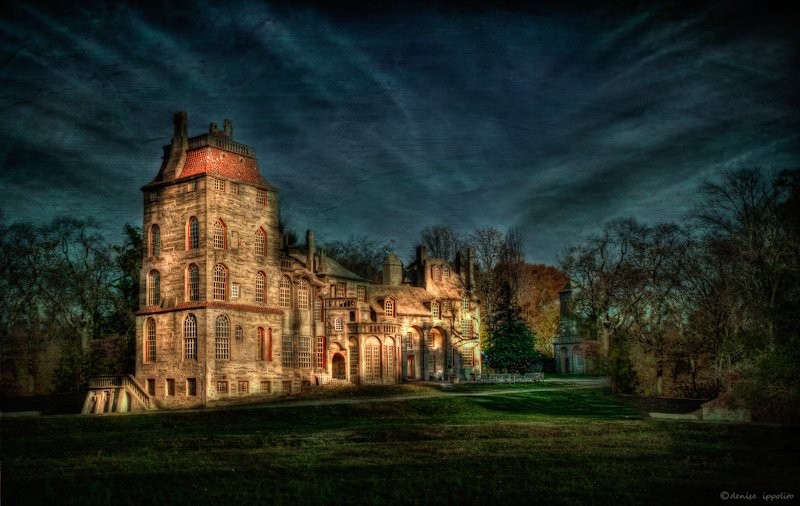 Backstory and Context
The Harvard educated Henry Mercer was born in Doylestown in 1856, the son of a local judge. He traveled extensively through Europe and developed an interest in archaeology and ceramics, especially of the German variety. Back home in America, he began to collect American historical artifacts, focusing on early American tools. He served as curator of American and Prehistoric Archaeology at the University of Pennsylvania Museum in the early 1890s and was a founding member of the Bucks County Historical Society. He also apprenticed himself to a German potter and eventually opened his Moravian Pottery and Tile Works in 1898. As the 20th century arrived, Mercer sought to create a home and showplace for both his hand-crafted tiles and historical artifacts. Thus, Fonthill was born.
Mercer, along with ten workers and one horse, spent four years building Fonthill with no formal engineering or architectural training. The result was an ecclectic mix of Medieval, Gothic and Byzantine architectural styles. The poured concrete mansion houses over 200 windows of various shapes and sizes, 18 fireplaces, 21 chimneys, 32 stairways, 10 bathrooms, several turrets and numerous balconies.
As intriguing as the exterior is, the interior is more so for Mercer covered the walls and ceilings with his beloved tiles, some made at his tile works and some archaeological tiles he collected from across the globe to include cuneiform tablets from Mesopotamia, dated from 2300 BCE. There are also ceramics from Europe, Asia, North Africa and the Middle East embedded within the home. Mercer also incorporated built-in furniture, a saloon (which is the largest room in Fonthill and was his primary room for entertaining), and a library that houses over 6,000 works, some annotated and authored by Mercer himself.
Mercer died at Fonthill in 1930 and granted life rights to the mansion to his housekeeper and her husband, Laura and Frank Swain. They resided at the mansion, giving occasional tours, until Laura passed in 1975. The Trustees of the Mercer Fonthill Museum then opened the home as a period museum in 1976. They contracted with the Bucks County Historical Society to operate and maintain Fonthill and the society was appointed permanent trustees in 1990. The Historical Society now offers guided tours and Fonthill hosts a variety of special events from a Kite Day, Earth Day celebrations, a Beer Fest, old-fashioned Fourth of July celebrations and escape rooms throughout the year.
Sources
Null, Druscilla. "Historic American Buildings Survey: Fonthill." Library of Congress. June, 1984. Accessed March 13, 2018. https://cdn.loc.gov/master/pnp/habshaer/pa/pa0200/pa0217/data/pa0217data.pdf
"Fonthill Castle: About." Mercer Museum and Fonthill Castle. Accessed March 13, 2018. https://www.mercermuseum.org/visit/fonthill-castle/about/
Piccirilli, Amanda. "Fonthill Castle celebrates 100th anniversary." The Reporter News. February 12, 2012. Accessed March 13, 2018. http://www.thereporteronline.com/article/RO/20120212/NEWS01/120219942
Cheney, Jim. "Visiting Fonthill Castle: One of Pennsylvania's most Awe-inspiring Buildings." Uncovering PA. February 18, 2012. Accessed March 13, 2018. https://uncoveringpa.com/visiting-fonthill-castle
Additional Information