Liberty Hall Historic Site
Introduction
Liberty Hall Museum opened in 1937 and became a U.S. National Historic Landmark in 1971. Located in downtown Frankfort, Liberty Hall Historic Site was the home of the Brown family, one of Kentucky's most notable families. From 1796-1797, American Statesman John Brown began construction of Liberty Hall after purchasing four lots in Frankfort. Thomas Jefferson helped Brown with the home's design. Four generations of Browns lived at the five-acre site for more than 150 years. The site contains formal and informal gardens and two homes: Liberty Hall (1796) and the adjacent Orlando Brown House (1835).
Images
Liberty Hall, Main & Wilkinson Streets, Frankfort (Franklin County, Kentucky). Image courtesy the federal HABS—Historic American Buildings Survey of Kentucky project, photo by William Gus Johnson.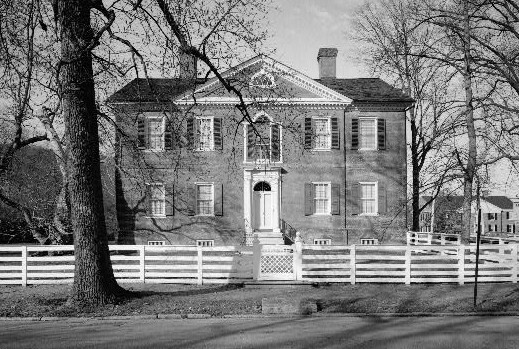 Liberty Hall Historic Site: Historical Marker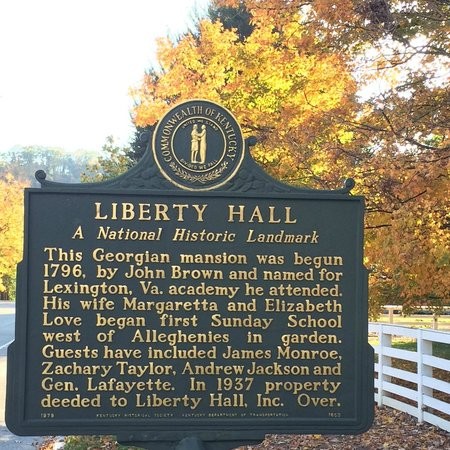 Liberty Hall in the spring, wide angle view, 2014. Credit: TripAdvisor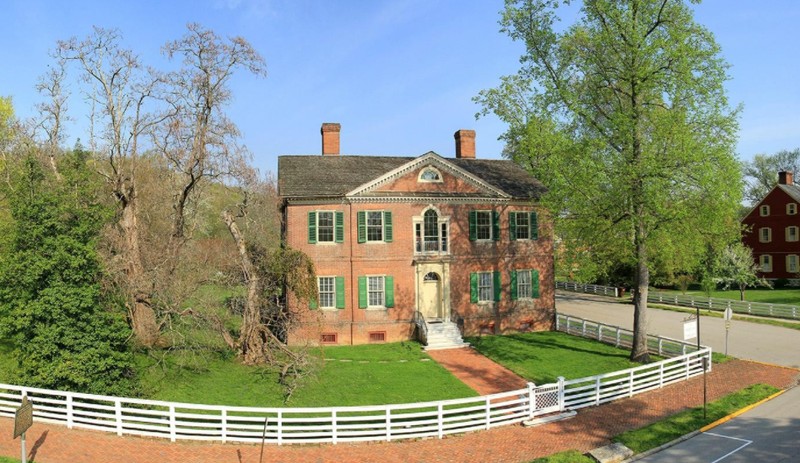 The Moth Garden, part of the gardens at Liberty Hall. Credit: TripAdvisor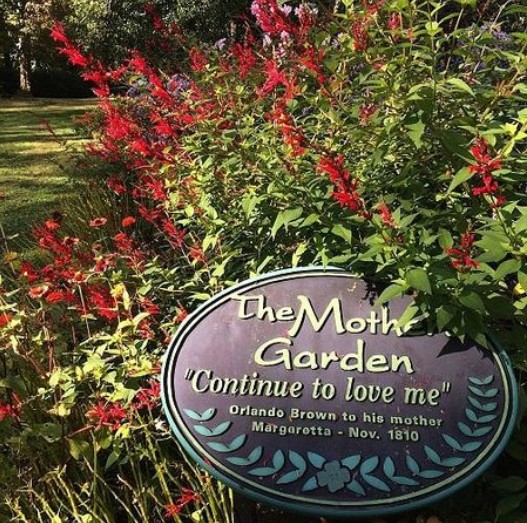 Backstory and Context
Liberty Hall was named after Liberty Hall Academy, the school John Brown's father, Reverend John Brown, oversaw in Virginia. It later became Washington and Lee University in Lexington, Virginia. Liberty Hall Historic Site is a private museum owned by Liberty Hall, Inc. and the National Society of the Colonial Dames of America in the Commonwealth of Kentucky.
John Brown, the patriarch of the family, was from Virginia where he had studied law with Thomas Jefferson. In 1783, he settled in Danville and established a law office. By 1784, Brown was representing Kentucky in the Virginia Legislature. He was also a member of the Continental Congress and represented Kentucky in Congress beginning in 1789 and during that time, he presented a petition to Congress to separate the county of Kentucky from the state of Virginia. In June 1792, Kentucky became the fifteenth state, largely due to Brown's efforts. Brown served as one of the first U.S. senators from Kentucky and served from 1792-1805.
In 1799, John Brown married Margaretta Mason of New York. The Brown family moved into Liberty Hall and the home became a center of hospitality in Frankfort from 1801 to 1835. John Brown is elected president pro tempore (for the first time) and presides over the Senate's ratification of the Louisiana Purchase in 1803. After losing re-election to the Senate, John Brown retires from national politics in 1804. He returned home to Liberty Hall and helps found the Frankfort Water Company. In 1818, Margaretta Van Wyck Varick, Margaretta Brown's aunt, comes to visit and dies soon after arrival. The Gray Lady ghost said to haunt Liberty Hall is presumed to be her spirit.
The house remained in the Brown family until 1955. Over the years certain minor changes were made to the building by the Brown family. The attic stairs were altered in 1833; a bathroom was constructed on the ground floor by enclosing one end of the back porch in 1837. A cornice was added to the present dining room in 1884 and the space under the windows in the two front parlors were decorated with simple panels in 1908 and 1918.
Today, Liberty Hall and the adjacent Orlando Brown House are operated as a historic house museums and historic sites. They are open to the public for tours from March to December. The sites also host several special events throughout the year. Liberty Hall Historic Site serves as a learning center that engages the public in exploring the history, politics, social and cultural life of early Kentucky through the homes, gardens, documents, and artifacts of John Brown and his family.
Sources
Hesseldenz, Kat. Liberty Hall Historic Site. Explore Kentucky History. Accessed March 11, 2018. http://explorekyhistory.ky.gov/items/show/195.
Mission. Liberty Hall Historic Site. . Accessed March 11, 2018. https://www.libertyhall.org/about/mission. 
National Register of Historic Places Inventory - Nomination Form. United State Department of the Interior National Park Service. Accessed March 11, 2018. https://npgallery.nps.gov/pdfhost/docs/NRHP/Text/71000344.pdf. 
Site History. Liberty Hall Historic Site. Accessed March 11, 2018. https://www.libertyhall.org/about/site-history.
Additional Information