McClean County Museum of History
Introduction
This local and state history museum is operated by the McLean County Historical Society. Established in 1892, the Society offers a variety of educational programs, a research library, and this museum with five permanent exhibits and two galleries for special exhibits. Together, the museum's collection includes nearly 20,000 artifacts and books.
Images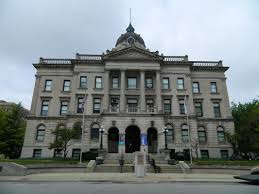 Backstory and Context
The museum square is the site of three previous courthouses. The first county courthouse was built in 1831 out of whipsawn cherry and black walnut. In expectation of an economic boom, a new two-story Federal-style courthouse was constructed in 1836. This courthouse served Abraham Lincoln and other attorneys of the Eighth Judicial Circuit. It also was used by religious groups and it housed the county's first newspaper. Alfred Piquenard designed the third courthouse in 1868 in the Italian Renaissance style. On June 19, 1900, a fire in downtown Bloomington destroyed four and a half square blocks and caused major damage to the structure. The Peoria, IL firm Reeves and Baile were commissioned to design and rebuild the courthouse. Reeves designed the new courthouse in the American Renaissance style, which was completed in 1903. The building served as the county courthouse until 1976 when the courts moved to an up-to-date facility. The courthouse continued to be used for administrative purposes until 1988, and then was converted into a museum.[3]
In 2002, the dome and its base were restored. The original copper decorative elements were salvaged and reused, and the limestone drum stone was repaired. The c. 1957 clock mechanism was replaced, and in 2004 the bell, from the 1868 courthouse rung for the first time in nearly half a century
Additional Information