Red Bank Battlefield, African American Soldiers Monument
Introduction
This historical marker commemorates African American soldiers who were part of a diverse regiment of Revolutionary War soldiers led by Rhode Island's Colonel Christopher Greene. The marker specifically mentions Prince Bent and Dick Potter, two of the men who fought against Hessian soldiers employed by Great Britain at this location. Prince Bent was born in Africa and was a former slave while Dick Potter was born free. Rhode Island explicitly authorized the recruitment of African American soldiers in 1778, but men like Potter and Brent were already serving prior to this time and saw action here at the Battle of Red Bank on October, 22, 1777.
Images
This marker in Freedom Park commemorates Black soldiers who fought with Colonel Greene.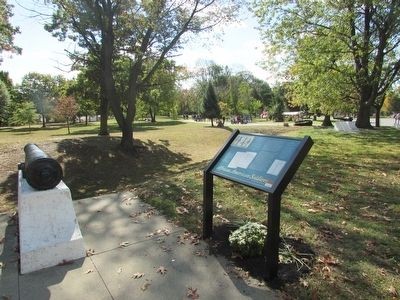 Historical reenactors depict the diversity of the First Rhode Island Regiment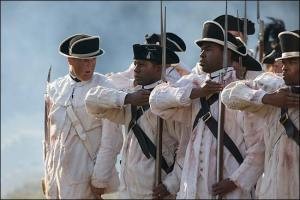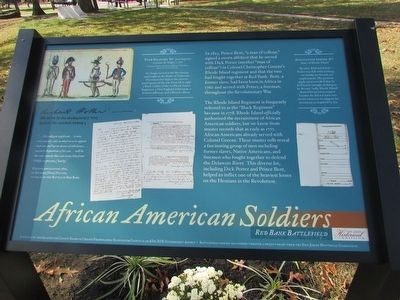 Backstory and Context
The American rebel force's victory in this battle was made possible by Native American and African American soldiers and sailors who served alongside with colonists of European origin. Greene's Rhode Island Regiment would later be known as the "Black Regiment" because of the presence of numerous African American soldiers. In 1778, Rhode Island began the explicit recruitment of soldiers of African descent but muster records reveal that African Americans and Native Americans were already serving with Colonel Greene.
Sources
African American Soldiers Red Bank Battlefield. www.hmdb.org. October 08, 2015. https://www.hmdb.org/marker.asp?marker=89764.

Schenawolf, Harry. African American Soldiers and the Revolutionary War Victory at Red Bank. www.revolutionarywarjournal.com. July 15, 2016. http://www.revolutionarywarjournal.com/african-americans-at-red-bank/.

Monuments to the United States Colored Troops (USCT) [African American Civil War Soldiers]: The List. jubiloemancipationcentury.wordpress.com. May 30, 2011. https://jubiloemancipationcentury.wordpress.com/2011/05/30/monuments-to-the-united-states-colored-troops-usct-the-list/.


Additional Information