Battle of Atkeson's Gate (1862) Historical Marker
Introduction
Dedicated in 2016, this marker commemorates the Battle of Atkeson's Gate on September 27th, 1862. Although this was a small skirmish in a much larger war, the battle saw the actions of an untested Colonel from the Union Army overtake and route Confederate raiders led by the infamous Albert Gallatin Jenkins. Ohio men led by Colonel John Turley lacked the resources to exploit their momentum and both sides withdrew. The small battle was a harbinger of things to come and Jenkins was forced to move quickly to execute his raids in the next two years.
Images
Historical Marker for the Battle of Atkeson's Gate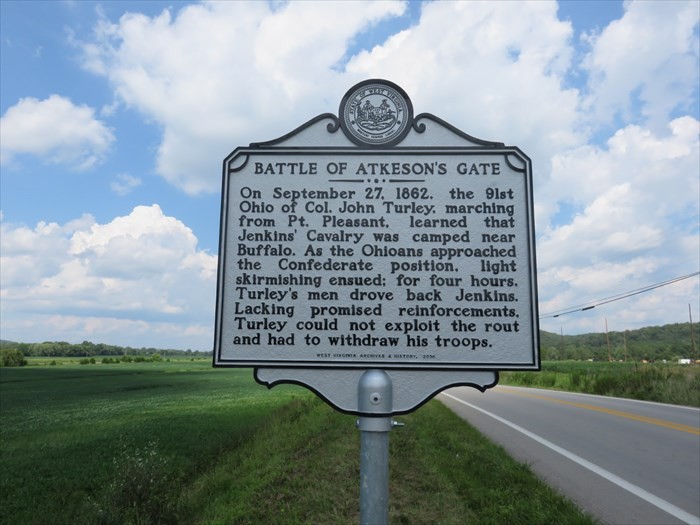 Brigadier General Albert Jenkins of Cabell County, WV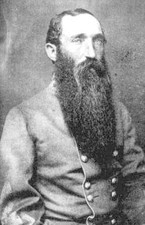 Backstory and Context
The "battle" might better be described as a series of maneuvers and skirmishes as the two forces met along the Kanawha River near Robertsburg, West Virginia. On the day of the battle, Colonel John Turley who had been in Point Pleasant, West Virginia discovered that Jenkins and his Cavalry were not too far away in nearby Buffalo, West Virginia. The two forces met, and fighting ensued for just a few hours. Turley was able to push back Jenkins, but was unable to hold on for the complete victory, and ultimately had to withdraw his troops.
The battle was a tiny mark on the overall Civil War landscape. General Albert Jenkins died two years after the Battle of Atkeson's Gate after raiding communities that were loyal to the Union throughout West Virginia, Ohio, and Pennsylvania. Most notably to modern audiences, men under Jenkins' command committed wartime atrocities such as the capture of free people of color who were then sold into slavery. Jenkins was replaced by John Carlile after being killed in 1864.
Jenkins began his career as a Colonel with victories early on at the Battle of Scary Creek in 1861. He was later promoted to Brigadier General and his raiders trained at the Jenkins Plantation located off of Route 2 in Cabell County, just north of Huntington, West Virginia. After the victory at Scary Creek, Jenkins and his men wreaked havoc upon Unionists and won a string of small victories between his raids that allowed his force to remain at large for most of the war. While Jenkins was effective as a raider, he failed to execute orders to guard the flank of Confederate General Richard Ewell's army at Gettysburg. This forced Ewell to redirect two infantry brigades to take the position when Jenkins and his men failed to arrive on time. Jenkins' men also lacked the adequate firepower needed to be effective at Gettysburg as they had failed to preserve ammunition and Jenkins himself was wounded in the battle.
The fact that Union Colonel Turley came across Jenkins was not an accident. Turley, along with several other members of the 91st Infantry were assigned to keep a watch over Jenkins. They were first sent to Guyandotte, West Virginia, just a few miles south of the Jenkins Plantation. While in search of Jenkins, they captured a Confederate Camp near Buffalo, West Virginia although they arrived after the men at the camp had already escaped.
Sources
http://www.waymarking.com/waymarks/WMWE6R_Battle_of_Atkesons_GateMartin, Duke. Battle Of Atkeson's Gate. Waymarking. August 22, 2017. Accessed March 02, 2018. http://www.waymarking.com/waymarks/WMWE6R_Battle_of_Atkesons_Gate.


Battle Of Gettysburg. Gettysburg Stone Sentinels. http://gettysburg.stonesentinels.com/Confederate-headquarters/jenkins-cavalry-brigade/.

Miller, John A. A Short History of Jenkin's Brigade During the Gettysburg Campaign. Emmitsburg.net. Accessed March 02, 2018. http://www.emmitsburg.net/archive_list/articles/history/civil_war/jenkins_brigade.htm.



Google Books. Accessed March 02, 2018. https://books.google.com/books?id=KFNLAAAAYAAJ&pg=PA412&lpg=PA412&dq=colonel+john+turley+union+army&....




Additional Information