Christopher H. Payne Historical Marker
Introduction
Dedicated in 2003 by the West Virginia Division of Archives and History, this marker honors the state's first African American legislator. Christopher Harrison Payne was born free according to the research of West Virginia University historian Connie Park Rice and others. He was later forced into servitude by the Confederate Army. While the text on this marker does well to relate Payne's significance, it states that Payne was born into slavery and became a "servant" for the Confederate Army. Payne is best known as the editor of three newspapers and for becoming the first African American in the West Virginia State legislature in 1888. In 1896, Payne was elected to represent Fayette County in the legislature. A long-time member of the Republican Party, Payne was appointed to several positions in the federal government after serving as a minister in Huntington and other West Virginia cities.
Images
This historical marker asserts that Payne was born into slavery, although research suggests he was born free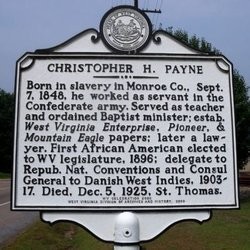 West Virginia Enterprise periodical newspaper publication from September 12, 1885.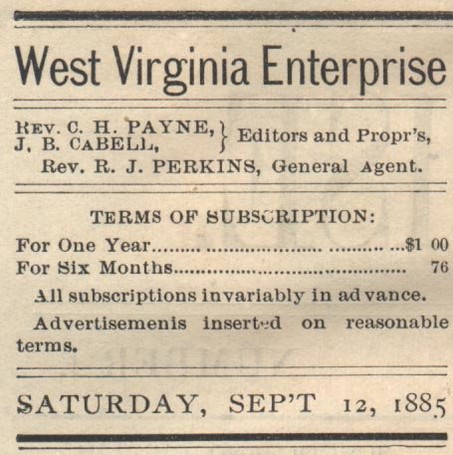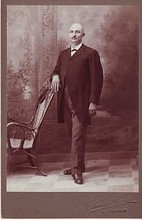 Backstory and Context
Sources place Christopher Harrison Payne's birth on either September 7, 1845, or September 7, 1848.4 Payne was born free near Red Sulphur Springs in what is now Monroe County, West Virginia. Payne was an only child and his father succumbed to small pox2 while he was two years old, leaving only his mother and elderly grandmother to raise him.7 His mother had been enslaved and was educated on a rudimentary level by the man who owned her prior to the end of slavery. Those who have studied her life believe that her owner was likely also her biological father, partly due to her fair skin and also owing to the closeness of the relationship that differed from other enslaved persons in her youth.
Though he was born free and well-read, opportunities were limited for an African American boy like Payne who lacked the support and protection of a father, In addition, Payne was forced into servitude under the Confederate Army until 1864.5 He was then employed as a farmhand by Vincent Swinny near Summers County, West Virginia until the end of the war. While employed under Swinny, he met and married his wife, Ann Hargo.2 After the war, Payne traveled to Charleston, West Virginia, where he continued to work and attend night classes. As a result, he was among the first individuals of color to become certified to teach public school. Payne went on to teach in Monroe, Mercer, and Summers counties.3
In 1877, Payne left West Virginia once more to continue his education at Richmond Theological Seminary, after becoming ordained by the Greenbrier Association in May of that year.2 He also attended the Richmond Institute and graduated in 1883.7 In 1884, Payne returned to West Virginia, where he pastored several Baptist churches in Hinton, Brushy Ridge, Union, Alderson, Ronceverte, Eagle, Mt. Carbon, Quinnimont, and Huntington.6 During this period in the ministry, Payne founded the West Virginia Enterprise in 1885.2 At the time, this was the only periodical newspaper published by persons of color in the state. It is also during 1884 that Payne was selected as an alternate to represent the Third Congressional District of West Virginia at the National Republican Convention.1 However, in 1888 he was chosen as the representative for the convention, making him the first African-American to represent West Virginia in such a convention.3
Keeping with this momentum, Payne garnered more influence in the affairs of the state. In 1889 he was appointed Deputy Collector of Internal Revenue for the state of West Virginia until 1893. It is during this time, in 1890 that he received an honorary Doctor of Divinity degree from the State University of Kentucky.2 He also aided Byrd Tillerman in persuading the legislature to establish the West Virginia Colored Institute, now known as West Virginia State University, in 1891.1 His accomplishments continued in 1896 when he became the first African-American to serve in the West Virginia House of Delegates and in 1903 when he was appointed by President Theodore Roosevelt as Consul General to the Danish West Indies.7 Payne died in the Danish West Indies Islands on December 5, 1925.6
Sources
1Miller, Erinie. Dr. Christopher Harrison Payne. July 28, 2015. Accessed March 01, 2018. https://www.findagrave.com/memorial/149915198#. 
2Pegues, Albert Witherspoon. Our Baptist Ministers and Schools. Springfield, MA. Willey & Company, 1892.
3Rice, Connie Park "Christopher H. Payne." e-WV: The West Virginia Encyclopedia. 08 December 2015. Web. 04 March 2018
4Staff, MSRC, "PAYNE, Christopher" (2015). Manuscript Division. 153. 
http://dh.howard.edu/finaid_manu/153
5West Virginia Encyclopedia. Sept. 7, 1848: West Virginia's First Black Legislator Born in Monroe County. WV Public Broadcasting. September 07, 2017. Accessed March 01, 2018. http://wvpublic.org/post/sept-7-1848-west-Virginias-first-Black-legislator-born-monroe-county#stream....
6"Dr. Chris H. Payne Dead; Early Leader In Fayette." Fayette Journal, December 18, 1925, Obituary sec. 
7"Men of the Month." The Crisis, vol. 14, no. 2, 83-83. Published June 1917.
Additional Information