Spring Park
Introduction
Established in the 1890s, Spring Park is the oldest park in Henrico County, Virginia. Formerly known as Young's Springs, it was the site of a slave rebellion in 1800, also known as Gabriel's Rebellion. This rebellion was organized by a slave named Gabriel that belonged to owner Thomas Prosser. On August 10, 1800, slaves from neighboring towns and cities like Richmond, Chesterfield, Hanover, and Caroline met to plan an organized slave revolt to escape from their statuses. At this meeting, the enslaved men voted Gabriel Prosser as the "General of the Rebel Army." Gabriel was a literate Blacksmith slave on the Brookfield Plantation in Henrico County, Virginia. History of the slave revolt can be found on memorial stones around the park.
Images
This memorial marker of Gabriel's Rebellion in Spring Park, formerly known as Young's Spring, can be viewed at the entrance of the park, on Lakeside Avenue.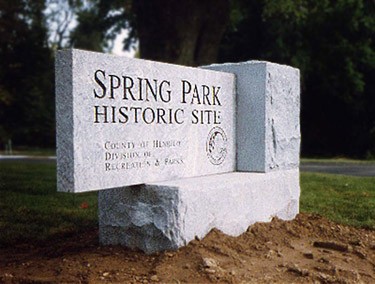 The only known likeness of Gabriel Prosser, depicted at rest in his duties as a slave Blacksmith at Brookfield Plantation.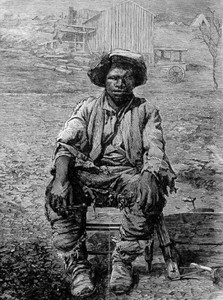 Historical Marker of Gabriel's Rebellion on Virginia State Route 301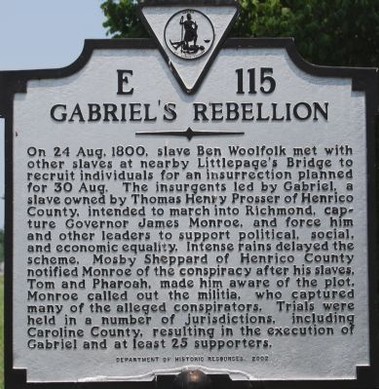 Backstory and Context
Gabriel Prosser, a 24 year old enslaved Blacksmith from the Brookfield Plantation in Henrico County, Virginia, was considered to be of above-average intellect and was very literate. This would lead to him and other slaves holding their own rebellion in order to escape their current lives. Virginia was one of the states where slave ownership was very high and became a hotspot for plantation owners. Gabriel and his fellow slaves met in the area that would once be Spring Park as they chose him to lead their rebellion. They would then detail the plans for their escape.
Prosser proposed that the slaves, armed with pikes made by slave Blacksmiths like himself and swords, should overtake the capitol, Richmond, to get their message across. After successfully seizing control of Richmond, Prosser planned to convince then-governor James Monroe to support political, economic, and social rights on equal footing with white people. The attendees of this meeting decided to implement their plan on August 30, 1800. Unfortunately, the weather that day did not permit anything and severe thunderstorms prevented participants in the 'Rebel Army' from being able to march on Richmond. Prosser rescheduled for the next day, but it was too late as two slaves involved, Tom and Pharaoh, informed their master at Meadow Farm, Mosby Sheppard, of the proposed plan. Sheppard in turn informed Governor Monroe as the governor mobilized armed troops in preparation.
Governor Monroe had the Virginia militia secure the capital to prevent a full-on assault. Hearing of this, Gabriel Prosser and some of his compatriots fled down the Chickahominy River. However, the State of Virginia had placed a $300 bounty on Gabriel's head and for his capture. On September 14, 1800, Prosser swam through the James River to board the schooner Mary. Once on board, he was recognized by the captain, Richardson Taylor, and a slave named Billy. Upon the docking of the ship, Billy reported Prosser to authorities in order to receive the $300 reward to buy his own freedom, but only received $30. Regardless, Gabriel was arrested and set to stand trial.
Gabriel Prosser, upon his capture, was tried along with more than 20 other rebels for conspiracy in the Henrico County Court. They would be indicted with treason against the capital and be declared guilty as a result. Gabriel and his fellow rebels were hung at the Gallows on October 10, 1800. Following the years after the Civil War, slavery would become less common especially with President Lincoln signing the Emancipation Proclamation and the ratification of the 13th Amendment into the U.S. Constitution. Spring Park would be established in 1890 becoming the oldest park in Henrico County and tells the history of the very meeting held by Gabriel in order to pursue a mission of freedom.
Sources
Virginia Foundation for the Humanities. Youn's Spring and Spring Park Historic Site. African American Historical Sites of Virginia Database. Accessed February 25, 2018. http://www.aahistoricsitesva.org/items/show/494?tour=6&index=25.
Newafrikan77. Gabriel Prosser's Young's Spring and Spring Park Historic Site. Wordpress. Accessed February 25, 2018. https://newafrikan77.wordpress.com/2016/05/13/gabriel-prosser-youngs-spring-and-spring-park-historic-site/.
United States Department of the Interior National Park Service. Joseph Bryan Park. DHR Virginia. October 04, 2002. Accessed February 25, 2018. https://www.dhr.Virginia.gov/registers/Cities/Richmond/127-5677_Joseph_Bryan_Park_2002_Final_Nomination.pdf. PDF Form
Nicholls, Michael L. Whispers of Rebellion: Narrating Gabriel's Conspiracy. Carter G. Woodson Institute Series. Charlottesville, Virginia. University of Virginia Press, 2012.
Additional Information