Wilma Rudolph Statue
Introduction
Wilma Rudolph was the first woman to win three gold medals in one Olympic games. During the 1960 summer Olympics in Rome, Rudolph won gold in the 100 meter, 200 meter, and 100x400 meter relay. As a child, Rudolph suffered from several physical ailments such as polio. In response, she recalled, she pushed herself more than other children to overcome her limitations. Rudolph also challenged segregation in Clarksville and spoke out against discrimination faced by women and people of color.
Images
Wilma Rudolph became the first woman to win three gold medals at a single Olympic games in 1960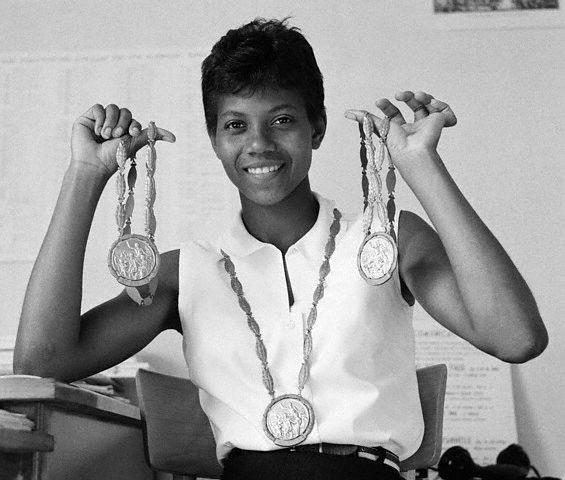 The statue of Wilma Rudolph is located at the southern end of the Cuberland River Walk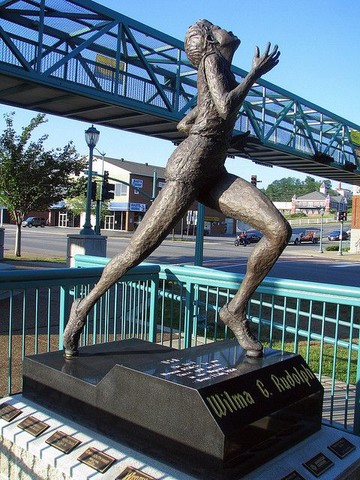 Backstory and Context
Wilma Rudolph was born premature, weighing only four and a half pounds. She was also the twentieth child in a family of twenty-two children. At age four, young Wilma was diagnosed with polio and was required to wear braces on her legs for the next five years. Rudolph set her mind upon overcoming her disability by running, jumping, and playing like other children her age despite the pain and fatigue. By age 12, Rudolph was able to play competitive sports such as basketball.
Rudolph's big break came when she was spotted by Tennessee State's track and field coach and asked to join his summer program on the campus of this historically Black university. When Wilma Rudolph was only seventeen years old, she earned a berth on the U.S Olympic track team and came home with a bronze medal in the 1956 Melbourne Games. She also won races in the Pan American games as well as the AAU indoor meet. By 1960, she was the fastest woman in the world.
Rudolph won three gold medals in the 1960 Summer Olympics in Rome. Two years later, Wilma Rudolph retired from track at the age of twenty-two and became a teacher and community leader in several cities. On November 12, 1994, Rudolph died of cancer in her home in Nashville.
Sources
http://www.myhero.com/go/hero.asp?hero=wilmaRudolph http://www.nytimes.com/1994/11/13/obituaries/wilma-rudolph-star-of-the-1960-olympics-dies-at-54.html
Additional Information