Fredericksburg and Spotsylvania National Military Park
Introduction
Established February 14th, 1927, the Fredericksburg and Spotsylvania National Military Park commemorates four major battles in the American Civil War. The cemetery is also a key part of the military park.
Images
One of the paths along the park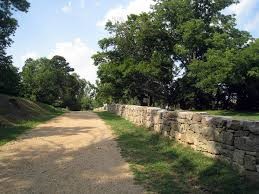 A statue dedicated to the lives lost in the battles of the Civil War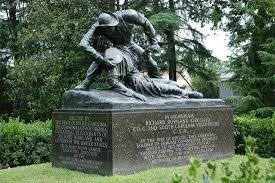 The sign marking the entrance to the Fredericksburg battlefield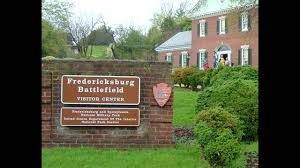 Backstory and Context
Portions of four major Civil War battlefields (Fredericksburg, Chancellorsville, the Wilderness, and Spotsylvania Court House), and four major historic structures (Chatham, Salem Church, Ellwood, and the "Stonewall" Jackson Shrine) comprise the park. The four battlefields witnessed the death, wounding, or capture of more than one hundred thousand men over two years. It is the bloodiest ground in North America. The battles here reflect a continuum of war and the changing nature of human experience (both civilian and military) during the four years of combat. The battles offer important insights into the minds and methods of great leaders, men like Lee, Jackson, and Grant. The battlefields reflect the changing nature of battlefield tactics as they evolved from open field fighting to trench warfare. These changes had major implications for the soldiers' experience in battle, which changed dramatically between 1862 and 1864. Highlights of the park include Fredericksburg's formidable stone wall, Spotsylvania's infamous "Bloody Angle, " and the house where "Stonewall" Jackson died.
The grounds of Fredericksburg National Cemetery contain a number of monuments dedicated to Union soldiers and officers. Dedicated in 1901, the Fifth Corps Monument honors the service of the corps. The monument to Colonel Joseph Moesch commemorates the officer who was killed while leading his regiment of 83rd New York Volunteers in the Battle of Wilderness. At the center of the cemetery stands the Humphrey's Division Monument. The monument is dedicated to General Andrew Humphrey's Division of the Pennsylvania Infantry, Fifth Corps. The men under Humphrey's command led an unsuccessful attack on Confederate troops holding Marye's Heights, with more than 1,000 soldiers killed or wounded in the engagement.
Sources
Fredericksburg and Spotsylvania County National Military Park. Visit Fredericksburg. Accessed February 20, 2018. http://www.visitfred.com/listings/history/civil-war-period/fredericksburg-and-spotsylvania-county-national-military-park.

Fredericksburg & Spotsylvania. National Park Services. Accessed February 20, 2018. https://www.nps.gov/frsp/index.htm.


Additional Information