Lake Chaweva Club
Introduction
Lake Chaweva is a fairly hidden man-made lake about fifteen minutes out from West Virginia's state capitol, Charleston. It's construction began in the 1930s during the Great Depression. Its placement deep within Cross Lanes was purposely done in order for residents to experience solitude and peace. Unfortunately urban sprawl has slowly knocked on the lakes backdoor, but at one point it rested completely alone. Regardless of this urbanization, the lake retains all of its former beauty and sightseeing capability. The history of this lakes construction and its particular location go hand in hand.
Images
A picture of the lake encompassing it's beauty.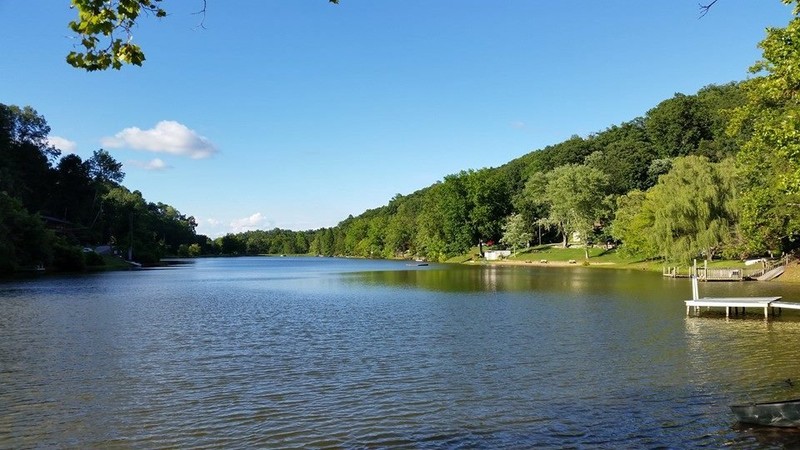 1944 Lake Chaweva Postcard. Provided by Cindy Morse Fioravante.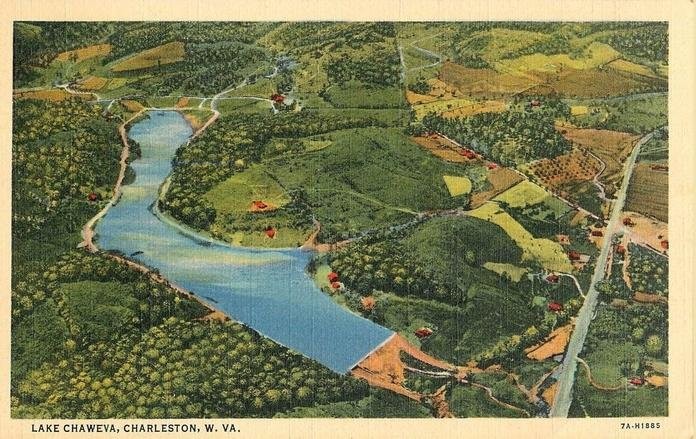 A newspaper clipping advertising Lake Chaweva's opening day.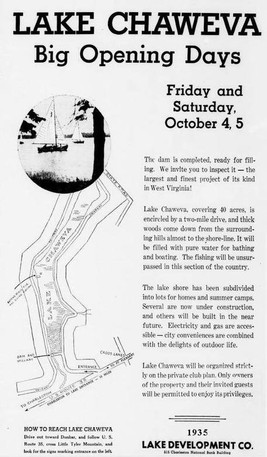 Backstory and Context
The history surrounding Lake Chaweva is a captivating story. Now surrounded by urbanization, during the 1930's it was originally a piece of farmland connecting all the way to West Virginia's state capitol by gravel roads. For natives of Cross Lanes and West Virginia, learning that a piece of their town was once connected to the state capitol by gravel roads rather than the interstate is a surprising find. This minute detail might seem irrelevant, but it really helps in shaping a narrative of isolation and withdrawal. If you find the history surrounding its location interesting, then understanding the history behind its foundation will only be that and much more.
According to Lake Chaweva Clubs' personal website, it was founded by a man named Ed Killen. Ed was a fountain pen salesman who envisioned a nice getaway for summer camps and other sorts of recreation. A direct quote from him concerning his vision for Lake Chaweva reads, "I had a Parker fountain pen, $15 in my pocket, and an idea." This idea ultimately shaped the lives of many who once lived on this lake and still do. For some, finding out the place they call home starting as a pipe dream from a Fountain pen salesman really piques their interest.
Looking into the history surrounding the toponym of this lake only makes it a lot more interesting. According to Lake Chaweva Clubs' website, Killen chose Chaweva due to its "Indian-sounding" name. Chaweva is actually an eponym derived from Charleston, West Virginia. This might have seemed obvious for natives of Cross Lanes; however, for some this is an interesting anecdote worth sharing.
Concerning the lakes foundation, Killen obtained two partners and spent approximately 60,000 buying the plot, building the dam, and bulldozing the road for the 42-acre lake. Lots would be sold, but according to James A. Haught at the club's official website, since its foundation was right in the midst of the great depression, "progress was slow." Fortunately enough, by the end of the 1930's, many camps were being created. Eventually the lake became a "member only" club. The lake operated by volunteer residents, who eventually built the gatehouse, clubhouse, tennis courts, ball field, picnic shelters, and other interesting recreational facilities.
Eventually Charleston suburbs began spreading westward, and Interstate 1-64 was constructed. This led to a large increase in the population of suburbs within Cross Lanes. With that being said, Lake Chaweva still remained a sanctuary of recreation and park like activities. Another interesting anecdote worth sharing about Lake Chaweva is a law suit it was involved in around 1997. Apparently the dam was condemned and ordered to be drained, and the lake's engineer acted accordingly. Following this, lake directors sued and won 1.5 million dollars, which was used to fix the dam in order to open it back up.
Today Lake Chaweva serves as a home for 150 different families. Half of these residents live directly on the lake, while the other half visit intermittently for camp usage. Additionally, none of this information would have been provided if it wasn't for James A. Haught at Lake Chaweva Club's official website, which is provided in the sources columnn.
Sources
Haught, James A.. The History of Lake Chaweva Club. lakechaweva. Accessed February 20, 2018. http://www.lakechaweva.com/about.html.


Additional Information