Battle of Upperville Historical Marker
Introduction
Part of the Gettysburg campaign, the battle of Upperville occurred near the location of this marker on June 21, 1863. The origins of this battle are related to attempts by the Union to penetrate Confederate Major General J.E.B. Stuart's cavalry screen which protected Robert E. Lee's army of Northern Virginia in the Shenandoah Valley. Stuart had previously fought and slowed the Union cavalry under the command of General Alfred Pleasonton just east at the towns of Middleburg and Aldie. Using the natural terrain of the area which consists of ravines, creeks, hills, and valleys, Stuart held the Union from entering the heart of the Shenandoah Valley but also moved his cavalry into a position where it would not be able to protect Lee's flank.
Images
soldiers posing in front of Goose Creek Stone Bridge, close to where the battle of Upperville took place. This bridge is still standing today and is a Virginia historical landmark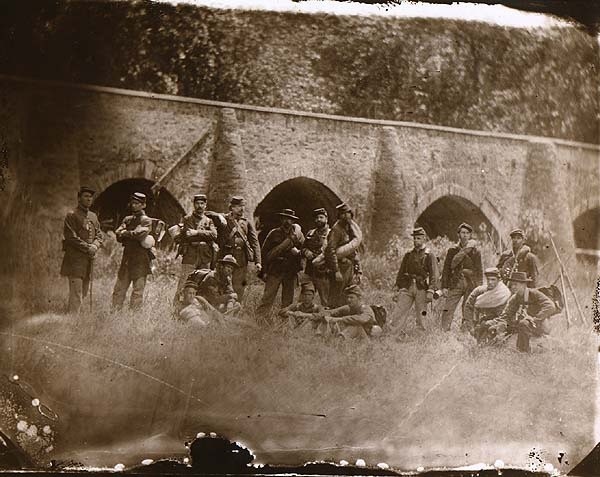 Map of the tactical movements that took place during the battle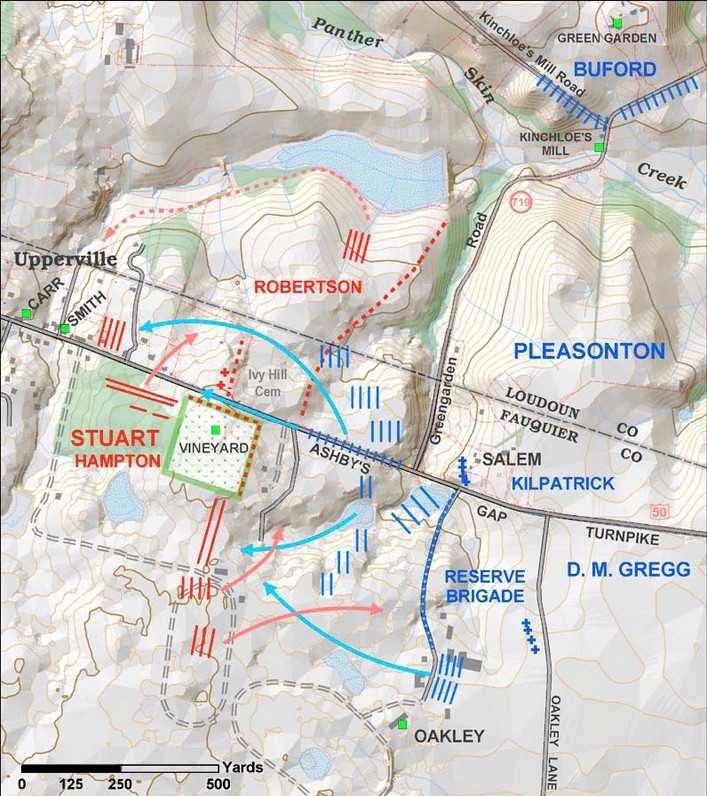 This historical marker offers a short summary of the Battle of Upperville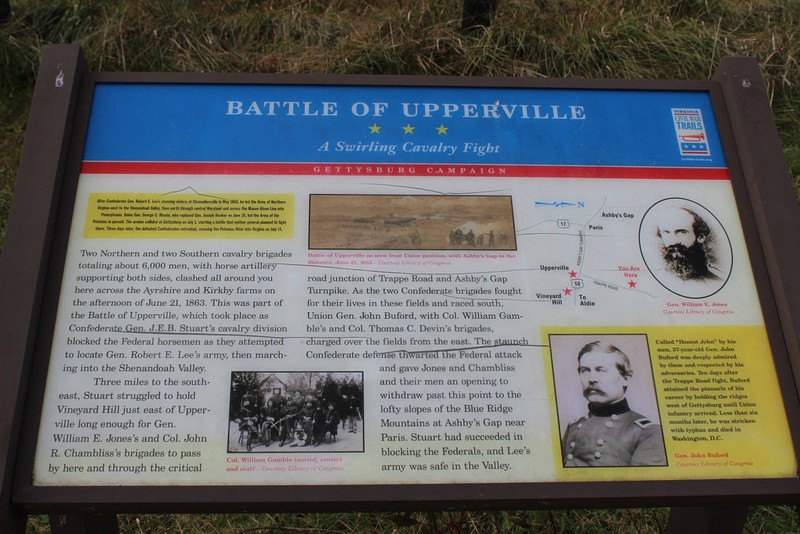 Backstory and Context
The fighting was furious and intense, but Major General Stuart was able to turn back the Federal army at Upperville. After withstanding the initial attack, Stuart redeployed his forces to take up a defensive position in Ashby's Gap, a hill that is a few miles westward of Upperville. This was a risky move, since Lee's infantry had just began to cross the Potomac River into Maryland a few miles north from there. Stuart's position at entrance of the Shenandoah Valley successfully tarnished Pleasontson from making an accurate assessment of where the army of Northern Virginia was located. After the battle, Stuart moved his forces East and was unable to provide information about Union movements to Lee ahead of the battle of Gettysburg.
Sources
"Upperville."
Civil War Trust
, Civil War Trust, www.civilwar.org/learn/civil-war/battles/upperville


"Upperville Civil War Virginia." Americancivilwar.com, Americancivilwar.com, americancivilwar.com/statepic/va/va038.html.
"Upperville."
Nps.gov
, National Parks Service, www.nps.gov/abpp/battles/va038.htm.

Additional Information