Batesville During the Civil War Historical Marker
Introduction
This marker was placed in 2011 by the Arkansas Civil War Sesquicentennial Commission and offers a short history of Batesville's history in the war. Union and Confederate forces both used the city as a camp multiple times during the Civil War. The city was also used by Confederate forces as a staging ground for a Missouri invasion in 1864.
Images
Batesville Civil War Marker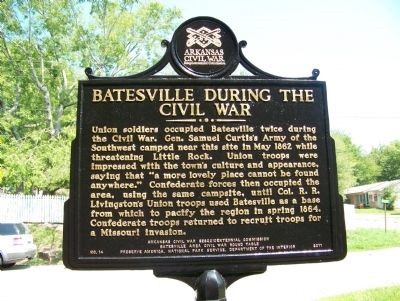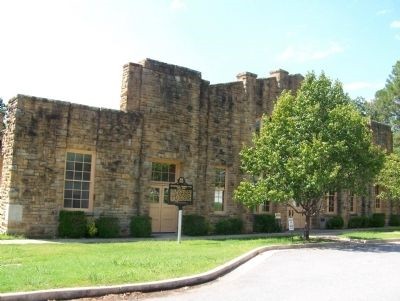 Backstory and Context
In the Spring of 1862, General Samuel R. Curtis followed orders to seize Little Rock to secure central Arkansas for the Union. At that time, Confederate Colonel W.O. Coleman had his men stationed in Batesville. Curtis decided they needed to capture Coleman's small brigade.
Coleman was stationed across the river at the time, and with only a few boats available, Curtis and his men were unable to reach them. Coleman was able to round up 100 men to defend the area, and they suffered only minor losses thanks to being able to fire behind logs and trees. Curtis strategically called for a cannon to be brought up top the front lines. With a few effective artillery rounds, several Confederates were killed or injured forcing the Confederates to retreat with no losses for the Union.
Lieutenant Colonel Douglas McBride, the Son of General James H. McBride, was killed in the battle. The Confederate forces retreated so quickly that they left his body unburied but Union soldiers buried the body of McBride nearby. Although this was only a minor skirmish, it was the first time the people of Batesville witnessed the war from their hometown. A descendant of the area, Mrs. Burton Arnold reports eyewitness accounts of the affair: "More people came out of town and went to the river to watch the battle than were the soldiers that took part in it."
The marker is located in Batesville Arkansas, in front of the old Independence Regional Museum which includes exhibits that preserve and share the history of Batesville and other communities such as Baxter, Cleburne, Fulton, Independence, Izard, Jackson, Marion, Poinsett, Sharp, Stone, White, and Woodruff.
Sources
"Arkansas Civil War." Arkansas Civil War, www.arkansascivilwar150.com/.
"The Encyclopedia of Arkansas History & Culture." The Encyclopedia of Arkansas History & Culture, www.encyclopediaofarkansas.net/.
Additional Information