Gainesway Farm
Introduction
What is now known as Gainesway Farm was first purchased in April of 1774. The farm is known for a thoroughbred horse that bred Stone Street, Derby winner of 1908. Today, Gainesway boasts several champion sires and maintains its rightful place atop the Thoroughbred capital of the world. Gainesway provides a glimpse into the world of horses and horse racing - a true glimpse into the culture of Kentucky, both past and present.
Images
The iconic circular stable that houses several champion sires and broodmares.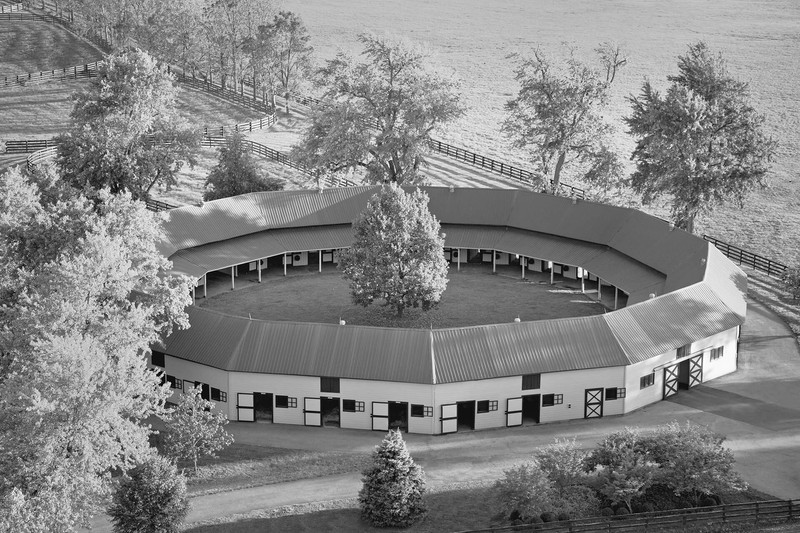 James Ben Ali Haggin - the man who began a tradition of horses on what would come to be known as Gainesway Farm.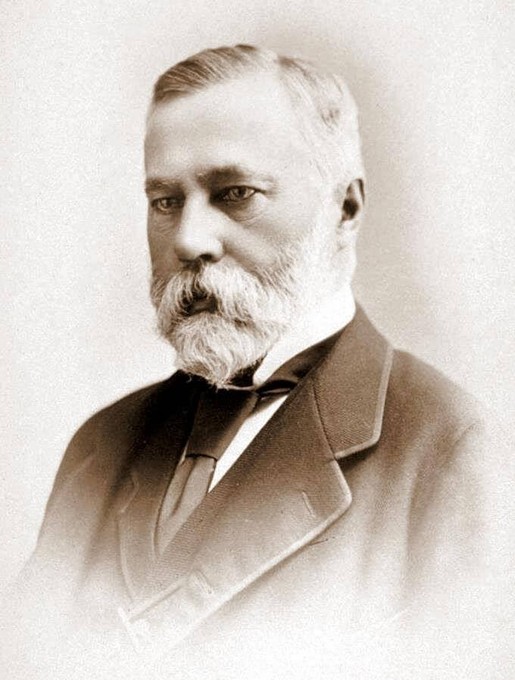 Backstory and Context
Gainesway – a farm, though ever changing both hands and image, has withstood the test of time and grown into a well-respected horse farm. It's scattered beginnings date back to the days of George Washington and the new land of the United States. It grew throughout history, changing owners, size, and utility, until finally the day came in 1965 when John Gaines decided to yet again restructure this tract of land into a beautifully renowned horse farm.
In 1774, an eager frontiersman, John Floyd, was given a special task – find undeveloped land for those men who now had the ability to lay claim to their chosen land. After searching, Floyd settled on this area just outside of what is now Lexington, Kentucky. He plotted two 1,000-acre lots for friends of George Washington – a Mr. John Preston and his brother-in-law John Howard. Unknown to Howard, his land would go on to make up the majority of what is to become Gainesway farm.
Fast-forward over one-hundred years to the turn of the century. A man by the name of James Haggin has become very popular in the horse scene after producing the 1886 Kentucky Derby winner, Ben Ali. Haggin's entrepreneurial background led him to purchase a 544-acre farm called Elmendorf – a farm on what was formally John Howard's land. Elmendorf would grow to nearly 10,000-acres and become a leader in not only dairy, but also produce a massive Thoroughbred stud that would later breed the 1908 Derby winner, Stone Street. It is here that the future land of Gainesway Farm begins its career with horses.
After Haggin's death, his massive farm was split and sold. A man by the name of H.P. Whitney saw it fit to invest in the horse venture and bought what would become the heart of Gainesway farm – a 614-acre plot with a round stable to house foundation sires such as Broomstick, Whisk Broom, and Peter Pan. As the land remained in the Whitney family in the hands of H.P.'s wife Helen and his brother Payne, it began to grow; so much in fact that out of it came Greentree Stud – a farm that would go on to produce multiple Kentucky Derby Winners and contain the land needed for what is modern-day Gainesway Farm.
On down the road, the Thoroughbred operation started by H.P. Whitney was thriving. However, his son C.V. Whitney, the then owner of Greentree Stud, was ready to downsize his operation. He enlisted the services of the young, but hungry, John Gaines. Gaines was pleased and purchased 489-acres and 30 broodmares from the Whitney farm and began to lease the newly acquired property out. Then, in 1974 – explosion.
John Gaines began a stallion station known as Gainesway that went nowhere but upward. By 1982 his international stallion roster neared an impressive 52 including the likes of Bold Bidder, Lyphard, Riverman, Sharpen Up, and Vaguely Noble. He had successfully turned Gainesway into an operation that laid the foundation for Kentucky becoming the Thoroughbred capital of the world. Then in 1989, after a very lucrative and successful career, John Gaines sold Gainesway's 489 acres to Graham Beck who quickly became obsessed with the heartland of Thoroughbred horses. He wasted no time acquiring what remained of Greentree Stud and the Whitney farm and combining all 1,500 acres into what is now Gainesway.
Under its current ownership and management, Gainesway continues to be a staple in Kentucky for victory and vigor. Its reputation as a renowned house of champions thrives more now than ever. Alongside champion sires, it is Gainesway that continues to light the way for future prospects of bluegrass raising.
Sources
The History. Gainesway. Published, January 30, 2018. Accessed , February 14, 2018. http://gainesway.com.


John Gaines, Formerly Owned Gainesway Farm, Founded Breeders' Cup, Dies at 76. BloodHorse. Published, February 11, 2005. Accessed, February 14, 2018. https://www.bloodhorse.com/horse-racing/articles/171831/john-gaines-formerly-owned-gainesway-farm-fo....


Gainesway. PM Advertising. Published, December 19, 2017. Accessed, February 14, 2018. http://www.pmadv.com/articles/gainesway-farm.html.




Additional Information