Central Public Library of Rochester / Rundel Memorial Library
Introduction
Construction on Rochester's first public central library began in December of 1933 thanks to a sizable bequeathment from a wealthy citizen named Morton W. Rundel and funds from the Public Works Administration- a New Deal Program. The Rundel Memorial Library was dedicated on October 4, 1936. On the Library's first day, upwards of 3,200 books were reportedly checked out by an enthusiastic public. The Library building was restored by the City and a new adjacent building- later named the Bausch & Lomb Public Library Building- was added in 1997. The two buildings are connected by an underground tunnel that runs beneath South Avenue.
Images
The Rundel Memorial Library Building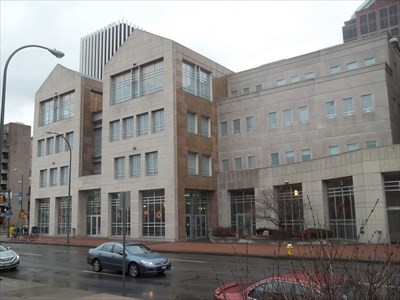 Rundel Memorial Library in 1937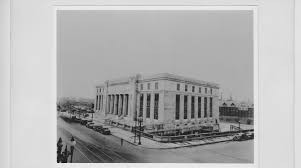 A librarian discovered this photograph of Rochester's most influential resident, Frederick Douglass, stuck between the pages of a scrapbook in Rundel Memorial Library in 2016.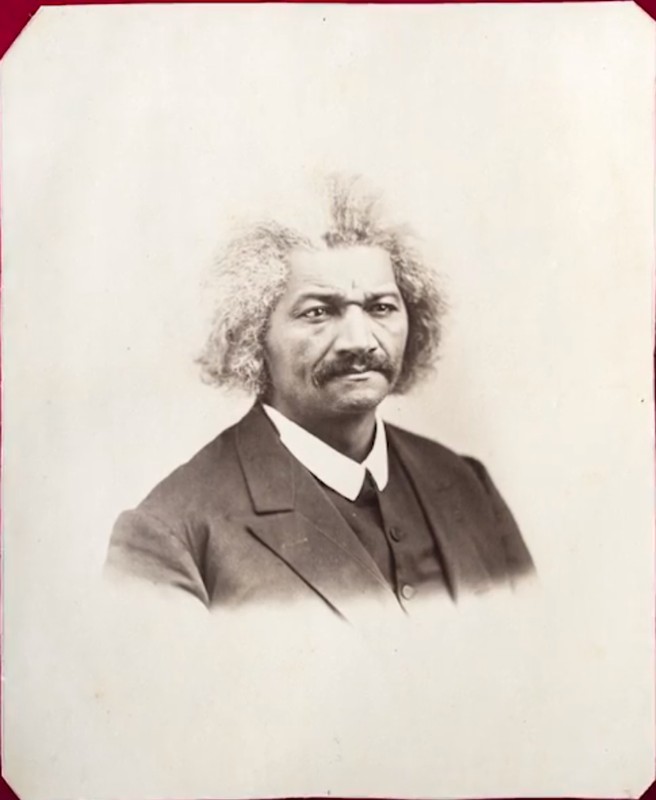 Two girls reading in the "Secret Room" for children in the Rundel Memorial Library. The George W. Cooper Doll Collection adorns the walls and shelves. (October 25, 1940)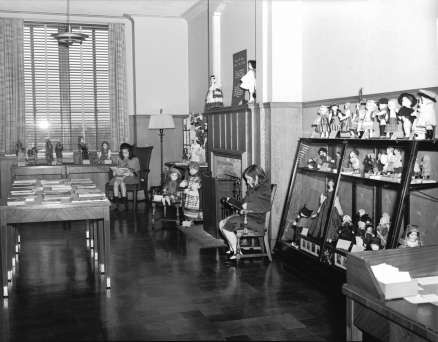 Handcarved stonwework for the Rundel Memorial Library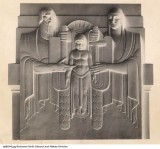 Photograph of a zodiac-themed floor mural in the Rundel Memorial Library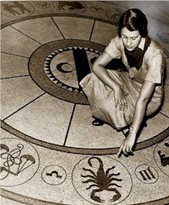 Backstory and Context
The idea of a centralized public library had been supported and frequently requested by Rochester's citizens throughout the beginning of the 20th century. Due to an ongoing war and budgetary concerns, however, construction of the project was continuously postponed. Then, in 1911, Morton Rundel- a wealthy art collector and cousin of camera equipment mogul George Eastman- died. It was subsequently discovered in Rundel's will that he had unceremoniously bequeathed $400,000 to the City of Rochester for the construction of a central library and public arts center. Rundel's heirs later sued the city, claiming that the money had not been used within an acceptable time frame. Twenty-two years after Rundel's death, the courts ruled in the city's favor and the benefactor's sizable donation was made available. Having accrued interest over the years, Rundel's fund had just hit a grand total of one million dollars. At this point, the City of Rochester also received a $314,000 federal grant from the Public Works Administration- a New Deal program- to supplement the Rundel fund for construction of the library building. In all, allocated funding for the new library in 1933 would translate into roughly $26.3 million today.
Construction on the site chosen along the Genesee River on South Avenue began in December of 1933. As a building erected using funds from a New Deal program, much of the construction workforce consisted of local men who had lost their jobs during the Great Depression. Designed by local architect firm Gordon & Kaelber, the building was fashioned in a Renaissance style using granite and limestone. Its foundation was laid over the former Rochester Subway station- which operated from 1927 until 1956.
On October 4, 1936, the Rundel Memorial Library was officially dedicated and opened to the public following a ceremony outside the building's main entrance. The next day, when the library began operations, a reported 3,200 books were checked out by local residents. The new library central building was popular for its spacious and ornate design which included intricate carvings on the limestone façade and murals on the floors. The Rundel Memorial Library also featured a "Secret Room" down a hallway on its second floor. Filled with a local doll collection and an abundance of children's literature, the "Secret Room" was a favorite hang-out spot for Rochester's more youthful crowd.
In the late 1990's, funding for a multi-million dollar building addition and restoration project for the central library system was approved. On May 27, 1997, the $22.5 million Bausch & Lomb Public Library building was opened on the other side of South Avenue, across from the newly-restored Rundel Memorial Library.
In Fall of 2015, library page Kristy Hoffman discovered an aged scrapbook in the Local History & Genealogy Special Collections of the Rochester Public Library. The scrapbook, a personal collection compiled by a local postal carrier during the 20th century, had been donated decades earlier and never properly attended to. When it was brought to head librarian Cheri Crist, a never-before-seen photographic portrait of Frederick Douglass was discovered within its pages. With the aid of curators from the George Eastman Museum, the photo was confirmed as authentic and dated to sometime around 1873. The portrait was unveiled for public viewing in a ceremony held by Rochester Mayor Lovely Warren on February 18, 2016. Beyond its clear historic value, the photograph's discovery serves as a reminder that history can be found in the most unexpected of places. 
Sources
Finn, Michelle. I Remember This Place, Local History Rocs!: Rochester Public Library/Local History & Genealogy Division. February 22nd 2013. Accessed November 13th 2020. https://rochistory.wordpress.com/2013/02/22/i-remember-this-place/.
Huse, Brian. Morton Rundel, RochesterWiki. November 23rd 2016. Accessed November 13th 2020. https://rocwiki.org/Morton_Rundel.
Kalish, Evan. RUNDEL MEMORIAL LIBRARY – ROCHESTER NY, Living New Deal. March 7th 2015. Accessed October 31st 2020. https://livingnewdeal.org/projects/rundel-memorial-library-rochester-ny/.
Monroe County (NY) Library. The Rundel Memorial Building, Home to the Rochester Public Library, LibraryWeb. Accessed October 31st 2020. https://www.libraryweb.org/rochimag/architecture/SpecificBuildings/Rundel/Rundel.htm.
Taddeo, Sarah. Frederick Douglass photo discovered, Democrat & Chronicle. February 18th 2016. Accessed November 13th 2020. https://www.democratandchronicle.com/story/news/2016/02/18/frederick-douglass-photo-rediscovered/80503030/.
WHAM. Newly-discovered photograph of Frederick Douglass unveiled, 13 WHAM. February 18th 2016. Accessed October 31st 2020. https://13wham.com/news/top-stories/newly-discovered-photograph-of-frederick-douglass-unveiled.
Image Sources
http://voiceforthemembersslate.blogspot.com/2011/04/library-services-under-knife-you-are.html

https://www.waymarking.com/waymarks/WMDBN2_Bausch_Lomb_Public_Library_Building_Rochester_NY

https://livingnewdeal.org/projects/rundel-memorial-library-rochester-ny/

https://www.rochesterfirst.com/news/librarians-find-rare-photograph-of-frederick-douglass/

https://rochistory.wordpress.com/2013/02/22/i-remember-this-place/

https://rochistory.wordpress.com/2013/02/22/i-remember-this-place/

https://www.libraryweb.org/rochimag/architecture/SpecificBuildings/Rundel/Rundel.htm

Additional Information