Wisconsin Arboretum
Introduction
The Wisconsin Arboretum is a 1,200-acre ecological preserve and research facility operated by the University of Wisconsin located. Established in 1932, its mission is to restore Wisconsin landscape and plant communities to what they looked like before European incursion into the state. It contains the "oldest and most varied collection of restored ecological communities in the world" and includes wetlands, forests, flowering trees, shrubs, tall grass prairies, savannas, and a lilac collection that is known around the world. It also features a horticultural collection of labeled plants displayed in gardens. The Arboretum is significant because the notion of ecological restoration developed here and would eventually spread throughout the world. Public outreach and education is a key component of the Arboretum's mission. To this end, it offers guided tours and a wide variety of classes for people of all ages, as well as research opportunities in its library.
Images
The visitor center is the first stop when visiting the Arboretum.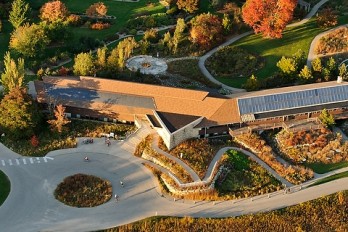 Backstory and Context
The idea for the Arboretum came from landscape architect, John Nolen, in a book he wrote in 1911. The idea remained alive in the coming years and the property was founded in 1932 at only 240 acres. Back then it consisted of mostly farmland. More land was purchased in the coming years. Among its first staff was the famous conservationist, environmentalist, and UW professor (the first professor of game management in the country) Aldo Leopold, who was the director of research.
Sources
"History." Wisconsin Arboretum. Accessed February 15, 2018. https://arboretum.wisc.edu/about-us/history.

Photo: Wisconsin Arboretum
Additional Information