Cherokee Friends Church
Introduction
Built in 1919-20, this Craftsman-style brick church is strikingly different from other contemporary churches in the area, most of which feature Gothic or Classical Revival architecture instead. Craftsman style is perhaps best known for its use in domestic architecture--California bungalows come to mind--but the Cherokee Friends Church represents the somewhat unusual application of a Craftsman aesthetic to religious architecture. This style aligns well with the ideals of the Quakers (or Friends) who commissioned this church. Craftsman style privileged simple and honest designs that showcased quality craftsmanship and eschewed excessive frippery. Likewise, Quaker principles valued simple, honest, practical work. The church was added to the National Register of Historic Places in 2004, but it remains abandoned and dilapidated.
Images
The Cherokee Friends Church
Another view of the exterior.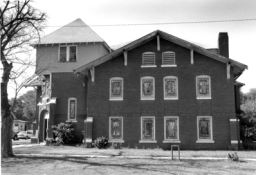 Inside the church: note the plaster walls, stained glass windows, and simple light fixture. This photo was included in the property's 2004 registration form for the National Register of Historic Places.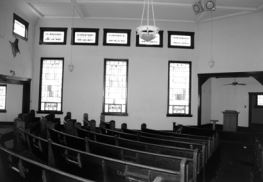 A 2014 photo showing the more recent disrepair.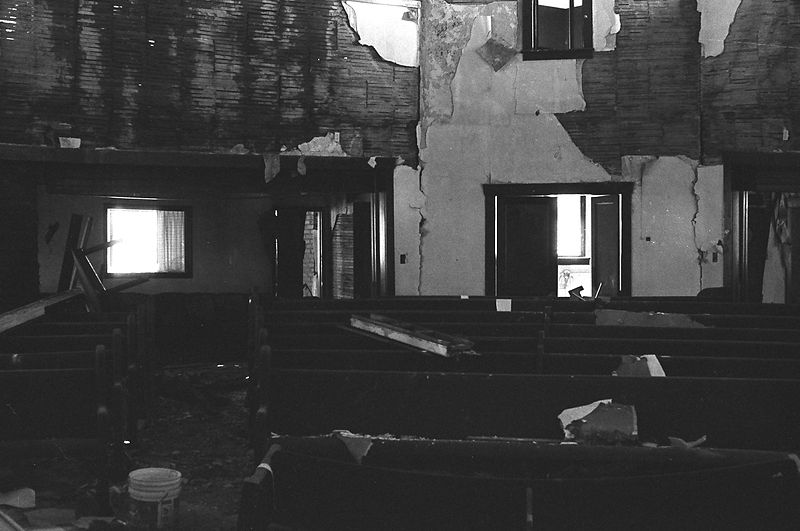 A closer view of the windows.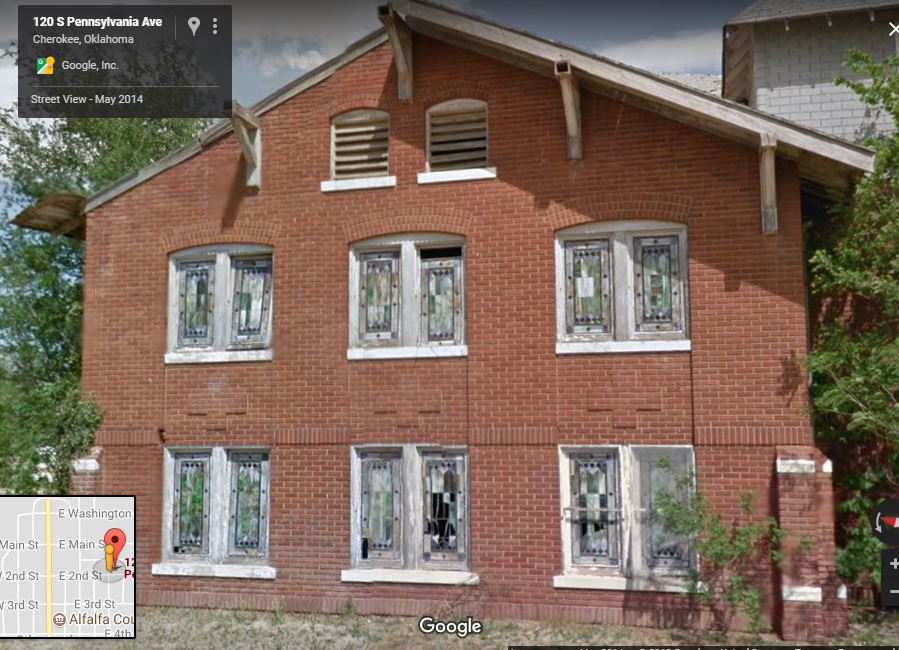 Backstory and Context
Architecture of the Cherokee Friends Church
The brick building has two stories and an asymmetrical layout, plus over 50 stained glass windows designed by Indiana's Kokomo Opalescent Glass Company. The windows display simple geometric patterns in shades of green, blue, yellow, and cream, set into wooden frames. The church's eaves and exposed rafters evoke its Craftsman aesthetic and make the church resemble, in some respects, the Craftsman-style bungalows popular in the 1910s and 20s. As architectural historian Jim Gabbert notes, "There are concessions to more traditional church architecture, of course--buttresses and stained glass windows--but these are not primary design elements" (p. 16).
A 1949 tornado damaged the building's tower, necessitating the replacement of the tower's roof and two pairs of windows.
Inside, the basement space fulfilled a variety of functions; rooms served as classrooms, a community room, a kitchen, and a minister's office. The building's main staircase features an oak balustrade with square banisters that exemplifies Craftsman style. The church's sanctuary is quite simple, with plaster-covered walls. Pews are arranged in a semi-circle around the pulpit. Unlike countless other churches, the Cherokee Friends Church displays no art, paintings, murals, statues, or other decorative elements.
Gabbert compares this church to other, "more elaborate" churches nearby, which are also worth a visit. These include:
Cherokee First United Methodist Church, South Grand Ave.: a Classical Revival church dedicated in 1919. This striking red brick building has four columnns and a large triangular pediment adorning the entrance.

First Christian Church, S. Kansas Ave.: built in 1927, this red brick structure stands three stories tall and has some Classical design features such as pilasters.

St. Cornelius Catholic Church, S. Massachusetts Ave.: built in 1928, this church is also red brick though it is Romanesque in style, boasting a rose window and small tower.
Nazarene Church, no longer in use: built in the Late Gothic style in the 1920s.
These churches represent more traditional designs, drawing inspiration from Classical, Romanesque, and Gothic styles.
Sources
Gabbert, Jim. "National Register of Historic Places Registration Form: Cherokee Friends Church." U.S. Dept. of the Interior, NPS. August 01, 2004. Accessed February 11, 2018. http://nr2_shpo.okstate.edu/pdfs/04001337.pdf.

Image credit 1: http://static.panoramio.com/photos/original/56235974.jpg
Image credits 2-3: http://nr2_shpo.okstate.edu/pdfs/04001337.pdf
Image credit 4: https://commons.wikimedia.org/wiki/File:Friends_Church_Photo_1.JPG
Image credit 5: Google Maps.




Additional Information