Woodlawn Cemetery
Introduction
Woodlawn Cemetery was founded in 1914 on ten acres of land donated by the Union Pacific Railroad. The cemetery is one of the oldest in Las Vegas and is a stop on the city's 'Pioneer Trail.' Over the years, the cemetery has expanded greatly and is now the final resting place of some 28,000 people. The cemetery is listed on the National Register of Historic Places.
Images
Entrance to Woodlawn Cemetery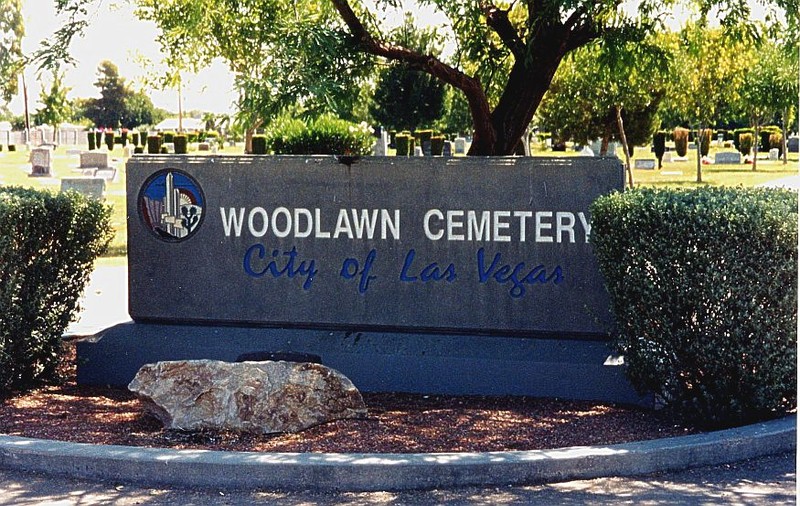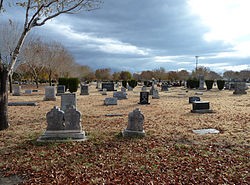 Backstory and Context
In the early 1900s, when Las Vegas was still a new and growing town, city leaders felt that a cemetery would contribute an element of permanence to Las Vegas. They persuaded the Union Pacific Railroad to donate ten acres of flat, desert land. The site was already used as a burial ground, both the Boot Hill and Ranch cemeteries. Paiute remains have been found at the site as well, suggesting that the site was used for burials long before the first settlers arrived in the area.

Once the new Woodlawn cemetery opened, trees and shrubs were planted in the style of lawn and rural cemeteries, which were popular at the time. The cemetery was supported by some of the city's leading citizens, but it was not without scandal. In early 1915, shortly after the new cemetery opened, L.D. Smith, who was caretaker of the Las Vegas Cemetery, was arrested. It was discovered that the body of a stillborn infant that Smith was supposed to have buried was actually discarded under a bush. Smith faked the burial in order to conduct experiments on the baby's body. The scandal surrounding Smith ensured that Woodlawn would become the city's preferred burial ground.

Over the years, Woodlawn was not only the cemetery used by ordinary citizens, but by some of the city's more colorful figures as well. Among the many people buried there are 'Nick the Greek' Dandolos, a famed gambler, and 'Diamonfield' Jack Davis, a well-known gunslinger.

Woodlawn now encompasses roughly 40 acres. There are more than 28,000 people interred in the cemetery, including several of the city's mayors and business leaders. Woodlawn was added to the National Register of Historic Places in 2008.



Sources
Koch, Ed. Lots of History Buried in Century-Old Cemetery Near Downtown Las Vegas. Las Vegas Sun. February 04, 2013. Accessed February 11, 2018. https://lasvegassun.com/news/2013/aug/24/lots-history-burried-century-old-cemetery/.

Woodlawn Cemetery Added to List of Historic Landmarks. Las Vegas Review Journal. August 12, 2008. Accessed February 11, 2018. https://www.reviewjournal.com/news/woodlawn-cemetery-added-to-list-of-historic-landmarks/.