Basilica of the National Shrine of Mary Queen of the Universe
Introduction
Full name is: Basilica of the National Shrine of Mary, Queen of the Universe, it's a church located in Orlando, Florida. It was opened with a blessing of Pope John Paul II, and everything began with just a dream of a priest to make a church for all visitors and travelers to come and pray in it. Other people, especially travelers, are highly interested in this place because it's the TripAdvisor first traveler choice, with a 4.5 rating on a scale of 5, also, if you do research for historical sites in Orlando, it's always the first result.
Images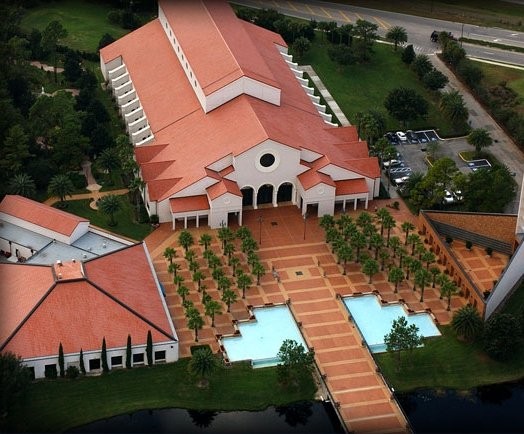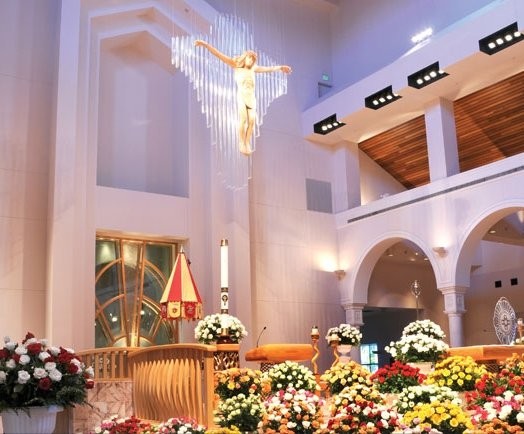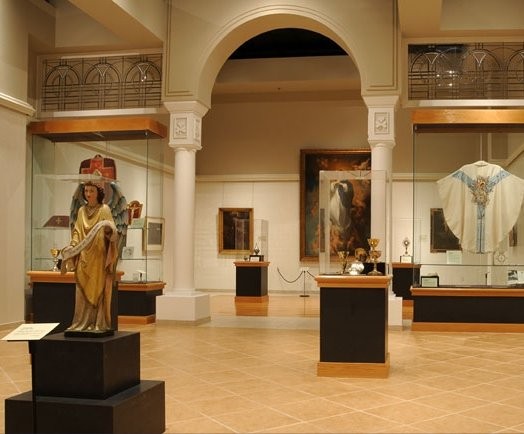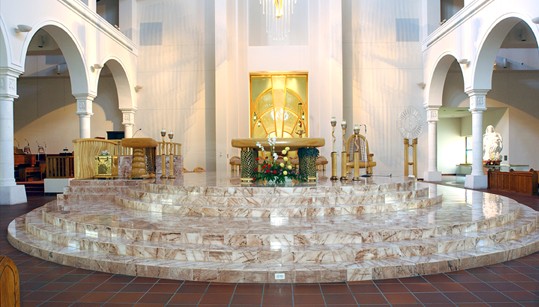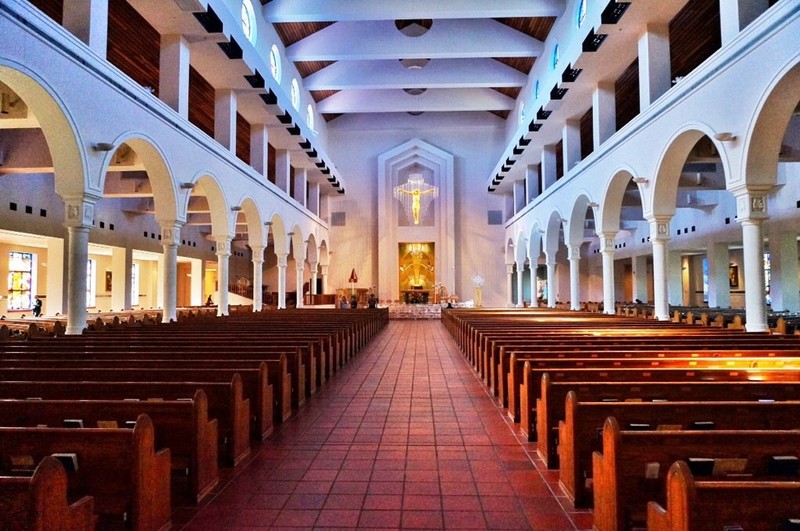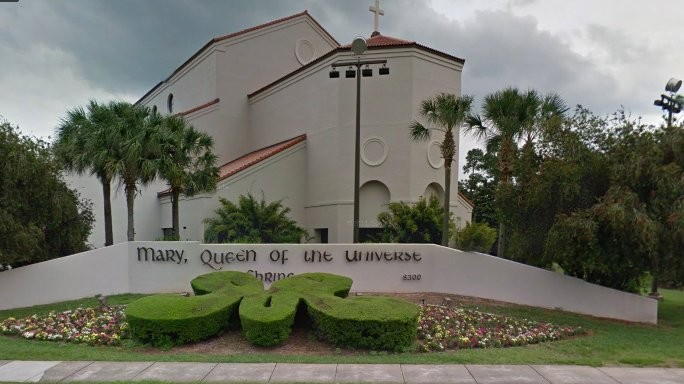 Backstory and Context
The dream to build a huge church in Central Florida began with a priest who was praying while kneeling in the Grotto of Our Lady at Lourdes in 1979. During these years many beautiful places were built in Orlando, like Disney World, in which it attracted millions of visitors. However, many of these people were Catholics, but on Sunday they kept thinking about God and praying. So, the diocese of Orlando organized prayers and masses in hotels, which costs them a lot of money, but years after years the number of people coming to pray raised a lot and the cost was raised as well. When this number reached 30 million visitor to Orlando per year, Father Harte thought that this hotel thing is no more enough for praying visitors. (Mary Queen of the Universe).
Then, according to the official site of the church, the Pope John Paul II during this time called the diocese to "Open wide the doors to Christ", so Fr. Harte found this as an opportunity to make his dream come true and build a church to attract Catholics to the Holy mass. There was no enough money to purchase a land and building such a huge project, so fundraising began. After all the needed money was collected, a 17 acre land was purchased, and decided to name the future church after Mary the queen of the universe. On December 8, 1984 money was raised to start the first part of building this huge church, and after two years this part was done, so they built a chapel outdoors in where an 80 foot bell was also built. Inside the church, a 12 foot bronze work was installed and was entitled "Mother and Child."
After the completion of the church's first part, many important people came for blessing and one of them said: "Mary has to be immensely pleased with what you have done... She will see that each and every one of you will be blessed abundantly for your devotion, your faith and your gracious generosity." During the 1990s sixteen clerestory windows were installed to give the church natural lightning, these windows were named "The Rosary Windows". Moreover, to send more joy to praying people's hearts, fourteen more Magnificat windows were also installed, in which they portray the Christian message. In 1990, this church can seats 2000 people inside, so the bishop of Orlando said: "We want this Shrine to be a temple, a sacred place to give glory to God and honor to our mother." In 1992, the whole interior of the church was done, and many works and artifacts were installed, so the basilica opened its doors to the whole world. (Mary Queen of the Universe).
In the outside there's a beautiful Rosary Garden, where flowers and small ponds and other Florida's trees and landscaping were present. Also, there was a prayerful atmosphere outside after a bronze sculpture of Pope John Paul II was installed. In the 21st century there was a huge artistic sculpture of Mary, in which visitors said that this sculpture made Mary look like a real queen. After this another bronze sculpture was made for this basilica, it's the image of Joseph and young Jesus, so it was installed in 2002. In 2007, Father Joseph Harte retired after a long way to make his dream become true, and Father Edward J. McCarthy was appointed to succeed him, in which there was more papal recognition at his time. Finally, in March 2011 the third rector for this church, Very Reverend Paul J. Henry was appointed. (Church's official site).
Now, this basilica is one of the most visited Catholic places in the United States of America, and the most holy place in Central Florida. The roof tiles of this church are 56,000 square foot, plus there's a 650 pound sculpture of Christ above the altar. The Holy Door for the diocese of Orlando was installed in this church. Also, the design of the church was adapted from the floor plan of St. Peter's Basilica located in the Vatican. The decorative ceiling is made of western red cedar which adds warmth to these 14 Magnificat windows. This basilica is one of only 63 located in the United States. This church has two architectural awards: Associated Builders and Contractors Project of the year 1994 and an Award of Merit, and Drywall Construction Awards Honorable Mention in 1994. (Diocese of Orlando, RLF Architecture, Anjali Sareen).
Sources
Basilica of the National Shrine of Mary, Queen of the Universe." Mary, Queen of The Universe, maryqueenoftheuniverse.org/history. Accessed on: March 20, 2018
"Door of Mercy." Diocese of Orlando, Florida, www.orlandodiocese.org/year-of-mercy/door-of-mercy/. Accessed on: March 20, 2018
"Basilica of the National Shrine of Mary, Queen of the Universe." RLF Architecture, rlfarchitects.com/cultural/basilica-national-shrine-mary-queen-universe/. Accessed on: March 20, 2018
Sareen, Anjali. "A Brief History of Basilica of Mary, Queen of the Universe." Culture Trip, 5 Feb. 2017, theculturetrip.com/north-america/usa/florida/articles/a-brief-history-of-basilica-of-mary-queen-of-the-universe/. Accessed on: March 20, 2018
Additional Information