"Let's Have Tea" Statue
Introduction
Created by Laotian sculptor Pepsy Kettavong and erected in Susan B. Anthony Square Park in 2001, this bronze statue project titled "Let's Have Tea" depicts famed abolitionist Frederick Douglass and suffragist Susan B. Anthony engaged in conversation while enjoying cups of tea. The statue was commissioned by the Susan B. Anthony Neighborhood Association as a monument to the lifelong friendship between the two civil rights activists.
Images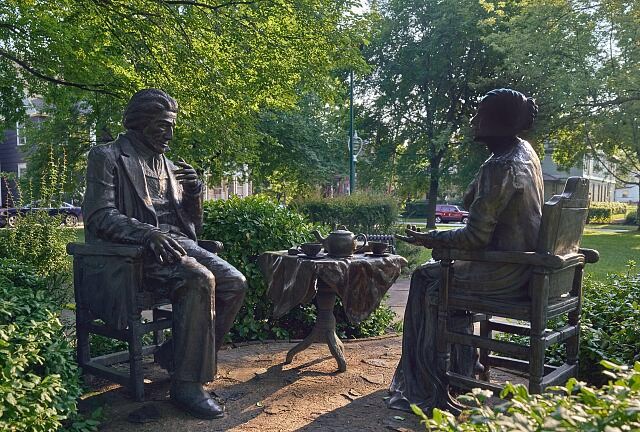 Closeup of the "Let's Have Tea" statue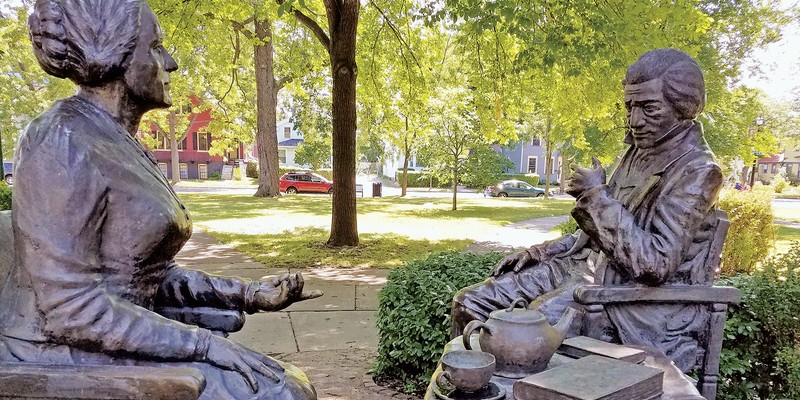 "Let's Have Tea" sculptor Pepsy Kettavong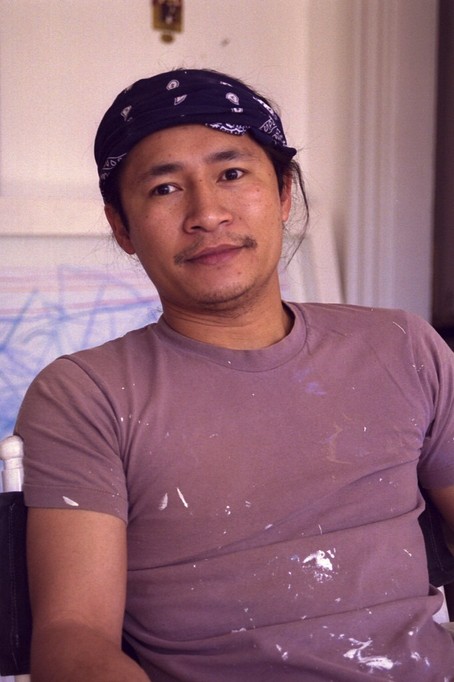 Plaque honoring the statue's financial contributors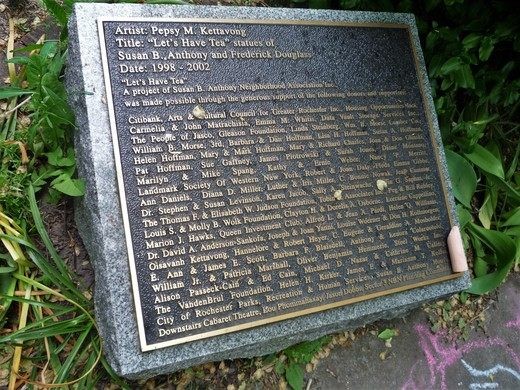 Backstory and Context
Commissioned by the Susan B. Anthony Neighborhood Association, this monument depicts Rochester's most important citizens- as well as two of the leading civil rights activists of the 19th century- Frederick Douglass and Susan B. Anthony simply sitting together and enjoying a conversation. Sitting on the table are some books and a teapot alongside two cups of tea.
The bronze sculpture, titled "Let's Have Tea", was created by Laotian-American sculptor Pepsy Kettavong between the years 1998 and 2001. It was placed as the centerpiece of Susan B. Anthony Square Park- right across the street from Susan B. Anthony's former residence- and dedicated in 2001.
This statues depicts a scene which likely played out many times in real life. Both Anthony and Douglass were lifelong abolitionist and feminist activists, as well as close friends and advocates for one another's work. However, the two were not without their disagreements.
For example, they famously clashed over the 14th and 15th amendments- which guaranteed Black men the right to vote, but excluded all women from voting. Douglass supported the amendment pragmatically, writing that it was a "matter of life and death" for Black people living in the South at the time. Susan B. Anthony and Elizabeth Staunton, meanwhile, furiously opposed the amendments, with Anthony famously declaring "I will cut off this right arm of mine before I will ever work for or demand the ballot for the Negro and not for the woman,". For many years, the friendship between Anthony and Douglass was quite strained by this. However, when Douglass died suddenly of a heart attack on February 20, 1895, Anthony rushed to Washington to help Helen Douglass prepare for his funeral. She also delivered a eulogy for her friend at Metropolitan's AME Church several days later. Anthony herself died 11 years later on March 13, 1906. Both civil rights pioneers are buried in Mt. Hope Cemetery in Rochester.
Sources
Matusow, Barbara. The Remarkable Friendship of Susan B. Anthony and Frederick Douglass, One Woman One Vote. Accessed October 27th 2020. https://2020owovfest.org/susan-b-anthony-and-frederick-douglass/.
Morry, Emily. Happy birthday, Frederick Douglass and Susan B. Anthony, Democrat & Chronicle. February 14th 2018. Accessed October 25th 2020. https://www.democratandchronicle.com/story/lifestyle/2018/02/14/happy-birthday-frederick-douglass-susan-anthony/110405148/.
Torre, Dr. Jose. "Let's Have Tea" statue Susan B. Anthony Square on Madison Street, Douglass Tour. Accessed October 25th 2020. http://www.douglasstour.com/tour/susan-b-anthony-square/.
Image Sources
https://www.loc.gov/item/2018700852/

http://www.douglasstour.com/tour/susan-b-anthony-square/

https://www.flickr.com/photos/jlam/8874941/lightbox/

https://www.atlasobscura.com/places/susan-b-anthony-museum-house

Additional Information