Park Avenue Baptist Church
Introduction
There is not much known about the Park Avenue Baptist Church. In various articles in the Democratic Chronicle it is mentioned as a place of meeting amongst different groups. It is where Dr. C.A. Barbour of the Lake Avenue Baptist Church gave a tribute speech about Frederick Douglass to the Women's Ethical Club. It is worth mentioning that in a lot of newspaper articles during the same time period, they also label it as the Park Avenue Church, excluding the word "Baptist" from its name. On a 1900 Plat Map featured on the Library of Congress's website, it shows that the church was indeed on the corner of Meigs and Park in Rochester, NY, and a lot of articles in the newspaper backup this fact. This entry is part of a public history project developed by the RIT Museum Studies program in celebration of the bicentennial of Frederick Douglass's birth (February 1818). The items shown in this entry are taken from a scrapbook that is one of two in the collections of the Local History and Genealogy Divisions of Central Library of Rochester and Monroe County Library. http://www.libraryweb.org/~digitized/scrapbooks/rsc00002color.pdf
Images
Plat Map image of the location of the church, 1900.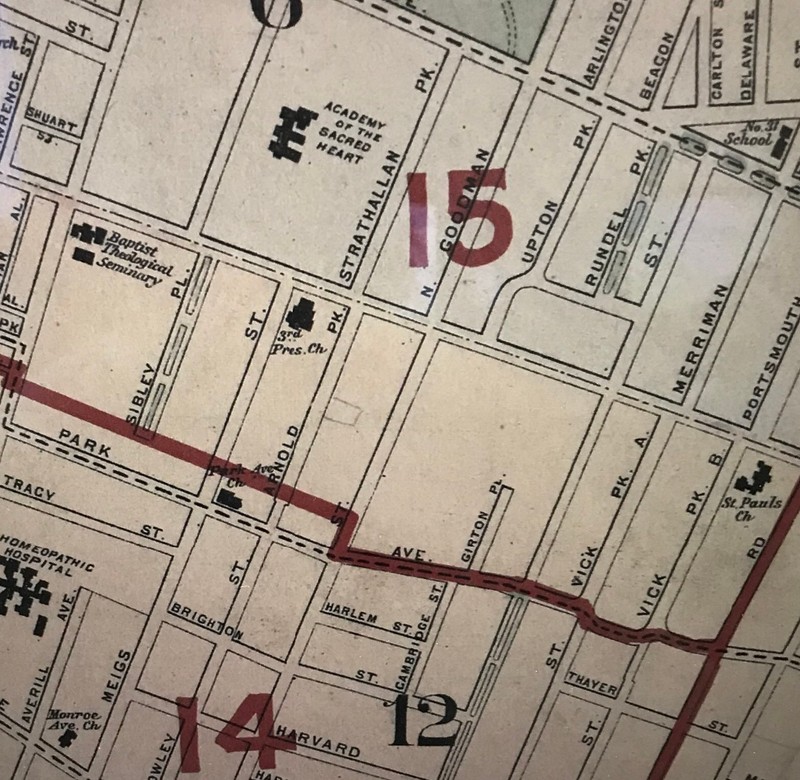 Backstory and Context
This entry is part of a public history project developed by the RIT Museum Studies program in celebration of the bicentennial of Frederick Douglass's birth (February 1818). The items shown in this entry are taken from a scrapbook that is one of two in the collections of the Local History and Genealogy Divisions of Central Library of Rochester and Monroe County Library.
Sources
http://www.libraryweb.org/~digitized/scrapbooks/rsc00002color.pdf
https://www.loc.gov/resource/g3804rm.gla00154/?sp=5
https://democratandchronicle.newspapers.com/