Solax Film Studios (1910-1919)
Introduction
The Solax Company was one of many film studios in Fort Lee, New Jersey in the 1910s. The company was founded by Alice Guy Blaché and her husband Herbert and operated at this location until a fire destroyed the studio in 1919. Although the studio was short-lived, it is significant in the history of film as Alice was one of the only female film directors during the late 1890s into the early 1900s. Solax may have also been the first American studio to produce a film featuring an all-Black cast. The studio was equipped with dressing rooms, glass roofs to allow sunlight in, and a sign reminding actors to "be natural."
Images
Solax Studios under construction.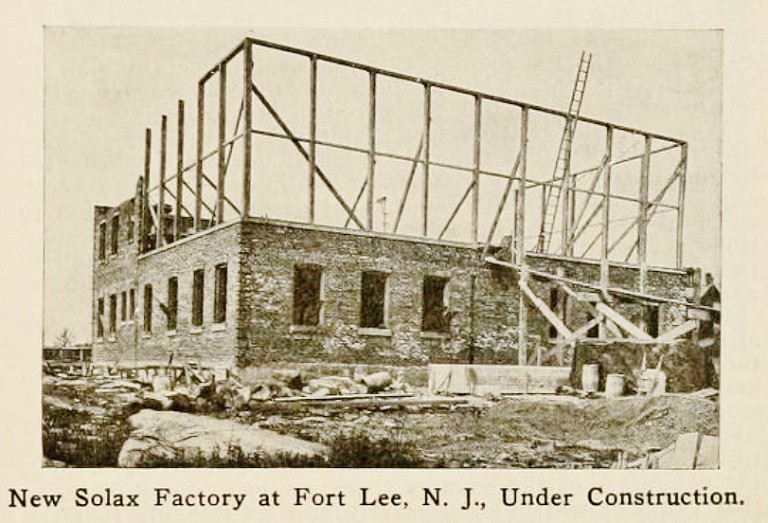 The studio during its brief period of operation.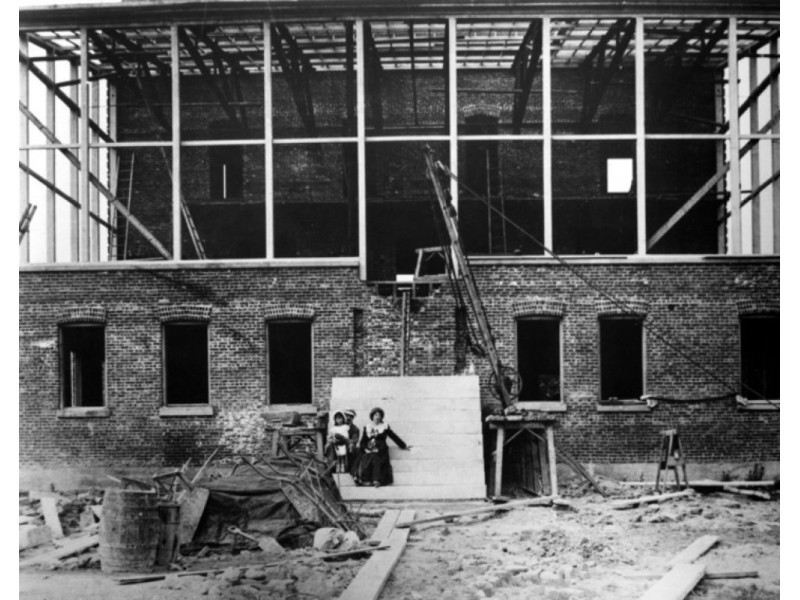 Backstory and Context
Alice Guy Blaché started the Solax production company in a studio previously owned by the Gaumont Film Company in Flushing, Queens. She and her husband, Herbert Blaché, had been tasked with creating sound films for Gaumont using Chronophone technology. After that ventured failed, they began making movies of their own in the United States. Their films were initially distributed by Gaumont. After accumulating some success, the couple built a new studio, priced at $100,000, in Fort Lee, New Jersey. Fort Lee would later be home to other studios, including Goldwyn Pictures Corporation (which would become part of Metro-Goldwyn-Mayer), Champion Film Company (which would become part of Universal), and Artcraft, a branch of Famous-Players Laskey (which would become part of Paramount).
One of the studio's owners, Alice Guy Blaché, was born in Paris in 1873. She was educated in a convent and took work as a secretary for Léon Gaumont. She convinced him to give her a shot at directing, and she soon became the head of the Gaumont film unit in Paris. She resigned from her position after getting married, but Gaumont then placed the couple in charge of a Chronophone franchise in Cleveland, Ohio. The franchise did not last, but Herbert became manager of the Gaumont Studio in Flushing. After the studio failed, Alice Guy Blaché saw her chance to make her own films, and she took it. Solax Company was created in 1910 and relocated to Fort Lee in 1912.
Solax Company was successful for a few years before a number of factors brought it down. For one, the intertitles of Solax's movies were often written in French, then translated into English. Some of these translations came across as awkward. There were also some notable differences between French and American tastes. Then, major studios were beginning to form an oligopoly, pushing foreign and independent studios, like Solax, out of the United States market. The added trouble of finding new distributors led the couple to change up their business. Solax was absorbed into Blaché Features, a new production company. It too fizzled out by World War I. Still, Solax studios is remembered as the home to the first woman movie director. One visitor to Solax praised the couple's work, saying:
"It is not only the agreeableness of the place and of the people one meets there that one notices, but the smoothness and order with which the work is carried on."
Sources
Studios. Fort Lee Film Commission. Accessed February 06, 2018. http://www.fortleefilm.org/studios.html.

McMahan, Alison. Alice Guy Blaché. Woman Film Pioneers Project - Columbia. Accessed February 06, 2018. https://wfpp.cdrs.columnbia.edu/pioneer/ccp-alice-guy-blache/.

Gledhill, Christine. Knight, Julia. Doing Women's Film History: Reframing Cinemas, Past and Future. Women and Film History International. Illinois. University of Illinois Press, 2015.

Abel, Richard. Encyclopedia of Early Cinema. New York. Routledge, 2005.

Alice Guy Blache,In Her Own Time, In Her Own Words. 11 East 14th Street. August 23, 2013. Accessed February 06, 2018. https://11east14thstreet.com/2013/08/23/alice-guy-blache-in-her-own-time-in-her-own-words/. Photo source.

Meyers, Tom. Birthday Wishes to Fort Lee's Alice Guy Blaché. Patch. June 25, 2012. Accessed February 06, 2018. https://patch.com/new-jersey/fortlee/bp--from-the-archives-birthday-wishes-to-fort-lees-al0b7e86733f. Photo source.


Additional Information