Frederick Douglass Monument (Relocated)
Introduction
The Highland Park is also known as the Highland Bowl, now the new location of the Frederick Douglass Monument. The original location of the Frederick Douglass Monument was unveiled near the train station on the corner of St. Paul and Central Avenue. The monument was moved because the Rochester officials did not think the noisy and grimy train station was fitting for one of the city's most respected residents. It was moved to the new location at Highland Park in 1941, near his old house on South Avenue that burned down in 1872. It was also moved because Frederick Douglass's second wife, Helen Pitts-Douglass, wanted the Monument to be there. Susan B. Anthony, a social reformer and women's rights activist, who was also a close friend of Frederick Douglass since they fought for the women's rights and Black rights together, delivered a speech at the monument quoting Fredrick Douglass and honoring him. James W. Thompson, the person who had the idea about the monument, also went to the monument to listen to Susan B. Anthony's speech and to make sure the monument was in good surroundings. The Frederick Douglass Monument was made by Smith Granite Works of Westerly, Rhode Island, and cost $7,000. The medium of the monument is Bronze, and the pedestal is made out of granite. The bronze statue is eight feet high and the granite is nine feet high. On the east side of the shaft is a speech by Douglass about the Dred Scott court case in 1857. On the West side is from a speech about West Indian emancipation, which was delivered at Canandaigua. The North side has different quotations from him, and the South side only has his name on it. The entire granite base is decorated with palm leaves carved in the stone. This entry is part of a public history project developed by the RIT Museum Studies program in celebration of the bicentennial of Frederick Douglass's birth (February 1818).The Photo shown in this entry is from the Democrat and Chronicle. See http://media.democratandchronicle.com/retrofitting-rochester/frederick-douglass-monument
Images
Frederick Douglass Monument in Highland Park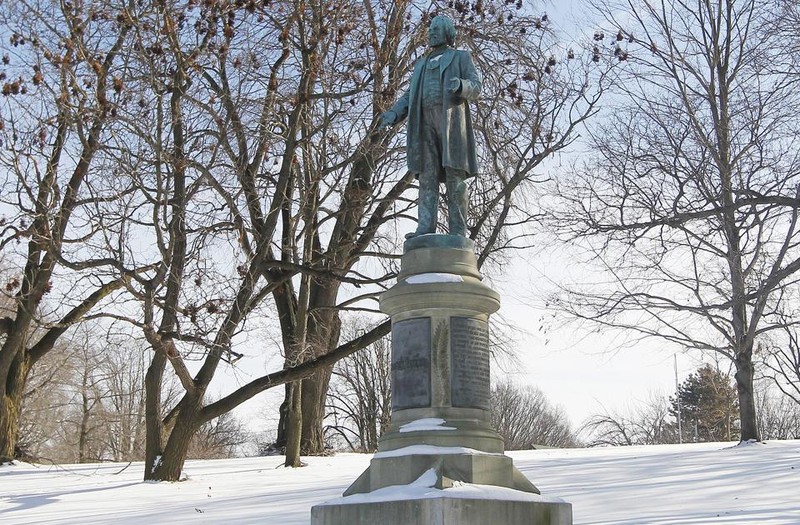 Backstory and Context
The Highland Park is also known as the Highland Bowl, now the new location of the Frederick Douglass Monument. The original location of the Frederick Douglass Monument was unveiled near the train station on the corner of St. Paul and Central Avenue. The monument was moved because the Rochester officials did not think the noisy and grimy train station was fitting for one of the city's most respected residents. It was moved to the new location at Highland Park in 1941, near his old house on South Avenue that burned down in 1872. It was also moved because Frederick Douglass's second wife, Helen Pitts-Douglass, wanted the Monument to be there.
Susan B. Anthony, a social reformer and women's rights activist, who was also a close friend of Frederick Douglass since they fought for the women's rights and Black rights together, delivered a speech at the monument quoting Fredrick Douglass and honoring him. James W. Thompson, the person who had the idea about the monument, also went to the monument to listen to Susan B. Anthony's speech and to make sure the monument was in good surroundings.
The Frederick Douglass Monument was made by Smith Granite Works of Westerly, Rhode Island, and cost $7,000. The medium of the monument is Bronze, and the pedestal is made out of granite. The bronze statue is eight feet high and the granite is nine feet high. On the east side of the shaft is a speech by Douglass about the Dred Scott court case in 1857. On the West side is from a speech about West Indian emancipation, which was delivered at Canandaigua. The North side has different quotations from him, and the South side only has his name on it. The entire granite base is decorated with palm leaves carved in the stone.
This entry is part of a public history project developed by the RIT Museum Studies program in celebration of the bicentennial of Frederick Douglass's birth (February 1818).The Photo shown in this entry is from the Democrat and Chronicle. See
http://media.democratandchronicle.com/retrofitting-rochester/frederick-douglass-monument
Sources
Morry, Emily. Frederick Douglass Monument. Democrat and Chronicle.0 n.d., 2/6/18. http://media.democratandchronicle.com/retrofitting-rochester/frederick-douglass-monument.

Rivers, Tom. New York: Frederick Douglass Monument in Rochester First in U.S. to memorialize African American. Orleans Club. Jan. 22nd 2017. Accessed Feb 8th 2018. https://orleanshub.com/statuesque-new-york-frederick-douglass-monument-in-rochester-first-in-u-s-to-....


Additional Information