Hartland Mansion
Introduction
Massive and gaudy, the Hartland mansion is much like Las Vegas itself. The home, which is 31,000 square feet, was originally two homes which were combined to make one over-the-top Las Vegas mansion, a bit like the Liberace mansion, one of its neighbors. The home was enlarged and made even more opulent by Toni Hart, a minister and gospel singer, and now serves as a venue for special events.
Images
Hartland Mansion exterior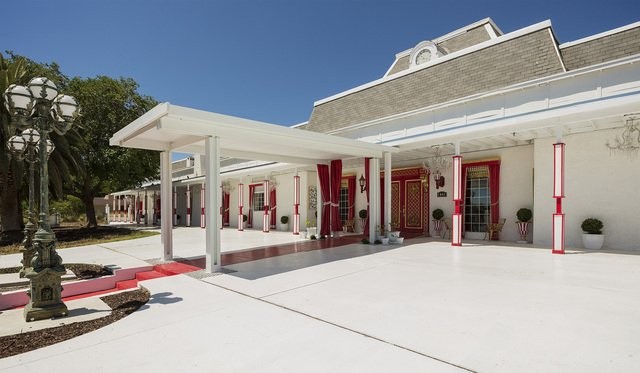 Hartland Mansion interior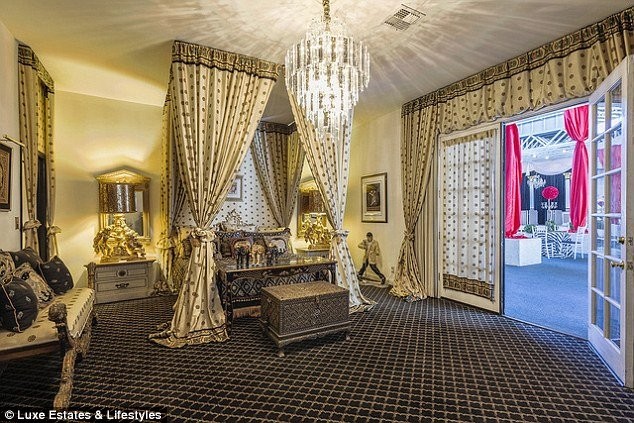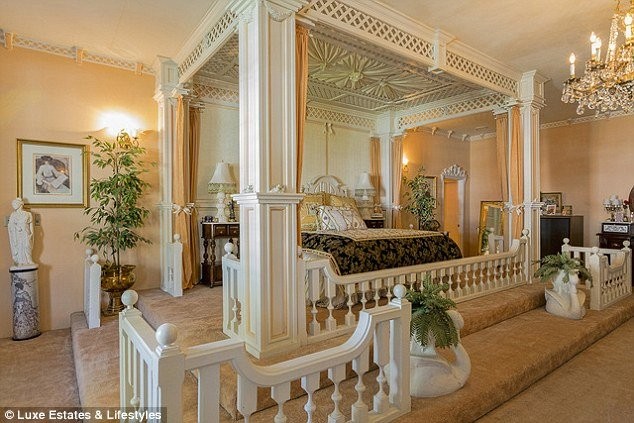 Backstory and Context
Occupying the same somewhat dated neighborhood as Liberace's mansion, the Hartland mansion is one of those Vegas oddities that must be seen to be believed. Like Liberace's former abode, the Hartland mansion was originally two separate houses, both of which were built in the 1940s. The owner, Thomas Arvey, sent his architect to Disneyland for inspiration. But the Magic Kingdom wasn't the only source of inspiration; the home also borrowed some touches from "Gone With the Wind."

In the early 1970s, the two homes were combined to make one, and the Hart family bought the property about a decade later. Toni Hart was an evangelist and gospel singer whose family recorded more than 20 gospel albums. Hart purchased the home in 1978 for $190,000. When fires damaged the home in 1980 and again in 1981, Hart and her son decided to enlarge the home, transforming it from 13,000 square feet to its present 31,000 square feet.

The extravagant home features eight bedrooms and thirteen bathrooms. The ""Grand Party Room" can host 400 guests and has a swimming pool at its center. Gold-accented ceilings, crystal chandeliers, and cherubs feature throughout the house.

The home is not only famous for its size and opulent interior but for its guests. Over the years, the Hartland Mansion reportedly hosted any number of famous guests, including Elvis, Frank Sinatra, Marilyn Monroe, Marlene Dietrich, Ronald Reagan, and Liberace. Television shows and movies have been filmed in the mansion, including the film "Casino."

Nowadays, the Hartland Mansion functions as a popular venue for weddings and other celebrations.



Sources
O'Connell, Oliver. pulent Las Vegas mansion where Elvis stayed, Michael Jackson moonwalked, and De Niro filmed Casino goes up for sale for $3.5 million. June 01, 2015. Accessed February 04, 2018. http://www.dailymail.co.uk/news/article-3106657/Crazy-Vegas-mansion-Elvis-stayed-Gingers-Rogers-danced-Michael-Jackson-moonwalked-comes-sale.html.

Wadler, Joyce. A Las Vegas Mansion, Glue-Gunned to Perfection. New York Times. February 24, 2010. Accessed February 03, 2018. http://www.nytimes.com/2010/02/25/garden/25wedding.html.


Additional Information