The Jonathan and Laura Jackson Arnold House
Introduction
Author-Uploaded Audio
The Jonathan Arnold House was the home of Laura Jackson Arnold, sister of Confederate General Thomas "Stonewall" Jackson. A strong Unionist, Laura opened her home to Union troops during the Civil War. Laura helped heal the wounded while also providing shelter and food. Prominent figures, like Union General George McClellan, passed through the home during the Civil War. Laura and her brother Thomas had once been very close, but due to their differing views on the question of secession, their relationship became antagonistic and the two never resolved their differences before Thomas's death in 1863. Because of her assistance to federal forces, Laura was praised by Union troops during the war and remembered with great respect and admiration by Union veterans after the war.
Images
Laura Jackson Arnold opened her home to injured Union troops and nursed their wounds here, despite her husband, Jonathan, being a southern sympathizer.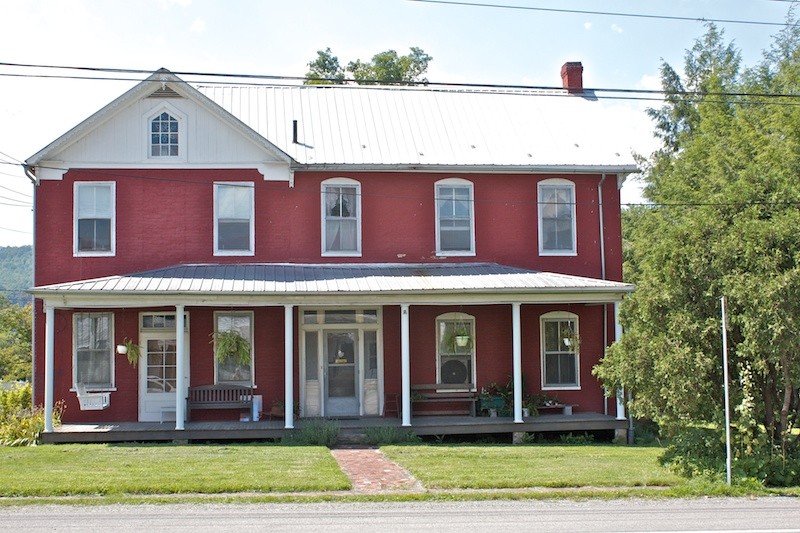 Because of the aid she gave the Federal Army, Union troops held Laura in the highest regard, and veterans continued to give her praise in the years following the Civil War.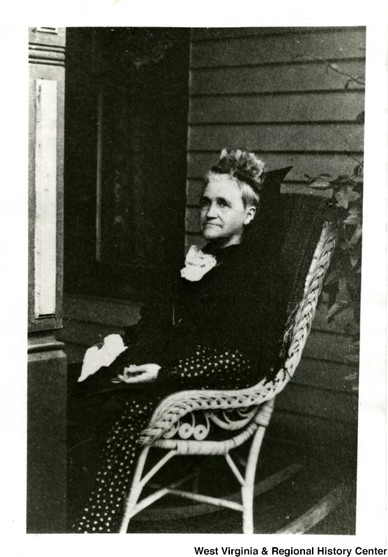 Because of their differing views, Thomas "Stonewall" Jackson's once close relationship with his sister, Laura, became hostile when the Civil War started and Stonewall became a general for the Confederacy.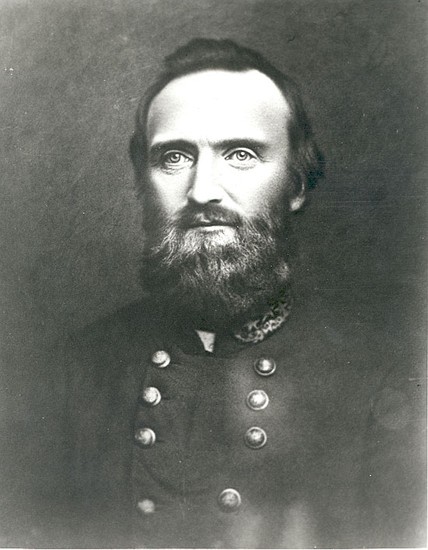 The Jonathan Arnold House is located in historic Beverly, West Virginia.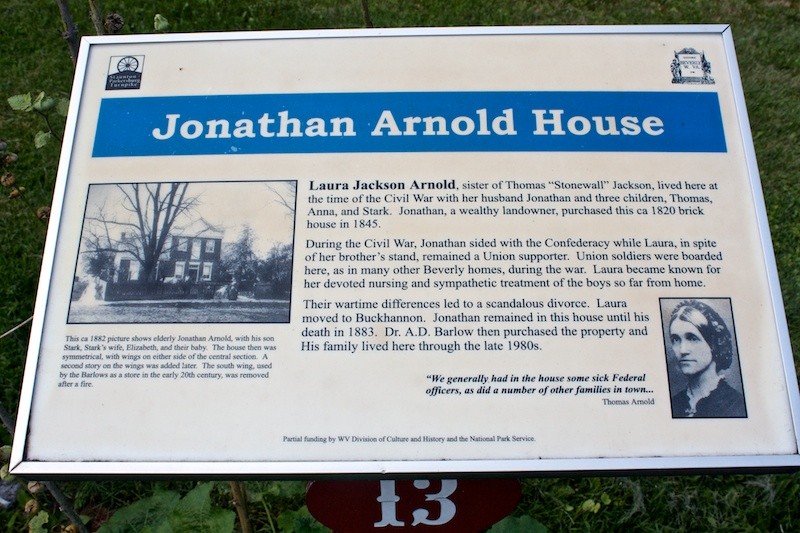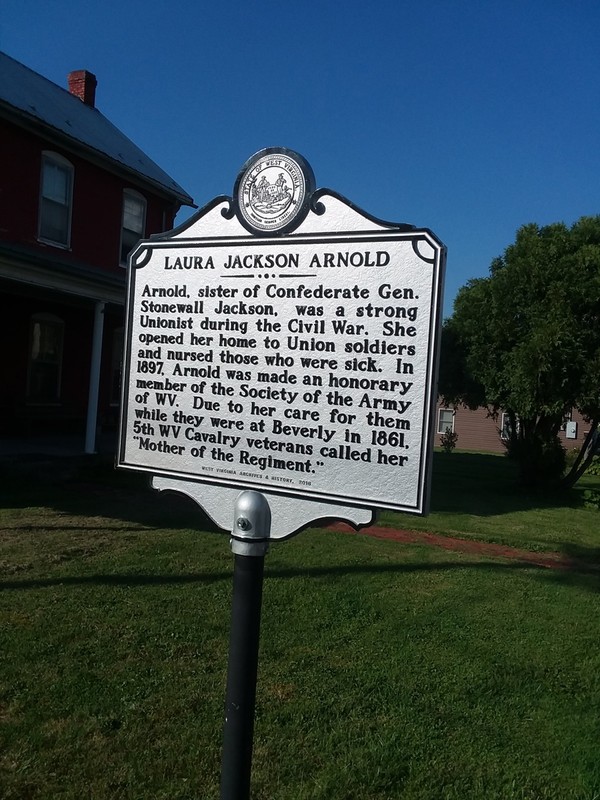 Backstory and Context
Author-Uploaded Audio
Laura Jackson was born on March 27, 1826, in Clarksburg, Virginia (West Virginia) to Jonathan and Julia Beckwith Neale Jackson. The Jacksons had four children, but lost one to disease. Jonathan Jackson died of typhoid fever a day before Laura's birth. Laura Jackson was alone to care for their surviving children, Thomas (Later known as "Stonewall"), Laura, and Warren. Laura Jackson married Blake Woodson. The new family struggled financially and Laura and Thomas were sent to live with uncles on the late Johnathan's side of the family in Jackson Mill (West Virginia). Warren was sent to live with some of Julia's family members. 
Julia Jackson passed away during childbirth in 1831 and Warren passed away in 1841 after suffering from tuberculosis. This left Laura and Thomas the only living members of the original Jackson family. Laura and Thomas formed a bond as they endured an insecure and sad childhood. Thomas left home in 1842 to enroll in the United States Military Academy at West Point, but the two remained close for some years and wrote to one another often. 
In 1844, Laura Jackson married Jonathan Arnold and they bought this home in 1845 for $1500. The couple had four kids and opened their home as a private school for several area families. The children were instructed by a governess that stayed in the home. Once the Civil War broke out their home became more than a school for the children. Several of the people living in the town of Beverly were sympathetic to the southerners, including Jonathan Arnold, who was originally a Whig. Therefore, when the Union took control of the town after the Battle of Rich Mountain just five miles away on July 11, 1861, several people moved away. Despite her husband's new political leaning, Laura stayed a Unionist and provided medical attention to the wounded Union troops inside her own home. Union soldiers stayed in Beverly during most of the war and Laura continued to help heal Union troops wounded in any conflicts that occurred close to the town throughout the war. Union troops talked fondly of her and praised her for her loyalty to the Union.
Prior to the Civil War, Stonewall visited the Arnolds in their home on several occasions. However, when the war broke out Laura and Stonewall's close relationship ended when she remained a Unionist and he became a general for the Confederate Army. The two never settled their differences before Stonewall's death in 1863 at the Battle of Chancellorsville. It is not clear if Laura had any regrets about the deterioration of the close relationship she had with Stonewall and his death because she never spoke of it. She never stopped being a Unionist and did not speak to any Jackson relatives.
The differences in political opinions between Laura and her husband became too much for the marriage and in 1870, Jonathan divorced Laura. Laura left Beverly and went to live in Buckhannon, WV; her ex husband continued to live in the home they had shared until he passed away in 1883. Laura was remembered and honored for her wartime efforts in the years after the war. In 1897, she was named an honorary member of the assembled Society of the Army of West Virginia. In 1905, she went to a gathering of the 5th West Virginia Cavalry, who resided in Beverly after the Battle of Rich Mountain. The veterans gave her the title of Mother of the Regiment, due to the medical attention she gave to their wounded comrades. On September 4, 1911, Laura passed away at her daughter-in-law's house and was laid to rest in Heavner Cemetery in Buckhannon, WV.
Today, the house Laura shared with Jonathan is part of Historic Beverly. In 1883, A.D. Barlow purchased two lots from Jonathan Arnold's relatives, adding a store above the south wing of the house. A fire burned this part of the home in the 1940s and Barlow's daughter disposed of the south wing. His daughter also added a porch, made changes to the windows, and blocked a door that was on the second story of the home. Four rooms that were a part of the home when the Arnolds lived in it are still there today.
Sources
"Laura Jackson Arnold." Civil War Women: Women of the Civil War and Reconstruction Eras 1849-1877. Accessed on February 3, 2018. https://www.civilwarwomenblog.com/laura-jackson-arnold/
"13. The Jonathan Arnold House." Historic Beverly Preservation, Inc. Accessed on February 3, 2018. http://www.historicbeverly.org/builds/jonarnold.htm
Image Sources
"West Virginia's Sesquicentennial Highway Historical Markers." West Virginia Archives & History. Accessed October 7, 2020. http://www.wvculture.org/history/markers/sesqui/laurajacksonarnold.html.

Additional Information