Pioneertown, California
Introduction
Pioneertown was the setting for a number of Western movies and TV shows throughout the 1950s and 1960s. It was built in the late 1940s by investors who included stars of the Western genre such as Roy Rogers, Gene Autry, Dick Curtis, and Russell Hayden. The founders intended it to be a set and a place for crews and actors to stay while filming. Today, Pioneertown is still its own self-contained community with businesses, places to stay, and events.
Images
Photo from the Mane Street Stampede.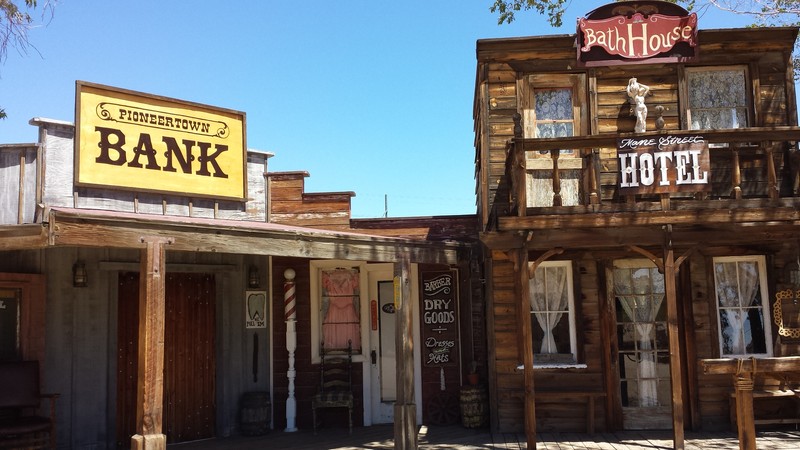 Photo by David Walter Banks.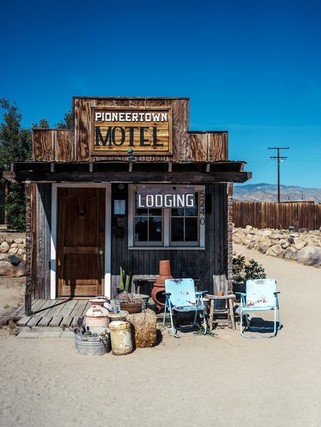 Photo by Taysha Murtaugh.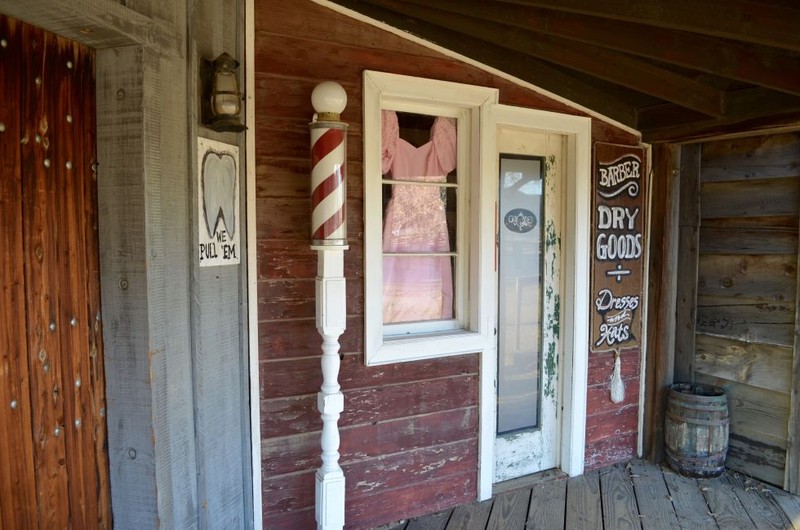 The original founders breaking ground.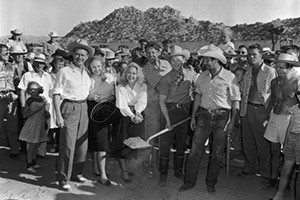 Backstory and Context
Actor Dick Curtis looked at acres of property in the Californian desert and saw the potential for residential and commercial development. He and seventeen other investors, including actors Roy Rogers and Gene Autry, bought the land in 1946 for $500 each. Rogers, Autry, and other cowboy stars of the silver screen wanted to build a Western set there unlike any other. Their Pioneertown, named for Rogers's singing group, would be more than facades. It would include a restaurant, bar, and motel for the actors when they filmed on location. In an effort to garner attention for the area, Time Spenser penned a song: "Out in Pioneertown."
Construction began in 1947, but it was not long before the dreams of Dick Curtis were dashed. A lack of water in the area made it impossible to build the resorts and golf courses he had imagined. It seemed that the whole plan was a failure until Phillip N. Krasne entered the picture. Krasne was a movie producer scouting locations for United Artists's Cisco Kid TV series. He signed a twenty-five-year lease for Pioneertown for filming. Throughout the 1950s, many other TV shows and movies were shot in Pioneertown: Annie Oakley, The Capture, Barbed Wire, and The Valiant Hombre, among others. Actors and crew were able to stay in the Pioneertown Motel (still open today) during filming. In the 1960s, another company hoped to turn Pioneertown into a vacation spot, complete with shopping centers and an airport. But, scarcity of water again proved to be a problem.
Though the Pioneertown Motel is still in business, many of the other buildings in town have undergone change. One example is the "cantina" set. It was purchased in 1972 by husband and wife John and Francis Aleba and turned into a biker bar. In 1982, the cantina was transformed into a family-friendly Tex-Mex restaurant by the Alebas' daughter, Harriet, and her husband Claude "Pappy" Allen. The restaurant has been a favorite with locals since and has even hosted Sir Paul McCartney in a small concert in 2016. The town also has a pottery store, a town jail for photo opportunities, and a rentable event space.
Sources
Murtaugh, Taysha. This Town in the California Desert Is Actually an Old Western Movie. Country Living. April 07, 2017. Accessed February 01, 2018. http://www.countryliving.com/life/travel/a42543/visit-pioneertown-california-yucca-valley/. Photo and information source.

How it all began.... Pappy + Harriet's. Accessed February 01, 2018. https://www.pappyandharriets.com/history/. Photo and information source.
Pioneertown History. Mane Street Stampede. Accessed February 01, 2018. http://www.manestreetstampede.com/pioneertown-history.html. Photo source.

Krueger, Alyson. Pioneertown Wants to Be the New Old West. New York Times. May 18, 2016. Accessed February 01, 2018. https://www.nytimes.com/2016/05/19/fashion/pioneertown-hollywood-california-desert.html. Photo source.

Historic Pioneertown California. Pioneertown Sun. Accessed February 01, 2018. https://www.pioneertownsun.com/.


Additional Information