First Baptist Church of South Charleston
Introduction
A landmark in the heart of South Charleston since just a few years after the city's incorporation, the stately First Baptist Church has presided over D Street since 1925, before the broad avenue was even paved. The congregation itself had been established on the site even earlier--since 1919--but was housed in temporary structures for several years before securing funds for their permanent home.
Images
First Baptist Church is one of downtown South Charleston's most distinctive landmarks. Photo courtesy of Farm9 Flickr account.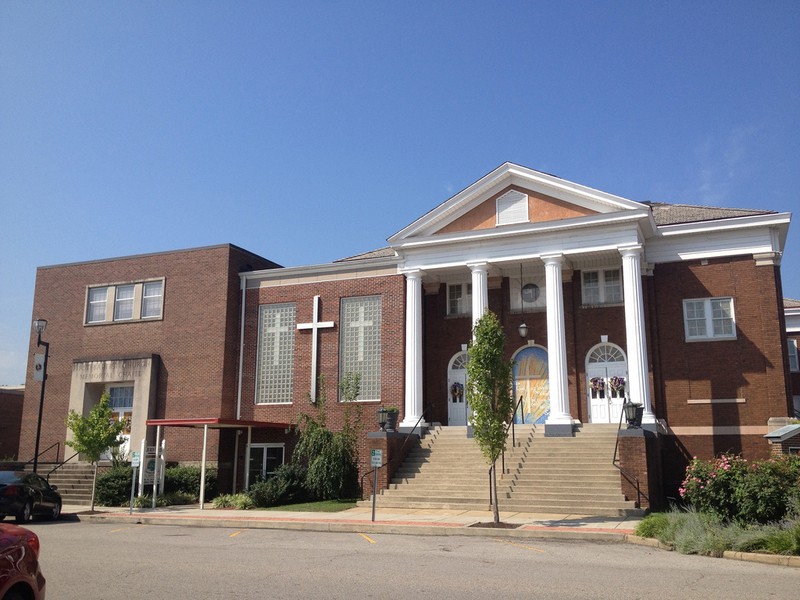 A closer view of the church's neo-classical facade and entryway. Courtesy of First Baptist Church.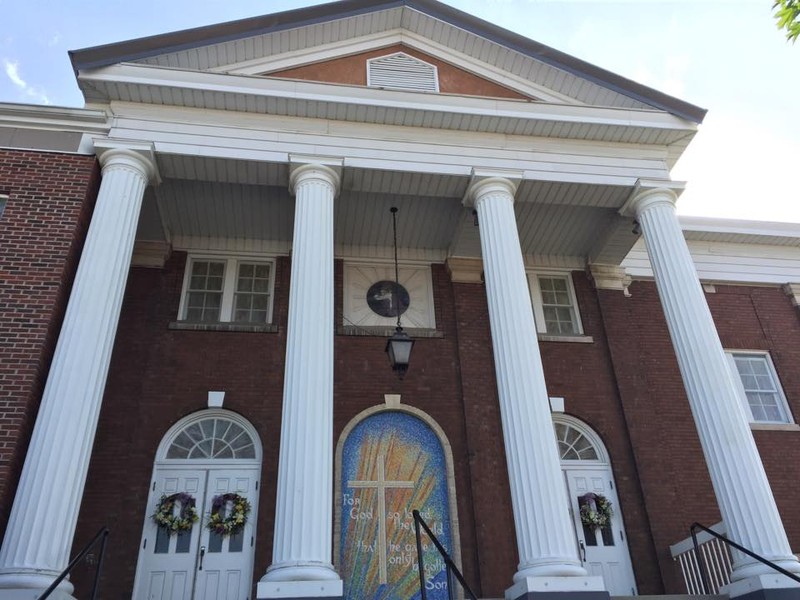 View from the top of the Criel Mound looking southward along unpaved D Street, circa 1920. The Baptist Church would soon be built on the right hand side about two blocks away.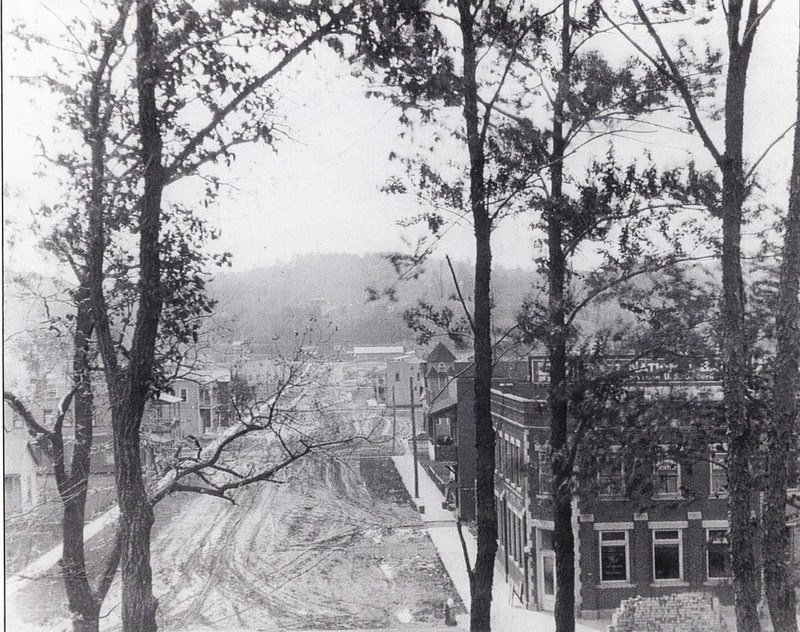 First Baptist Church in the 1920s, before the 1925 construction of the current church. 6th Avenue is in the foreground.
Backstory and Context
One of the oldest congregations in South Charleston, what eventually became the First Baptist Church took root from humble beginnings in 1916 as a mere offshoot of the Baptist Temple across the river in Charleston. Reverend Erwin Hall organized a Sunday School that year in South Charleston with forty-two children attending. By spring of 1917, a new pastor had taken charge and attendance had grown to the point where an independent church was needed. In September 1918, the First Baptist Church was born.
In 1919, the year of South Charleston's incorporation, the new church received a clear deed for its property on D Street from the Baptist Temple and purchased still more land to expand the growing congregation's capacity. In only 3 years, the church had expanded rapidly, achieving a membership of 246 by 1922. It quickly became apparent that a permanent structure was needed to house the booming Baptist community, and work was soon begun.
Thus in 1925, the present structure was dedicated at the cost of $75,000 (over $1 million calculating for 2017 inflation). On February 7, 1943, then-Pastor H. Lloyd Parkinson, who had helped to lead the church out of debt from these land purchases and construction costs, publicly burned the mortgage which the congregation had finally paid off. The structure has since remained relatively unchanged, though the sanctuary interior was remodeled in the 1960s.
Sources
1. Holt, Evelyn Faigley. The History of South Charleston. Edition 2008. Second Printing. Charleston, WV. The Printing Press, Ltd., 2008. pp.219-221

2. Gillespie, Kellis and Virginia. The Dumont Family and Their Belgian Heritage 1703-2003. Hurricane, West Virginia. Kellis & Virginia Gillespie, 25526. Photograph from Criel Mound, pp.24


Additional Information