Arnold Schwarzenegger Statue, Columbus, Ohio
Introduction
Dedicated in 2012, this statue honors athlete, actor, and former California governor Arnold Schwarzenegger. The eight-foot tall bronze statue was built to commemorate his relationship with Columbus, which is home to the Arnold Sports Festival.
Images
The Arnold Sports Festival.is held annually and includes a contest for the best photos taken with his statue during the festival.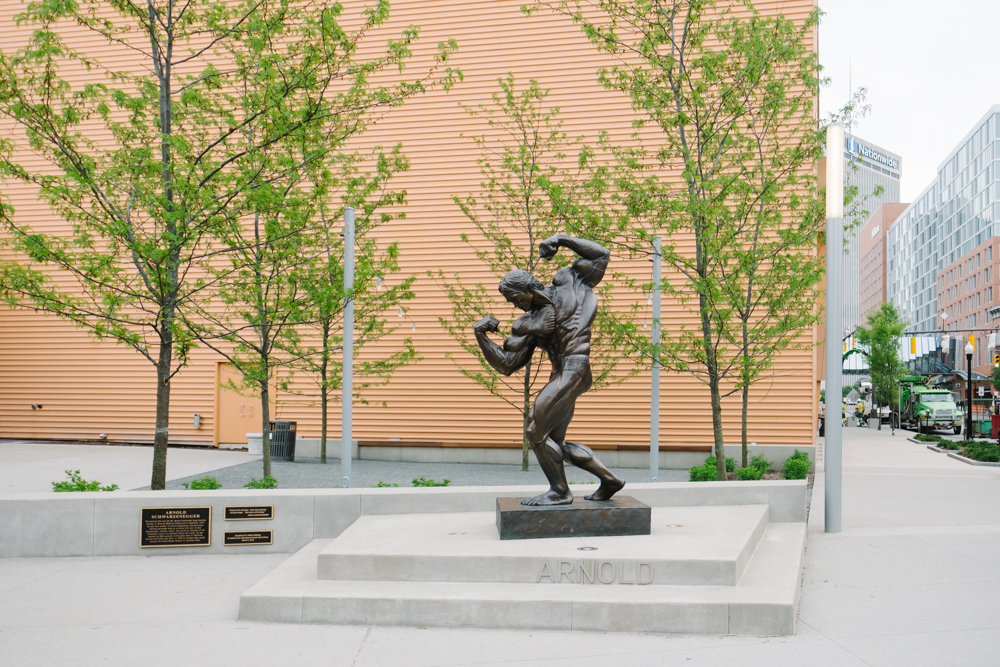 The statue includes a plaque that describes Schwarzenegger's relationship to the city.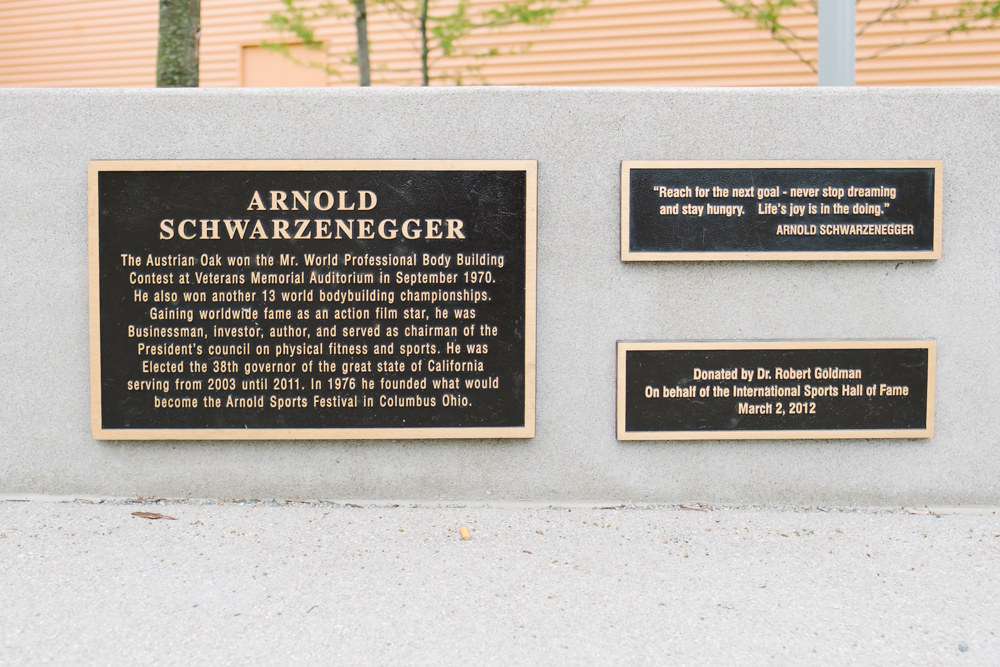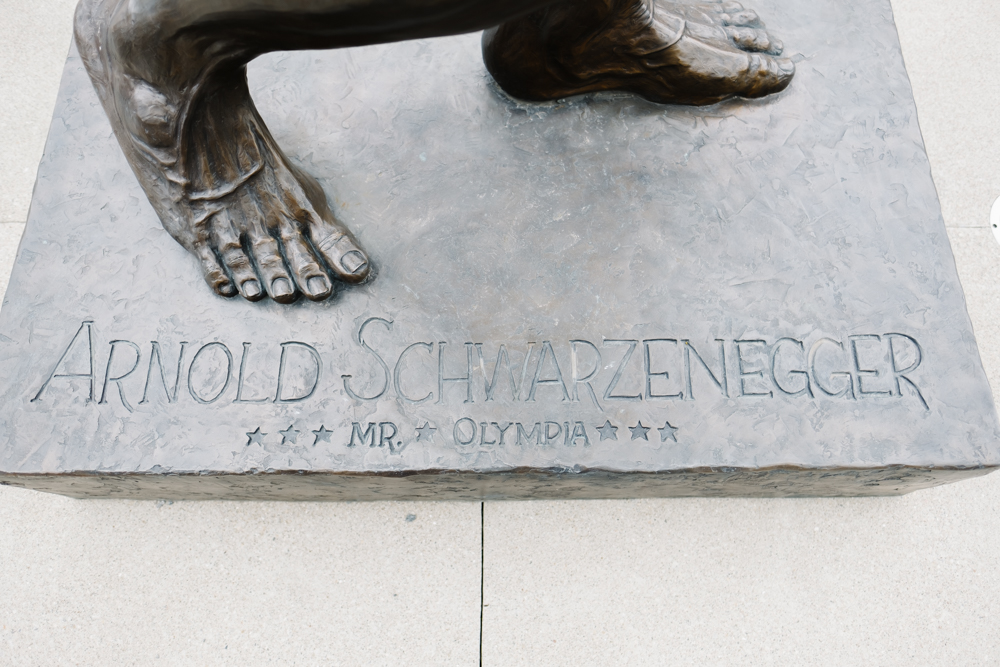 Backstory and Context
The eight-foot tall statue of Arnold Schwarzenegger in Columbus was built in 2012. It was originally located on West Broad Street near the Veterans Memorial facility. When the facility was demolished to make way for a new museum, the statue was moved. It now stands in front of the Columbus Convention Center, where the Arnold Sports Festival is held. At the statue's rededication ceremony in 2014, Arnold Schwarzenegger declared that all future domestic Arnold Sports Festivals will take place in Columbus.

Arnold Schwarzenegger was born in Austria in 1947. In his 20s, he became the youngest man ever to win the title of "Mr. Universe," a major achievement in the body-building community. He continued winning championships for athleticism after moving to the United States in the late 1960s. He also began acting. Some of his biggest films were released in the 1980s and 1990s, including Conan the Barbarian, Total Recall, and The Terminator and its sequels. From 2003 to 2010 he served as California's governor. Today, he remains involved with charities focusing on such topics as the importance of exercise and the environment.
Arnold Schwarzenegger's association with Columbus, Ohio began when he won the Mr. World contest there in 1970. In 1989, the city hosted its first Arnold Classic, which concentrated primarily on body-building. The competition has expanded since then, comprising of events such as seminars, fashion shows, arm-wrestling, and dance and cheer championships, to name a few. The Arnold Classic was renamed the Arnold Fitness Expo in 1993 to better encompass its range of activities, and is now called the Arnold Sports Festival. The festival has become the largest multi-sport event in the world.
Sources
Bio. Arnold Scharzenegger. Accessed January 29, 2018. http://www.schwarzenegger.com/bio.

2018 Arnold Sports Festival Overview. Arnold Sports Festival. November 29, 2017. Accessed January 29, 2018. http://www.arnoldsportsfestival.com/visitor-info/blog/2018-summary-release/.

Arnold Sports Festival. Ohio History Center. Accessed January 29, 2018. http://www.ohiohistorycentral.org/w/Arnold_Sports_Festival.

Arnold Scharzenegger Statue. Atlas Obscura. Accessed January 29, 2018. https://www.atlasobscura.com/places/arnold-schwarzenegger-statue.

Evans, Walker. Arnold Schwarzenegger Statue Finds New Home on High Street. Columbus Underground. October 06, 2014. Accessed January 29, 2018. http://www.columnbusunderground.com/arnold-schwarzenegger-statue-finds-new-home-on-high-street.

"Pumped Up" Arnold Shwarzenegger Statue in Columbus, Ohio. Choosey Traveler. Accessed January 29, 2018. https://choosytraveler.com/arnold-statue-columnbus-ohio/. Photos source.


Additional Information