Francis Armstrong House
Introduction
A profound example of Queen Anne architecture, this 1892 mansion served as the residence of one of Salt Lake City's wealthiest and influential men, Francis Armstrong. Armstrong started as a mill worker and invested his income in several successful area businesses and real estate ventures. An entrepreneur and businessman, Armstrong was also a member of the city council and mayor of Salt Lake in 1886. As was the case with several leading founders of Salt Lake City, Armstrong practiced polygamy and his two wives bore numerous children.
Images
The Armstrong Mansion, built 1892.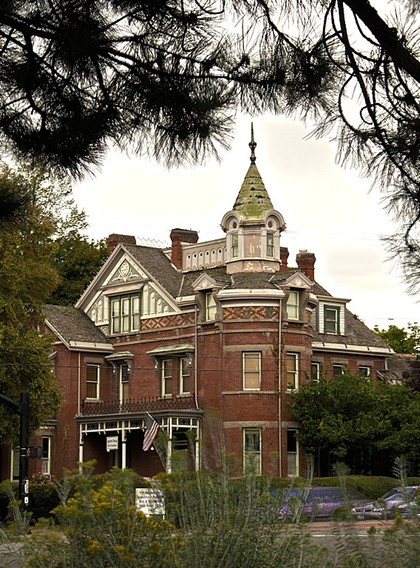 Staircase inside the mansion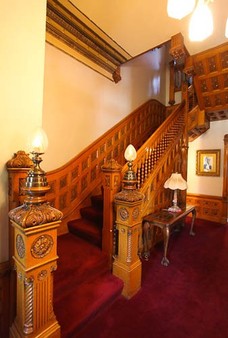 Backstory and Context
The building, finished in 1892, is a notable example of Queen Anne architecture and served as the residence for prominent Salt Lake City businessman and Mayor, Francis Armstrong, who held the office from 1886-1890. Armstrong was one of the city's wealthiest men, though he started as nothing more than a man who hauled wood and as a mill worker.
Born in Northumberland, England (1839) to William Armstrong and Mary Kirk, Francis Armstrong represented the seventh generation of Armstrongs to reside in Northumberland. However, his family left England in 1851 for Canada, settling near Hamilton. Seven years later, in 1858, Francis moved to Richmond, Missouri, where he took work at a sawmill and met David Whitmer, one of the witnesses of the Book of Mormon. That meeting led to Francis' conversion to the Church of the Ladder-Day Saints and his subsequent decision to move to Salt Lake City in 1861.
Armstrong's first years in Salt Lake consisted of working various jobs such as hauling wood, worked at Brigham Young's flour mill, and working at a lumber mill. Over time, he collected enough wages to purchase a small lumber mill and forge several business partnerships. By 1869, Armstrong and his partners grew to become one of the city's leading contractors, construction companies, and supplier of commercial goods.
By the 1870s, he also served with banks, worked on the boards of utility companies and purchased flour mills. His business success allowed him to become one of the city's wealthiest individuals and one of Salt Lake City's most prominent citizens. As a result of his notoriety, he was able to engage in politics, first winning elections as a city councilman in 1878 and 1880. He continued to move up the proverbial political latter so that by 1886 he successfully ran for Mayor; he held the office for four years.
On December 10, 1864, Armstrong married Isabelle Siddoway, who gave birth to twelve children (one died at the age of three). In May of 1870, Armstrong married a second wife, Sarah Carruth. Though she died in 1883, she also bore him six more children during their 13 years of marriage. Only two of those children survived to adulthood. In 1890, LDS prophet Willford Woodruff barred the practice of polygamy but did not require members to terminate their existing marriages. Utah became a state in 1896 and barring polygamy was a prerequisite to statehood.
This mansion was completed in 1892 after Armstron completed his term as mayor. The home exemplifies Queen Anne architectural style, which demonstrates Armstrong's ties to his English heritage. The home also plays on the duality of the LDS philosophy of developing a large, healthy family, as well as Victorian Era attitudes about Middle-Class values tied to family values, gender roles and having a sizable home that provided privacy, and also remarked on one's social status.
Sources
Foster, Craig L. "Victorian Pornographic Imagery in Anti-Mormon Literature." Journal of Mormon History, Vol. 19, No. 1 (Spring 1993), pp. 115-132. https://daily.jstor.org/how-victorians-eroticized-mormons/
"Historical Note." Francis Armstrong Family Papers, Accn 1795, Special Collections and Archives. University of Utah, J. Willard Marriott. Salt Lake City, Utah. Accessed, January 29, 2018. http://archiveswest.orbiscascade.org/ark:/80444/xv71011
Tullidge, Edward William.
History of Salt Lake City
. Salt Lake City: Star Printing Co., 1886. \
Whiteside, Henry O. "Nomination Form: Francis Armstrong House."
National Register of Historic Places.
May 23, 1980. https://npgallery.nps.gov/GetAsset/ae56f07c-ff0a-4db0-9d05-c6f4f8c7f176
Photo Sources

Mansion, built 1892: By Jonathan Mauer - Own work, CC BY-SA 3.0, https://commons.wikimedia.org/w/index.php?curid=21608822
Staircase: By Deborah Garner of the RoadWrites blog: https://roadwrites.wordpress.com/2011/07/28/armstrong-mansion-salt-lake-city/
Additional Information