Site of the Green Shack
Introduction
One of Las Vegas's longest-lasting restaurants, the Green Shack opened in 1931 and was in business until 1999. The proprietor was Mattie Jones. The restaurant was added to the National Register of Historic Places in 1994 but was demolished several years after it closed.
Images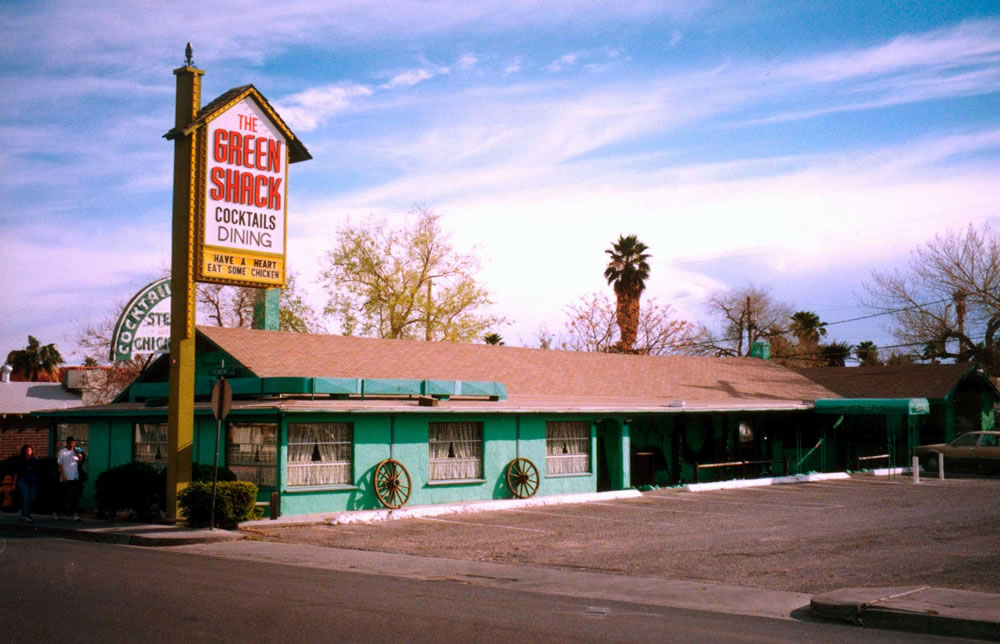 Historic marker at the site of the Green Shack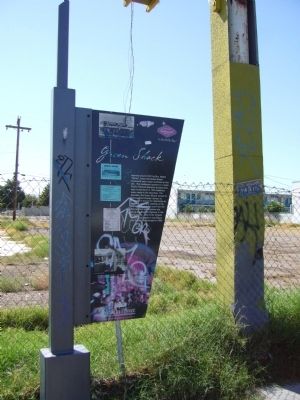 Backstory and Context
Until it closed in 1999, the Green Shack was a Las Vegas institution. The restaurant opened as the Green Shack in 1931, but a restaurant called the Colorado previously operated in the building since Christmas of 1929. The Green Shack operated out of a Union Pacific Railroad barracks that was moved to the site. Jimmie "Mattie" Jones operated the Green Shack, a restaurant she opened with the intention of provided simple fare to workers on the Hoover Dam as they commuted back and forth to the city.

The barracks were painted green, hence the restaurant's name. When Jones opened the Green Shack, the barracks formed the dining room, and when Prohibition ended the following year, she added a bar, gaining the first new liquor license in the city. Though the Green Shack was nothing fancy, everyone who was anyone patronized the restaurant. Bugsy Siegel was a regular customer while his Flamingo Hotel was under construction. Frank Sinatra, Dean Martin, and Liberace were also regulars.

Over the course of its long life, the Green Shack catered to all manner Las Vegas residents, regardless of social class. The very rich ate and drank alongside the working class. It was widely known that if you wanted to be elected to public office, the Green Shack was the place to get votes, because if you went often enough, you eventually met everyone in the city.

During its long life, the Green Shack had a unique claim to fame: from the time it opened until it closed at the end of the twentieth century, it used the same cast iron pans. Those pans were the source of another element of the restaurant's popularity, its fried chicken.

Following the death of Mattie Jones in 1967, relatives took over the operation of the restaurant. By the 1990s, the venerable restaurant faced too much competition and closed in 1999. The restaurant sat vacant for several years and vandals and time took their toll on the building. It was torn down a few years later, leaving only a vacant lot and the old Green Shack sign to mark the restaurant's existence.
Sources
End of an Era: Auction Closes Book on The Green Shack. Las Vegas Sun. July 20, 1999. Accessed January 28, 2018. https://lasvegassun.com/news/1999/jul/20/end-of-an-era-auction-closes-book-on-the-green-sha/.

Hawley, Tom. From Hoover Dam to 1990s, Green Shack Served Las Vegas Well. News Las Vegas. Accessed January 28, 2018. http://news3lv.com/features/video-vault/video-vault-from-hoover-dam-to-the-1990s-green-shack-served-las-vegas-well.