Harrison's Guest House
Introduction
For a number of years in the 1940s and 1950s, Genevieve Harrison operated Harrison's Guest House out of her home on F Street. It was a time when, even in a comparatively tolerant place like Las Vegas, African-Americans faced discrimination and were often prohibited from staying at local hotels. Located in west Las Vegas, which was predominantly African-American, the guest house provided a place for entertainers passing through the city, or simply traveler who could not stay at other hotels in the city. The house is listed on the National Register of Historic Places.
Images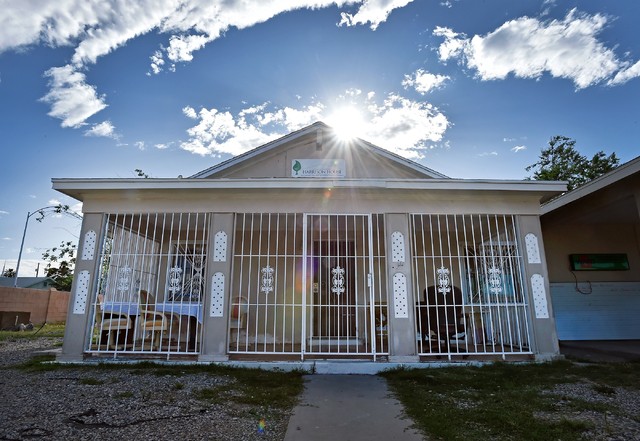 Backstory and Context
For much of the twentieth century, the west side of Las Vegas was a predominantly African-American neighborhood. At the time, segregation was commonplace in many western states, and African-Americans were not welcomed (or were prohibited outright) from white neighborhoods.

African-Americans were also often excluded from downtown hotels and venues. Segregation even applied to the famous entertainers who performed in the city, like Nat King Cole and Sammy Davis, Jr. From the early 1940s through the 1950s, Genevieve Harrison's house on F Street welcomed African-American guests, including the entertainers who were prohibited from staying at the venues where they performers.

Harrison's Guest House was one of several guest houses on the city's west side which catered to African-American guests. Harrison's hospitality did not mean she wasn't a shrewd businesswoman, however. The rates that she and other guest house owners in the west side charged were considered exorbitant compared to the rates at downtown hotels.

Genevieve Harrison operated the guest house until her death in 1957. At that point, her sister, Agatha, began operating it and continued to do so until at least 1960. By that point, segregation was declining and there was less demand for guest houses that catered solely to African-American travelers.

The Harrison Guest House was added to the National Register of Historic Places in 2016. The home is available for tours and there are currently plans to turn it into a museum.
Sources
Accessed January 19, 2018. https://www.nps.gov/nr/feature/places/pdfs/15000009.pdf.

Brean, Henry. Segregation-era Guest House in Las Vegas wins national historic status. Las Vegas Review-Journal. May 15, 2016. Accessed January 19, 2018. https://www.reviewjournal.com/local/local-las-vegas/segregation-era-guest-house-in-las-vegas-wins-national-historic-status/.