Druid Hill
Introduction
Established in 1984, The Mechanical Riverfront Kingdom on Druid Hill is a distinctive sculptural environment of inter-related works created by Venture Spiritualist Clark Ashton where interaction with commuters becomes part of this living artwork through which community is created, psychic unity is manufactured, and mankind's lot and folly is laid bare for eternity through symbolic structures. Here, public meets private, chaos becomes order, and time stands still. It is the home of The Commuter Gallery and the memorial site of The Battle of Druid Hill.
Images
John Clark Ashton Cornelius Farmer on Druid Hill, sitting on his "Boundary" throne beneath his "Control Tower" behind his corn field with refugees from "The Battle of Druid Hill" scattered on the southern slope. photo by Mary Swan Lamar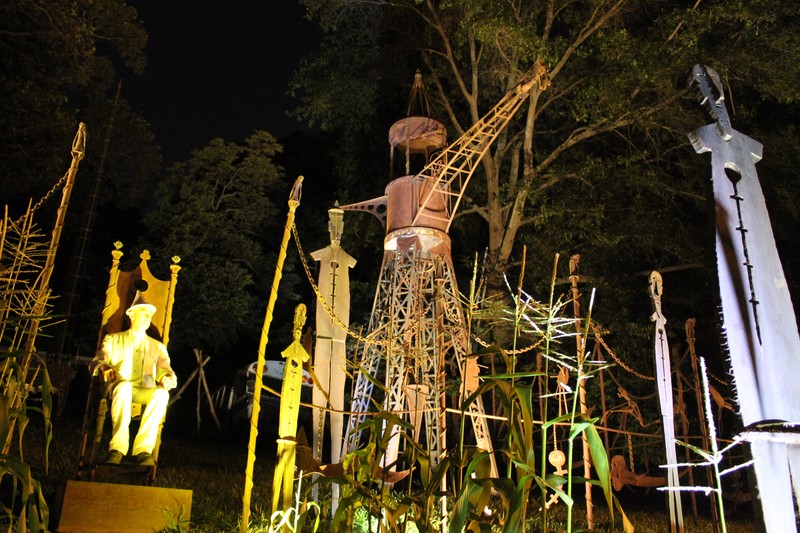 "The Battle of Druid Hill" is a real battle, the primary weapons of which are economic and psychological. The marker is a real historic marker. The account is eye-witness 1st person, unfiltered by government, generals, bankers, clergy, or time.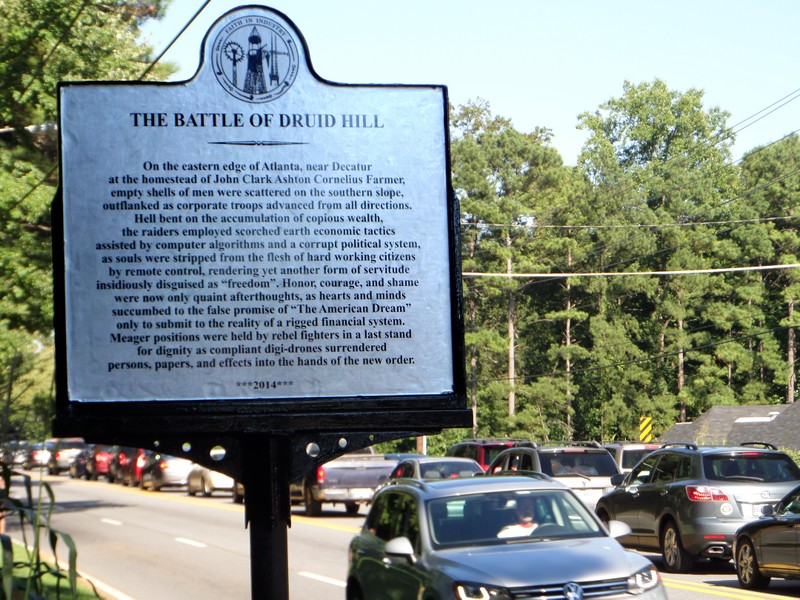 "Druid Hill battlefield"(2014) as viewed from the "Control Tower"(1996)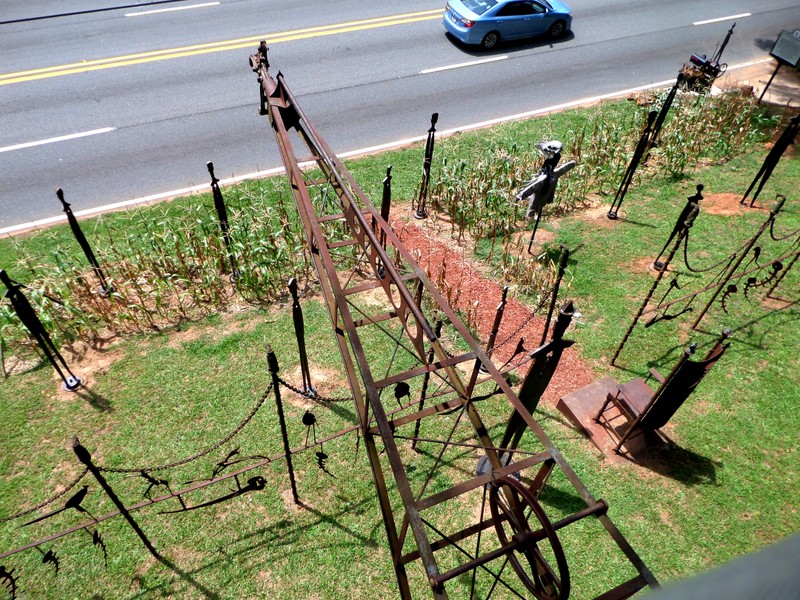 Druid Hill is a geographic feature, a site of cultural significance, and an artwork in and of itself, a "found earthwork". A topographic map showing the elevations and borders of Druid Hill provide the graphic background for the official flag.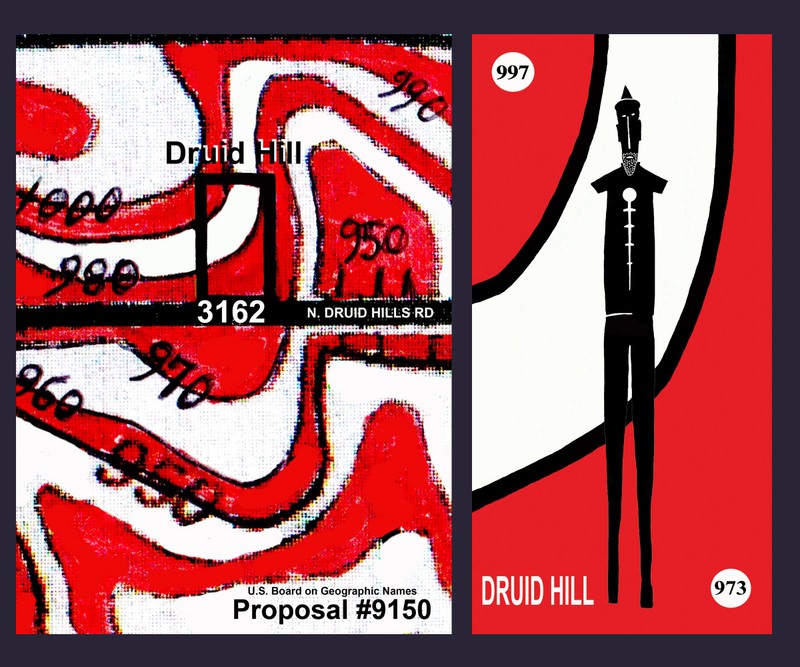 The summit of Druid Hill holds a concentration of inter-related artifacts conceptually related to power structures, i.e., stoves, figures, The B5K ICBM video steeple, etc.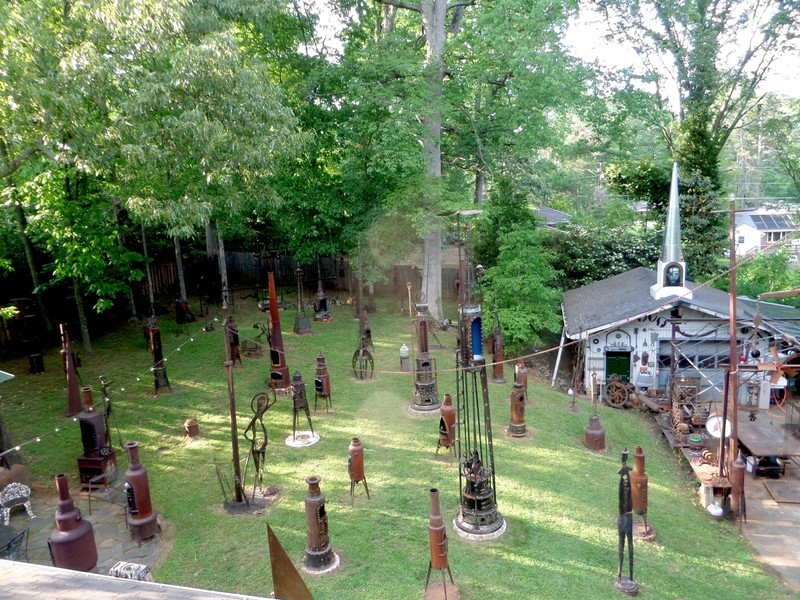 The Commuter Gallery (1997) photo by Mary Anne Mitchell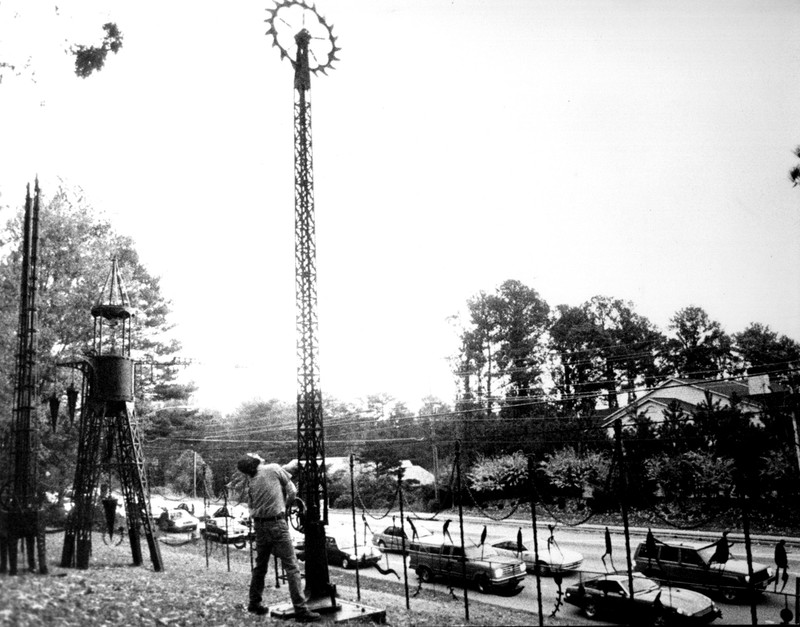 The Infrastructure of an Uncertain Future (1997-2002)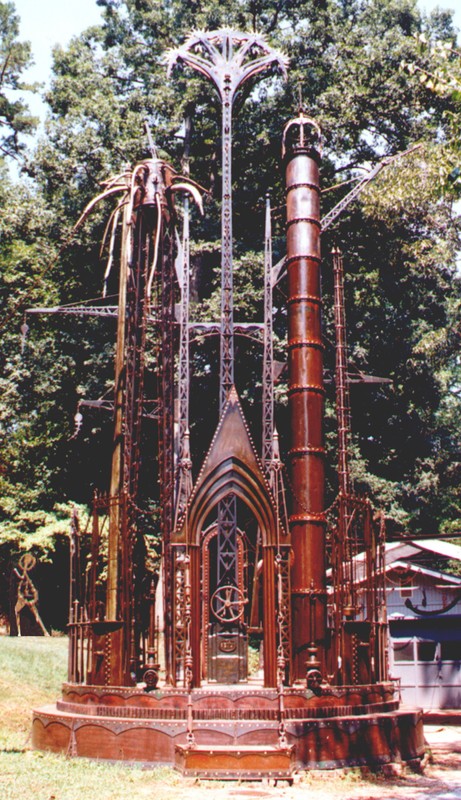 The Bateman 5000 (2012) ICBM steeple hosted by Bela Lugosi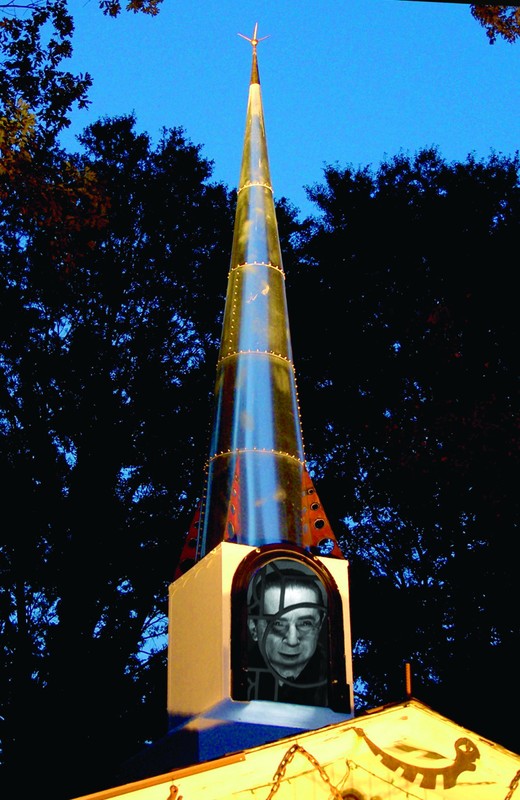 Furnace #44 (2012) photo by Allison Lange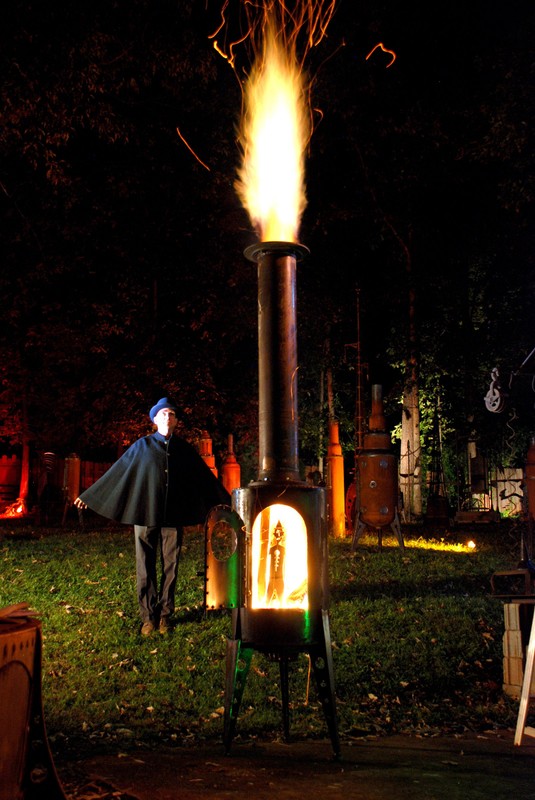 GOD will Smack You DOWN (2015) photo by Mary Swan Lamar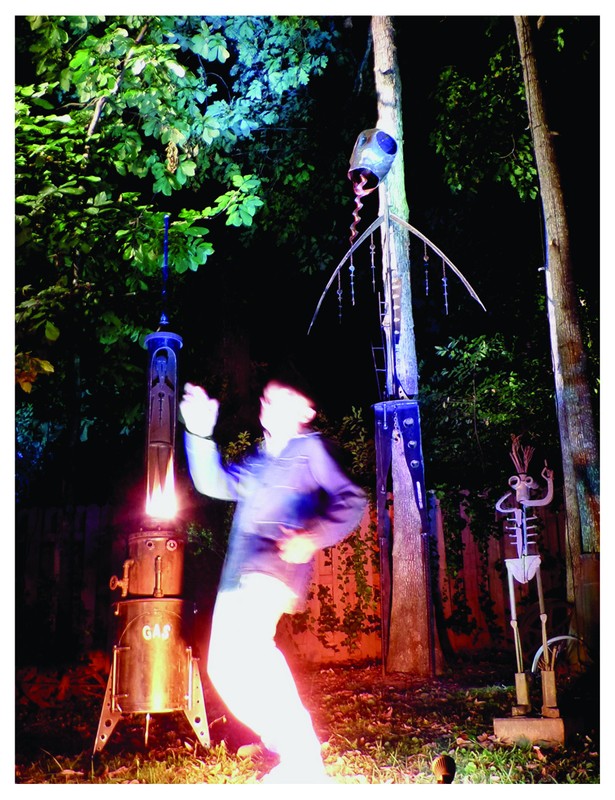 Druid Hill (2015) corn and pumpkins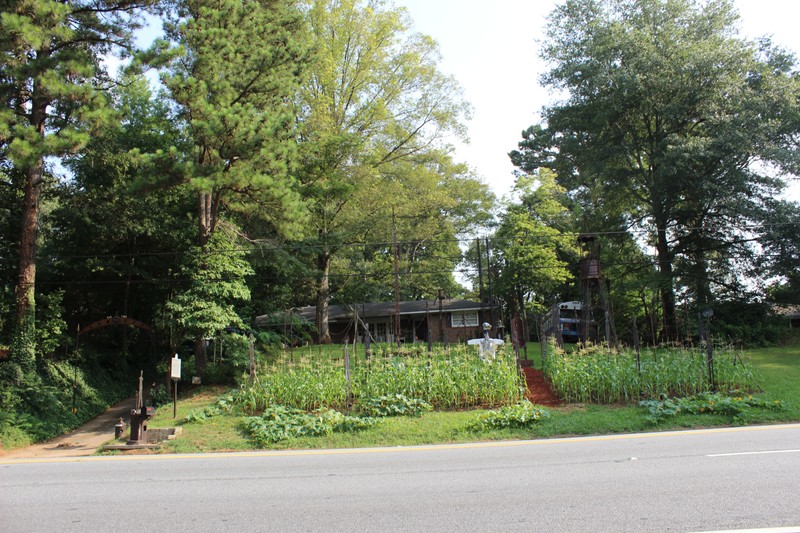 Backstory and Context
The geologic formation of Druid Hill is the result of upheaval and erosion characteristic of the Appalachian chain to which it is related. The surrounding topography is consistent with the extensive range of unnamed hills from which many local sub-divisions derive their surname. Although somewhat unremarkable in the physical sense, its role as a catalyst in the development of a unique cultural site was profound. Druid Hill is a geographic feature and a site of cultural significance. It is also an artwork in and of itself. As such, standing alone it is characterized as a "found earthwork".
Pre-historic visitors to Druid Hill would have been semi-nomadic and had no concept of land ownership. It was not until 1821 when the State of Georgia held its 4th land lottery that there was any legal ownership of the land. In November of 1984, John Clark Ashton Cornelius Farmer purchased the sloping property now defined as Druid Hill, becoming the 16th determinable recorded owner of the tract. He worked the land and developed a philosophy of life directed toward self-actualization through a purposeful existence based on the creation of symbolic structures reflecting an understanding of human belief systems and the fate and destiny of mankind. He immersed himself in work, art, and music while creating a visionary environment that presents a history of humankind from its mythical divine origins to its ultimate self-inflicted demise.
Early inhabitants of the area likely practiced a form of animism as a belief system. They lived off of the land, and some constructed earthworks like those found at Rock Eagle and Etowah. Native Creek and Cherokee present in the area before European settlers arrived, developed complex myths, gods, superstitions, and rituals in a fashion similar to western belief systems, where supernatural forces are at play mitigating the fate of people and humanity as a whole. Practitioners of Christian, Jewish, and eastern religions colonized the area in the 19th and 20th centuries after the forced removal of indigenous people by the government. In 1989, Clark Ashton began the formal development of a personal belief system with the invention of symbolic objects derived from disparate sources within his mind. As a self-proclaimed Venture Spiritualist & Mass Minister, he established The Sweet Holy Church of the Everlovin' eelman from his Boundary Throne with his Faith in Industry complex at The Commuter Gallery in Decatur, Georgia on July 4, 1996 to promote love, peace, and freedom, and to save the world from dangerous religion and meaningless toil.
The Infrastructure of an Uncertain Future (1997-2002) followed as a millennial monument to the 20th Century, an artifact of fantasy, and a foreshadowing of future physical collapse and mutation. Emblematic of mankind's folly, the wages of greed and zealotry are laid bare in this Rosetta stone-like monument. Spiritually speaking, the wages due are paid in the crucibles of the 64 stoves created as an inescapable field of fire, an eternal damnation of the soul as man gets what he deserves for his endless sins.
In 2014, with the 25th anniversary of The Commuter Gallery coinciding with the anniversaries of:
The Battle of Atlanta July 22, 1864 150 years ago
WWI begins July 28, 1914 100 years ago
WWII begins Sept. 1, 1939 75 years ago
Ashton produced "The Battle of Druid Hill" (August 8-10, 2014), thereby augmenting the preceding "Boundary(1994)" and "Faith in Industry(1996)" installations, memorializing soul crushed refugees of a contemporary Civil War over economic inequality amidst faith chaos, while illuminating the desperate grasp of the individual drowning in a sea of irrelevance amidst identity crisis, information and material overload. It is Our history in real time, unmitigated by generals, clergymen, or politicians.
The Ascension Machine created in 2016 represents the conclusion of humankind's physical existence and the beginning of the next phase.
Despite this sincere but frugal attempt at understanding the power dynamics of this life through this body of work and its reflections, what ultimately matters most and will ultimately outlast everything else is the "found earthwork", Druid Hill. To dust all shall return. Without the topography, the cultural features that evolved here would never have occurred. The relationship of the sloping hill to the road below provided a natural stage for viewing by the commuter traffic, for drifters on that mechanical river, for travelers through this life to observe what was to appear, and to receive communiques from and through this hill over more than 3 decades of time. The topography provided the inspiration for the concepts to unfold and the symbolic structures and rituals to evolve. Had the hill been sloped the other way, or if the land had been flat or a depression, none of this would have ever happened. The topography of this land has been essential to what it has become, to what it is. Whatever names are given to what is on it, it is the feature of the land itself that is most deserving of its own name. For it is the feature of its topography "the hill", this "Druid Hill" that has given birth to everything that is upon it and all that it means.
On March 28, 2017 Proposal #9150 "Druid Hill" was filed with The U. S. Board on Geographic Names to formally designate Druid Hill. In November 2017 the first flag was raised. A topographic map showing the elevations and borders of Druid Hill provide the graphic background for the official flag of Druid Hill. As of January 2018, government officials had taken no action on the proposal.

John Clark Ashton Cornelius Farmer January 19, 2018

Sources
Torpy, Bill. "Druid Hill" an Idea - and fighting words. December 18, 2017. Accessed January 18, 2018. http://digital.olivesoftware.com/Olive/ODN/AtlantaJournalConstitution/shared/ShowArticle.aspx?doc=AJ....

Mintz, Donna. Clark Ashton: Shouting to the hard of hearing. ArtsATL. February 03, 2016. Accessed January 18, 2018. http://artsatl.com/tag/mechanical-riverfront-kingdom/

https://artadia.org/artist/clark-ashton/
Artadia. Accessed January 18, 2018. https://artadia.org/artist/clark-ashton/.


Kripal, Jeffrey. Cullum, Jerry. Religion: Material Religion (Macmillan Interdisciplinary Handbooks). Edition 1st. Macmillan, 2016.


Additional Information