Hollywood Forever Cemetery
Introduction
Hollywood Forever Cemetery itself has become almost as famous as the people buried within it. Over the years, the cemetery has been the source of scandal and home to memorable events, such as Cinespia's film screenings. Its biggest claim to fame is that more of Hollywood's elite have been buried there than any other resting place. Those interred there include actor Douglas Fairbanks, actress Marion Davies, and Harry Cohn, former head of Columbia Pictures.
Images
Entrance to the Hollywood Forever Cemetery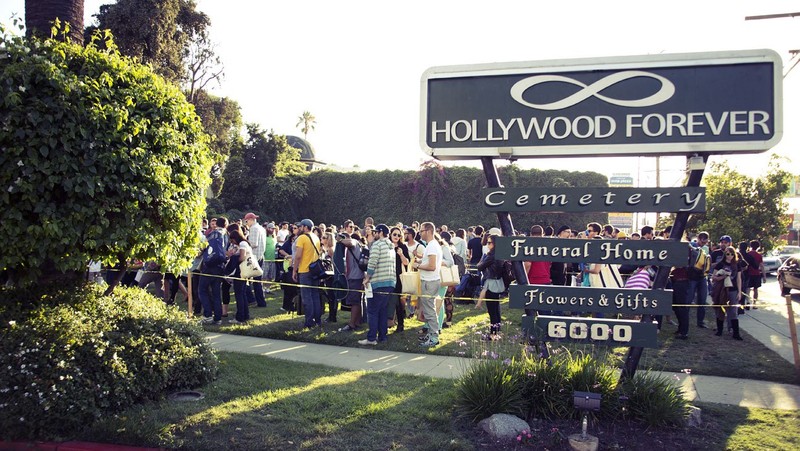 Inside the cemetery. Photo by Michael Juliano.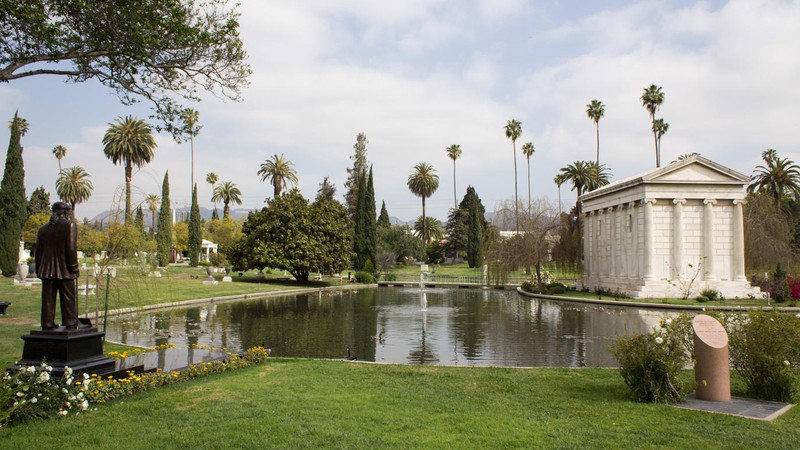 Mausoleum in the cemetery. Photo by Michael Juliano.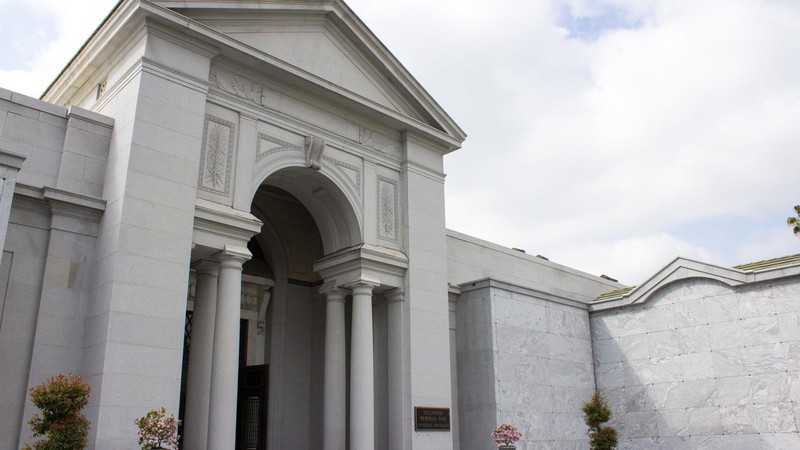 Johnny Ramone's grave, one of the most frequently visited. Photo by Michael Juliano.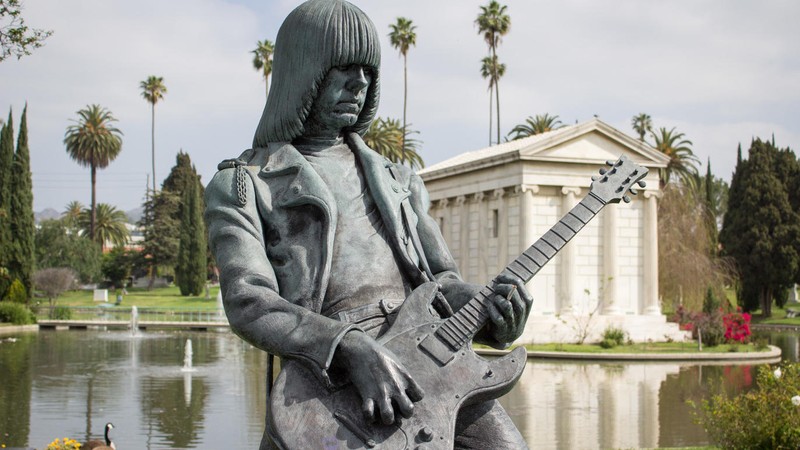 Backstory and Context
The "Hollywood Cemetery" was built in 1899 by Isaac Lankershim and Isaac Newton Van Nuys. It began as a common cemetery, used by people from all classes of society, but became more exclusive when movie stars started being buried there. Forty unused plots were later sold to Paramount Pictures for the construction of their studios in the 1920s. In 1939, Jules F. Roth took over the cemetery, then called "Hollywood Memorial." He owned the cemetery until his death in the 1990s, but his tenure as caretaker was fraught with scandal. He allowed Paramount employees to use the land as a parking lot in the 1980s while their lot was worked on, leading to claims of invasion of privacy. He sold some empty plots, making way for a strip mall. He also was found guilty of fraud, using endowment funds for personal gains.
After Roth's death, the cemetery was practically abandoned. Grass became over-grown, and the gates were padlocked shut. In 1998, Tyler Cassity, whose family owns several other cemeteries in California and Missouri, bought the place. Millions of dollars were spent on renovations, but more scandals came to the surface. Members of Cassity's family were convicted of fraud and sentenced to prison time in 2010, though Tyler Cassity himself was not charged. More recently, there were protests about a Confederate memorial in the cemetery (which has Confederate soldiers buried there, among celebrities and others). The memorial was removed.
In efforts to bring tourists to the Hollywood Forever Cemetery, numerous events are held throughout the year. There are tours, film screenings, and a Día de Los Muertos festival. Some of the most popular graves are those of Johnny Ramone, Rudolph Valentino, Cecil B. DeMille, and Jayne Mansfield. There is also a marker commemorating Hattie McDaniel, the first African American to win an Academy Award. Though she wished to be interred in the cemetery, a segregation policy was still in place at the time of her death in 1952. Much has changed inside and outside of the cemetery gates over the decades, and as its name suggests, Hollywood Forever offers a glimpse into the past, present, and future of Hollywood.
Sources
Russell, Ron. Splendor Fades at Final Resting Place of Famous, Almost Famous. LA Times. July 03, 1988. Accessed January 17, 2018. http://articles.latimes.com/1988-07-03/local/me-8717_1_final-resting-places.

LeDuff, Charlie. Comeback for Resting Place of Movie Stars. The New York Times. December 01, 2002. Accessed January 17, 2018. http://www.nytimes.com/2002/12/01/us/comeback-for-resting-place-of-movie-stars.html#story-header.

O' Neil, Tim. Prepaid Funeral Figures Indicted. St. Louis Post-Dispatch. November 24, 2010. Accessed January 17, 2018. http://www.stltoday.com/news/local/metro/prepaid-funeral-figures-indicted/article_89c589c9-88bf-5268-88e5-c6f0d8e4a3f1.html.

Tchekmedyian, Alene, et. al. Hollywood Forever Cemetery Removes Confederate Monument After Calls from Activists and Threats of Vandalism. LA Times. August 16, 2017. Accessed January 17, 2018. http://www.latimes.com/local/lanow/la-me-ln-hollywood-forever-monument-20170815-story.html.

Kantor, Loren. The Strange History of Hollywood Forever Cemetery. Splice Today. Accessed January 17, 2018. https://www.splicetoday.com/pop-culture/the-strange-history-of-hollywood-forever-cemetery.

Godley, Chris. The National Brings Gloom Rock to Hollywood Forever Cemetery. The Hollywood Reporter. August 14, 2013. Accessed January 17, 2018. https://www.hollywoodreporter.com/gallery/national-brings-gloom-rock-hollywood-604306/1-the-entrance. Photo Source.

Juliano, Michael. Hollywood Forever Cemetery. Time Out. August 03, 2016. Accessed January 17, 2018. https://www.timeout.com/los-angeles/attractions/hollywood-forever-cemetery. Photo Source.


Additional Information