Greenville Cypress Preserve
Introduction
Greenville Cypress preserve is a sixteen acre tract of land that protects three stands of ancient Cypress trees in sloughs, a block of mixed woodland and a meadow opening. There is an open pavilion and walking trail on sight. The trail goes through the open meadow and over the slough and through the mixed woodlands, with an observation deck and signage.
Images
Greenville Cypress Preserve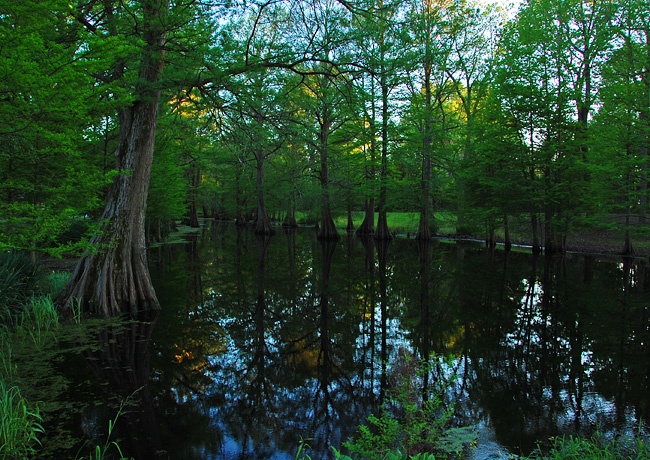 Backstory and Context
Like many towns along the Mississippi River, Greenville owes its roots to Greenville Cypress Preserve the river and miles of rich delta farmland. Known as the Queen City of the Mississippi Delta, this Washington County city flourished along with the rise of the cotton industry. One of the primary shipping ports on the Big River, Greenville is now among the top five largest cities in Mississippi.

Surviving a scare during last spring's record flooding, the town depends on its levee system. Anxiously waiting to see if the levees would hold, residents witnessed Lake Ferguson cresting at 65 feet, matching 1927 record levels. Like most of Greenville's residents, they had never seen the water so high. Greenville Cypress Preserve Break

One of the town's favorite nature preserves is the Greenville Garden Club's Cypress Preserve. Popular among photographers, birders, and joggers, this site's three ancient groves of cypress don't mind a little extra water. Growing from a long, narrow slough, or wetland depression, these cypress brakes enjoy wet feet. Purchased in 1940, the garden club continues to improve the site with new boardwalks, an outdoor classroom pavilion, walking trails, and informative signs. Here among this 16 acre tract in the city, it's no surprise to see deer, turkeys and alligators in their natural habitat.
Sources
http://www.scenicusa.net/050712.html
Additional Information