Dykeman's Spring and Park
Introduction
Surrounded by the 56-acre Dykeman Park, Dykeman's Spring has provided fresh water to local residents, to include Native Americans, for centuries. The spring, ponds and the land surrounding it have been home to trout and watercress farms and a dairy farm with associated creamery. It features a large manor house, hatch house, culvert system, two archaeological sites, over 3 miles of trails, picnic areas and a baseball field and many people come to feed the fish and ducks who reside in and around the ponds. It was named for George Dykeman who purchased the property in 1870, expanded the manor house and built the hatch house in 1871. It was added to the National Register of Historic Places in 1999.
Images
The Dykeman hatch house was built in 1871.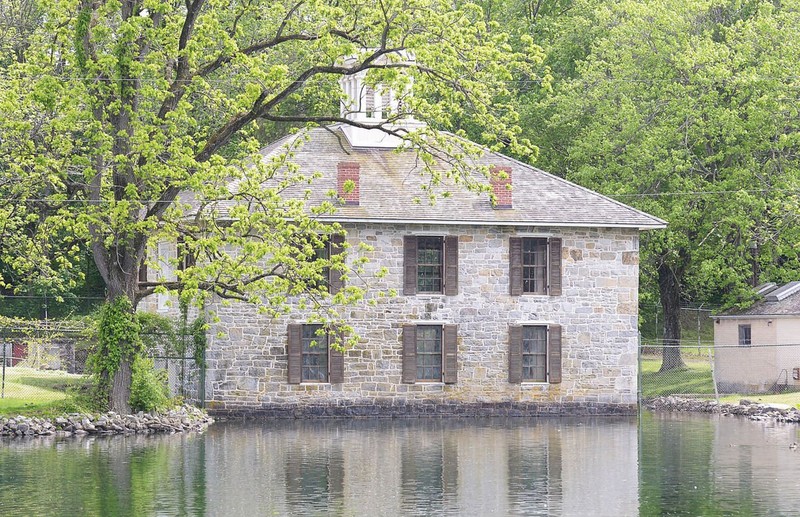 The origins of the manor house date back to c. 1855. It now serves as a bed and breakfast.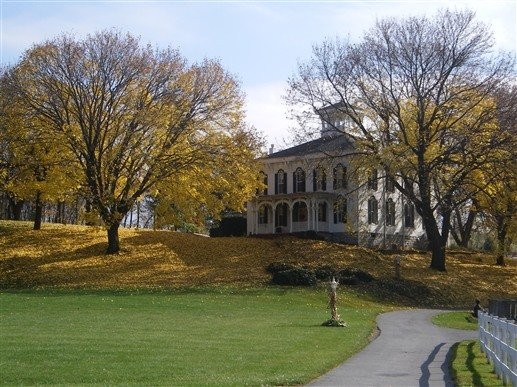 This footbridge over Dykeman Creek stands in stark contrast to the surrounding snow.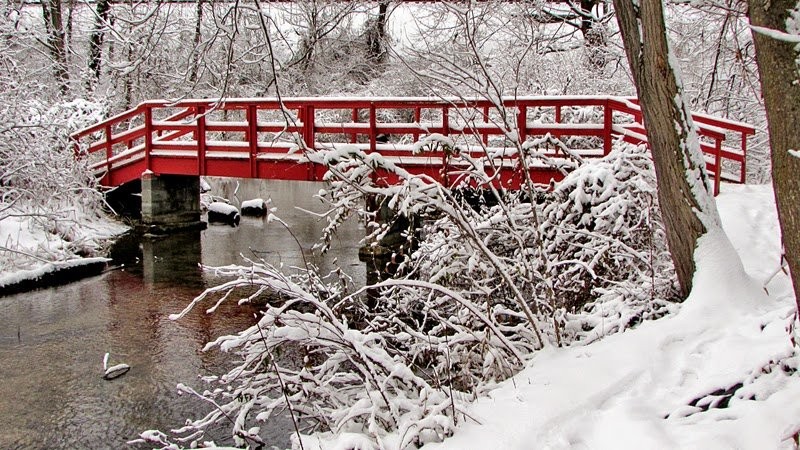 The resident ducks take a break under the shade of a pine tree.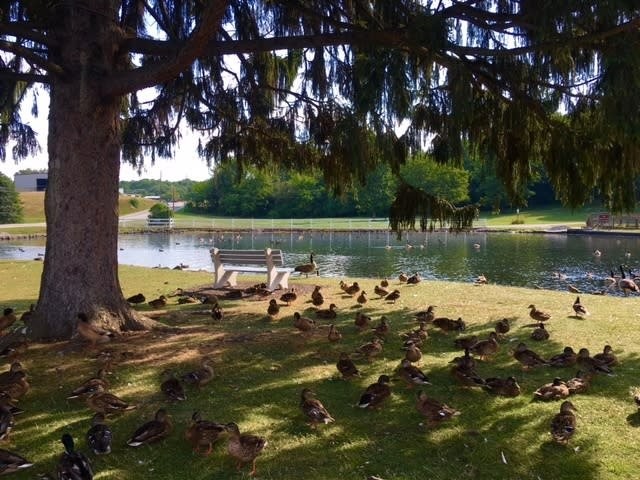 A short brochure describes the park's amenities.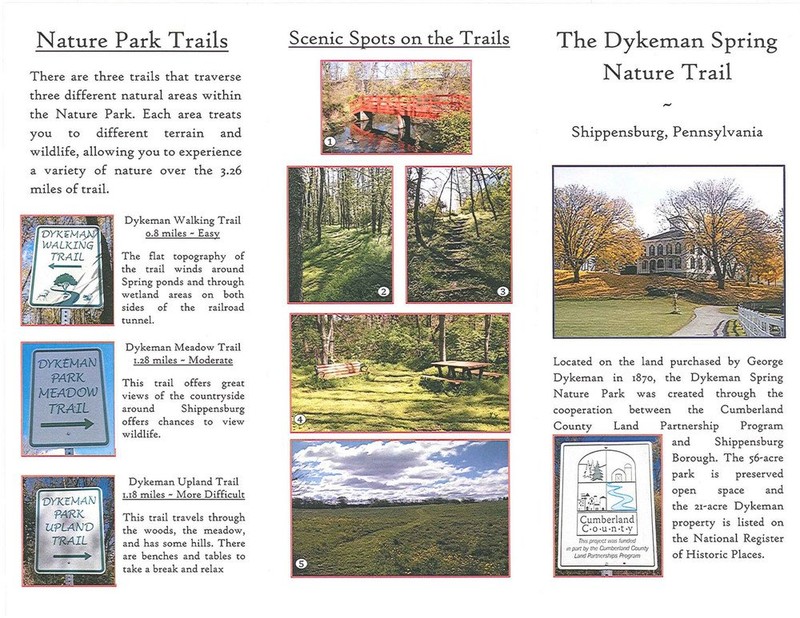 Backstory and Context
When the first European settlers arrived in 1730 they found the land around the spring occupied by members of the Delaware tribe which is why it is sometimes referred to as Indian Springs. The Natives were permitted to remain, for a time, when the spring and surrounding land was purchased by John Reynolds in 1735. The land changed hands many times in subsequent years until Edward Scull purchased it and built the original manor house near the spring c. 1855. And this is what 20,000 Confederate troops, under the command of General Ewell found when they camped near the spring in late-June of 1863 as they thought they were on their way to Harrisburg, but ended up at a sleepy little town called Gettysburg a few days later.
George Dykeman purchased the land in 1870 and promptly built the hatch house and remodeled and expanded the manor house. The remodeled house was now of the Italian villa style and featured a new hip roof that was topped by a six-foot square cupola. Dykeman also doubled its size to eleven rooms. The two-story limestone hatch house is surrounded by water on three sides and was used to raise trout hatchlings. Water from the spring actually flowed through it and some was diverted to small hatchling ponds. However, the fish farm did not prove to be profitable and was abandoned by 1877.
Dykeman then used the land to raise dairy cattle, cultivate a fruit orchard, and quarry stone and the ponds to grow watercress. He also opened a creamery on the property in 1882. He is generally credited with revealing to others the viability of dairy farming and the area soon became dominated by dairy cows and farms and still is to this day. Dykeman was also instrumental in founding the Cumberland Valley State Normal School, now known as Shippensburg University. Despite his many ventures, Dykeman fell into financial difficulties and his land was sold to Frank Dennis at sheriff's auction in 1895. He died in Shippensburg in 1912.
Once again, the land and structures passed through various owners and the hatch house was severely damaged by fire in 1918. The spring and some of the surrounding land was purchased by the borough in 1968 as a source of water after a severe drought in 1966. The manor house fell into disrepair until it was purchased and restored by Earl and Eddy Parshall in 1994 who later converted it into a bed and breakfast. The borough gradually expanded their purchase into the 56-acre park that one can still visit today.
Sources
Parshall, Earl. "National Register of Historic Places Nomination Form." United States Department of the Interior/National Park Service. November 28, 1998. Accessed January 15, 2018. http://www.dot7.state.pa.us/CRGIS_Attachments/SiteResource/H079101_01B.pdf
"Dykeman Park and Trails." Shippensburg Parks and Rec. Accessed January 15, 2018. http://shippensburgparkandrec.org/new-page-1/
Austin, Jake. "Shippensburg spring once served as Indian village." Cumberlink. May 25, 2016. Accessed January 15, 2018. http://cumberlink.com/news/local/history/building_blocks/shippensburg-spring-once-served-as-indian-v...
Additional Information