Cathedral Basilica of the Sacred Heart
Introduction
A classic French Gothic cathedral resembling the great cathedral at Rheims, France, its construction was first proposed in 1896. In 1899, the cornerstone was laid, and the church was completed in 1954. Its towers soar 323 feet, and the cathedral covers some 45,000 square feet, comparable to Westminster Abbey. Sacred Heart is the fifth largest cathedral in North America, and it was granted minor basilica status by Pope John Paul II during his visit to Newark in October 1995. It features a heavy use of stained glass, including three rose windows; vaulted ceilings; a variety of wood paneling; imported and domestic marble; and crystal, silver, and bronze chandeliers.
Images
A view of the Cathedral Basilica.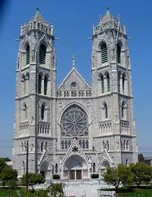 Backstory and Context
In 1859, a Bishop by the name of Bayley proposed the construction of a new Cathedral in the city of Newark. It was not until 1898, however, that construction actually began on the proposed Cathedral. Construction spanned for a great deal of time, however, and was stalled further in 1902 when creative visions between those involved clashed. The feuding became so great that by 1908, construction on the Cathedral had ceased completely. The conflicts were settled by 1910, resulting in some deconstruction of the Cathedral, but nevertheless, construction was back underway. More issues arose and stalled construction, but the Cathedral opened for worship amidst these troubles on May 1, 1928.
As worship and construction continued, the Cathedral was finally completed and dedicated on October 19, 1954. The Cathedral found much use among its attendees, but in 1995, a greater honor was bestowed upon the Cathedral of the Sacred Heart. The Pope John Paul II visited the United States at this time, and during his travels, he visited the Cathedral. Aside from honoring the Cathedral with a visit, he also bestowed upon the Cathedral the title of Basilica, changing it to the Cathedral Basilica of the Sacred Heart. Today, the Cathedral Basilica continues to welcome those who would walk through its doors with open arms.

Sources
http://www.cathedralbasilica.org/history/index.html
Additional Information