Norman Studios
Introduction
Norman Studios stands as a reminder of Jacksonville's part in film history. The studio specialized in films that starred African Americans. This is remarkable considering the studio was active in the South in the 1910s and 1920s. The property served as a dance studio for decades after film-production ceased, and more recently has been the focus of preservation efforts.
Images
The main building of Norman Studios, from the National Park Service website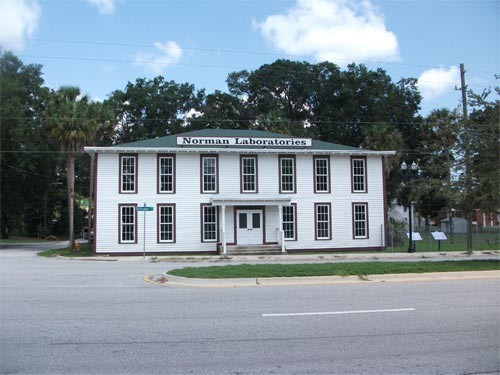 Backstory and Context
During the early days of cinema, Jacksonville, Florida became known as the "Winter Film Capital of the World." This was because of its advantage of climate over other movie-making hubs such as Chicago and New York City. There were over thirty production companies in Jacksonville for a time, including Eagle Film City, which was purchased by inventor Richard E. Norman in 1921. Norman had a long-held interest in the entertainment industry and was particularly fascinated by film and the idea of "talking pictures." He already had experience with filmmaking and running a studio when he turned Eagle Film City into Norman Laboratories, a studio and film-processing center.
Norman Studios was best known for making what was called "race films," movies about African Americans starring actual African Americans. Norman himself was a white southerner, and there is some question about his intentions. Did he want to portray African Americans in a positive light for the sake of equality or in the name of money? Either way, Norman's films provided Black audiences with films that were not degrading or stereotypical. One of his most well-known movies, The Flying Ace, was a war/crime thriller inspired by the first licensed female African American pilot Bessie Coleman.
The studio, like many others in Jacksonville, ceased production in the early 1920s as most filmmakers were heading west to Los Angeles, California. The building was used over the next few decades as a dance studio, operated by Norman's wife Gloria. It was not until the 1990s that residents learned about the history of the property and began working to preserve it. Today, four of the five buildings that made up Norman Studios are owned by the city of Jacksonville and worked on by a non-profit group which hopes to see the property restored.
Sources
A History in the Making. Norman Studios. Accessed January 11, 2018. http://normanstudios.org/about/history/.

Norman Film Studios. National Park Service. Accessed January 11, 2018. https://www.nps.gov/nr/feature/places/14001084.htm. Photo Source

Schwarb, Amy Wimmer. Norman Studios Silent Film Museum: Jacksonville's Movie History. Visit Florida. Accessed January 11, 2018. http://www.visitflorida.com/en-us/things-to-do/attractions/norman-studios-silent-film-museum.html.


Additional Information