Blackstone Hotel (Omaha)
Introduction
When it opened in 1915, Blackstone Hotel operated as a apartment-style hotel with residents renting by the year instead of the night; most units consisted of multi-room suites. By 1920, Vienna immigrant Charles Schimmel purchased the building and converted into an elegant hotel, considered by many to be the region's premier hotel. Indeed, a restaurant called the Orleans Room received Holiday Magazine's "Award for Excellence" sixteen straight years. The reuben sandwich is rumored to have originated at the Blackstone. And despite many sources that suggest that the history of that sandwich might be more complicated, many locals insist that Blackstone is the birthplace of the reuben.
Images
Blackstone Building, 2010.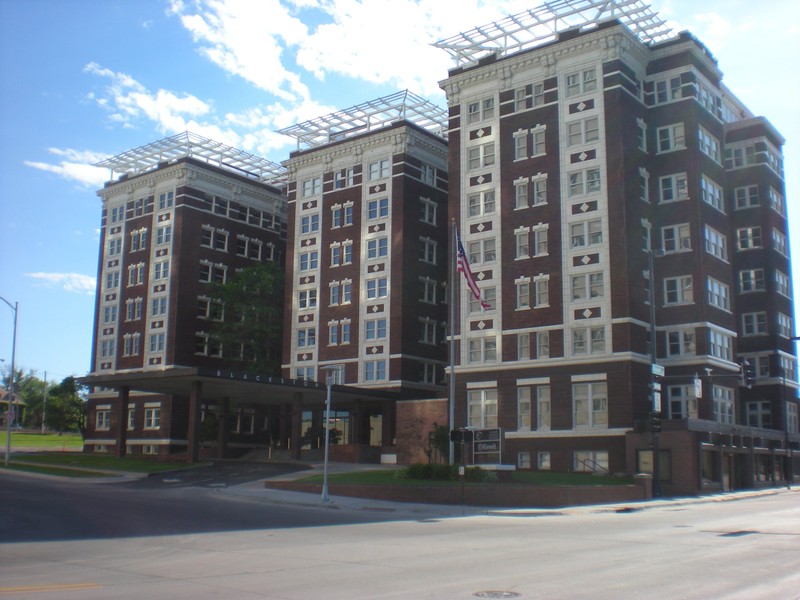 Backstory and Context
The Blackstone Hotel opened in 1916, but it largely served as Omaha's most prestigious hotel after Charles Shimmel, an immigrant from Vienna, purchased it in 1920 and converted it into an elegant hotel. Additionally, the building marks a trend in Omaha from roughly 1910 through 1930, which saw the construction of numerous hotels and apartments in an area west of downtown, a sign of Omaha's population growth and suburban-style (read: wealthy) developments.
By the mid-1910s, the neighboorhood where the Blackstone exists had increasingly transitioned into what became known as the Gold Coast. The wealthiest of Omaha moved away from the old downtown, meatpacking, and railroad centers to more suburban-style areas. One with means could easily access the neighborhood through streetcars as well as the paved Farnam Sreet (for those that who owned automobiles. Some streetcars were designated for private and exclusive use, taking people to country clubs and other places of leisure.
The Blackstone arose in that Gold Coast neighboorhood in 1916 as a family-style hotel. The vast majority of guests rented multi-room units annually rather than nightly, though none of the unites offered patrons kitchens. Nonetheless, patrons enjoyed a wealth of amenities and luxuries. As well, three rooftop gardens provided views of Omaha.
However, the bulk of Blackstone's history involves its function as Omaha's premier hotel, a bastion of elegance. Vienna born Charles Schimmel purchased the building in 1920 and converted it into a luxurious hotel. Residents arriving by train to Omaha enjoyed a limousine ride to the hotel. While there, they could read the Blacksoninan -- the hotel's self-published magazine, party in the ballroom, and enjoy food from the pastry shop and the Orleans Room, the only Nebraska restaurant to receive Holiday Magazines Award of Excellence.
Many believe the birthplace of the Reuben Sandwich occurred at the Blackstone. The story goes that Charles' son, Bernard Schimmel, had returned from Switzerland where he trained to be a chef. His father, Charles, asked him to make a sandwich for Reuben Kulakofsky during a poker game. The Blackstone then put "The Reuben" on the menu in 1925. However, many outside of Omaha have laid claim to inventing the sandwich, as well. Either way, it remains part of the hotel's legacy (factual or otherwise).
In October, 1968, Edward Schimmel sold the Blackstone to the Radisson Management Corporation, but a planned renovation and attempts to revive its old glory proved unsuccessful. The hotel was forced to close in 1976. Since then, management has changed several times, usually operating as office spaces, as it is today (in 2018).
Sources
Horan, Judy, "Crystal and Corned Beef."
OmahaMagazine.com
(Omaha), May 28, 2014. http://omahamagazine.com/articles/tag/Blackstone-hotel/
McKee, Jim. "Omaha's rich, the Blackstone and the Reuben sandwich."
Lincoln Journal-Star
(Omaha), March 20, 2011. http://journalstar.com/news/local/jim-mckee-omaha-s-rich-the-Blackstone-and-the-reuben/article_cd537...
Meyer, Lynn. "Nomination Form: Blackstone Hotel."
National Register of Historic Places.
November 11, 1984. https://npgallery.nps.gov/GetAsset/045a825c-eea1-439b-b977-1f4247392bd4
Spencer, Jeffery.
Building for the Ages, Omaha's Architectural Landmarks.
Omaha: Omaha Books, 2003.
Photo Sources
Blackstone Building, 2010: JonClee86 at en.wikipedia [CC BY-SA 3.0 (https://creativecommons.org/licenses/by-sa/3.0) or GFDL (http://www.gnu.org/copyleft/fdl.html)], via Wikimedia Commons
For more photos see:
Historical Photo Collection: https://web.archive.org/web/20091027033318/http://uk.geocities.com/newmusic011/Blackstonepage.html

Getty Images: https://www.gettyimages.com/photos/Blackstone-hotel-omaha?mediatype=photography&phrase=Blackstone%20...

Additional Information