Stepping Stones
Introduction
Stepping Stones was the home of Bill and Lois Wilson. Bill Wilson was a co-founder of Alcoholics Anonymous and Lois Wilson was a co-founder of Al-Anon, which was created to offer support for families and friends of alcoholics. In addition to the home the couple shared, the site is also home to Bill Wilson's writing shack, which he dubbed "Wit's End." The couple bought the home in 1941 and lived there until their deaths. The home is listed on the National Register of Historic Places.
Images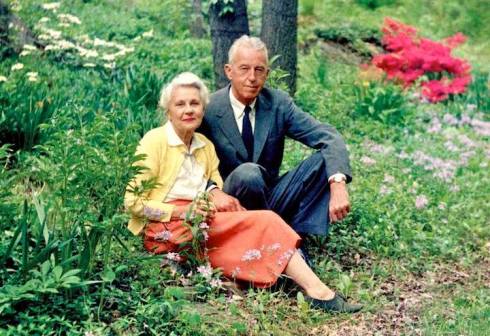 Backstory and Context
Bill Wilson struggled with alcoholism for years until a friend recommended a religious organization called the Oxford Group. The organization was a spiritually-based group and through his affiliation with the Oxford Group, Wilson eventually had a spiritual experience which led him to remain sober for the rest of his life. He never drank alcohol again after 1934.
Shortly after his spiritual experience, Wilson met a doctor who suffered from alcoholism, and the two co-founded Alcoholics Anonymous. Within a few years, a number of alcoholics had achieved sobriety using the methods of the two men, and Wilson began to promote his program of recovery with the publication of a book titled Alcoholics Anonymous. The book discussed the actions necessary for recovery which are known as the Twelve Steps. In time, the program created by Wilson became the basis for a movement by the same name.
It was in Wilson's writing shack at Stepping Stones where he wrote the so-called "Big Book" of Alcoholics Anonymous as well as other publications. After Bill founded AA, his wife, Lois, co-founded Al-Anon, a support group for friends and family members of alcoholics.
Bill and Lois Wilson did not have children. They lived in the home in Katonah until their deaths, his in 1971 and hers in 1988. Upon Lois Wilson's death, the home became the property of the Stepping Stones Foundation, the organization she created in 1979. The organization maintains the property, which is listed on the National Register of Historic Places.
Sources
Branch, Alfred. Stepping Stones Home in Bedford Hills Receives Historic Designation. Bedford Patch. June 08, 2015. Accessed January 11, 2018. https://patch.com/new-york/bedford/stepping-stones-home-bedford-hills-receives-historic-designation.

Stepping Stones Foundation. Katonah Chamber of Commerce. Accessed January 11, 2018. http://katonahchamber.org/community-member/stepping-stones-foundation/.


Additional Information