Amzie Moore House
Introduction
Amzie Moore was a prominent civil rights leader in the Delta beginning in the 1940s. Moore built the house in 1941, the first brick home owned by an African American in Cleveland. Moore is often referred to as a "civil rights giant." In 1950, he founded the Regional Council of Negro Leadership (RCNL). The RNCL hosted public meetings where prominent speakers, including Thurgood Marshall, addressed Delta audiences. RCNL also held voter registration classes, including some in Moore's home. Along with Herman Perry, Moore started the Bolivar County Voters League. He served as the first president of the Cleveland NAACP chapter as well Vice-President of the State Conference of the NAACP.
Images
Civil rights leader Amzie Moore built this house in the 1940s.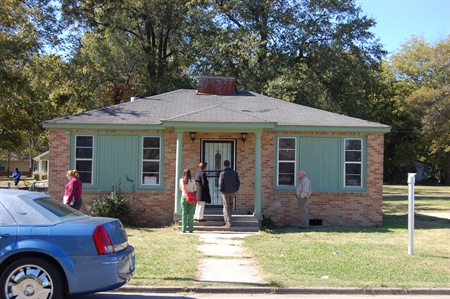 Backstory and Context
Moore started the first Head Start program in Bolivar County. He worked for voting rights, social justice, economic development, education and better employment for African Americans.
The many people who visited with Amzie Moore in his Cleveland home include Fannie Lou Hamer, Bob Moses, Medger Evers, Stokely Carmichael, Thurgood Marshall and Dr. Martin Luther King.
Sources
Interview with Amzie Moore by Michael Garvey, March 29 & April 13, 1977, Center for Oral History and Cultural Heritage, University of Southern Mississippi.
Additional Information