River Road Queen Welcome Center
Introduction
The Great River Road parallels the Mississippi River from Minnesota to Louisiana. In grand tradition, our state Welcome Center resembles the Victorian riverboats that once ruled the Mighty Mississippi. This unique structure originally served as the State of Mississippi Exhibit in the 1984 New Orleans World's Fair.
Images
River Road Queen Welcome Center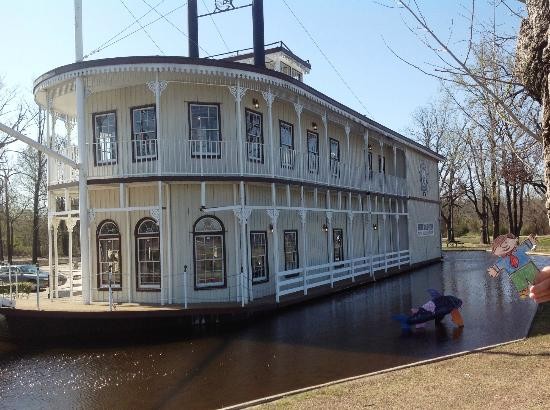 Backstory and Context
The steamboat replica RIVER ROAD QUEEN was built for the Mississippi Pavilion on the New Orleans World´s Fair in 1984. The second floor houses a small display of river artifacts including the whistle of the steamer KATE ADAMS.
1) http://www.steamboats.org/traveller/lower-mississippi-river/greenville.html


Historic Locale
What brought us here and made us what we are is the Mighty Mississippi. We are the land of cotton and the Delta Blues, where the stories are bigger than catfish and as powerful as the waters of Ole Man River. We have been shelled, invaded, burned, flooded and plagued. And still we capture imaginations and treat our visitors warmly like long-lost friends.
On the banks of this colossal river is Greenville, a wellspring of music, literature, adventure, imagination, history and plain old fun. Greenville has inspired greatness from Native Americans to cotton barons, Pulitzer-Prize winners, Civil Rights leaders, Bluesmen, poets and inventors.
We're proud to share Greenville and Washington County with all; discover for yourself that there's more than meets the eye in this land of rich customs and folklore, creativity and physical beauty that make up one of America's most unique destinations.
Greenville is today in its second location, three miles from the original site. Prior to the Civil War, Greenville was a thriving hamlet; a cultural and business center for the large cotton plantations that surrounded it. During the siege of Vicksburg, a Union gunboat landed, and when fired upon, its troops burned down every building in town. At war's end, returning Mississippi regiments found their homes gone and their families scattered among area plantations.
A decision was made to rebuild on the highest point on the Mississippi River between the towns of Vicksburg and Memphis. However, Greenville continued to see its share of tragedies. In 1877, yellow fever decimated the community. A third of the population of 1,000 died, including the mayor and four of five councilmen. Soon after the city was chartered in 1886, a group of cotton planters, factors, buyers, and merchants organized the cotton exchange. Due to the rich Delta soil, cotton became king and prosperity followed.
In 1890, Greenville suffered its first flood, covering half the city. Then, after years of growth, the levee eight miles north of Greenville broke in 1927, and a torrent 10 feet deep and the size of Rhode Island flooded in, completely covering the delta for three months. It was one of the greatest natural disasters in our nation's history.
Greenville has a rich artistic heritage. In the 20th century, more than 100 published writers, including Shelby Foote, Hodding Carter, and Walker Percy, called Greenville home-more than any town of its size in the country. Muppet creator Jim Henson was born here and raised nearby. World-famous Delta blues musicians are honored on the Greenville Blues Walk, and venues on historic Walnut Street offer live music that continues that tradition
Sources
1) http://www.steamboats.org/traveller/lower-mississippi-river/greenville.html 2) http://www.visitgreenville.org/things-to-do/historic-locale
Additional Information