Bemis Omaha Bag Company Building
Introduction
The Bemis Omaha Bag Company Building -- built in 1887 -- stands as a prominent representation of the late 19th-century factory and warehouse styles of architecture. The Bemis company helped transform the transportation of flour and grains from wooden barrels to bags, which grew even more popular as railroads dominated the U.S. landscape during the late parts of the Gilded Age (late 19th / early 20th century). The Omaha location was the second Bemis branch, but the company eventually opened branches throughout the country and invested overseas. Bemis occupied the building until the 1970s.
Images
Bemis Building - Popular warehouse style that developed during the late 19th / early 20th century, now often serving as loft apartments in the 21st century in many urban communities.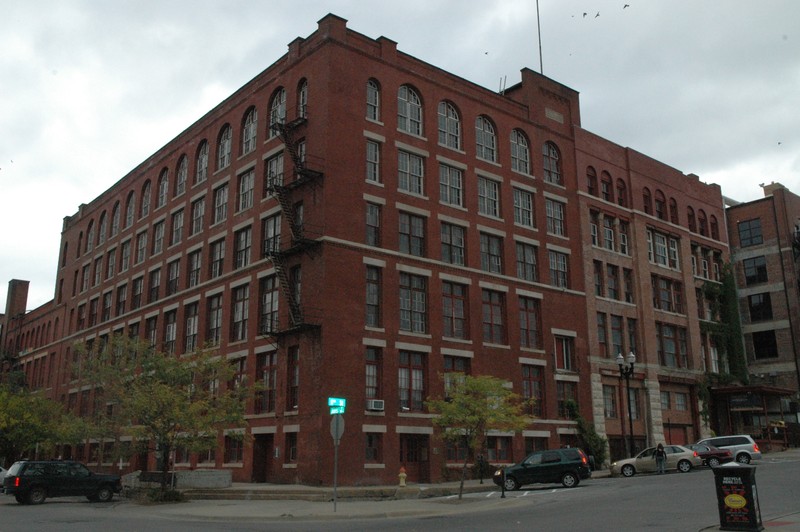 Historic Bemis Photo: Taken roughly at the turn of the 20th century.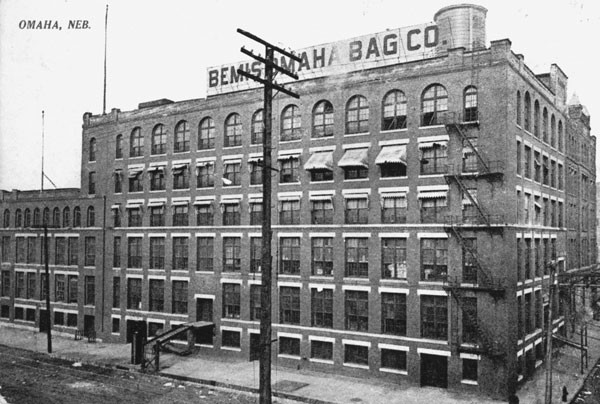 View from 614 S 11th Street.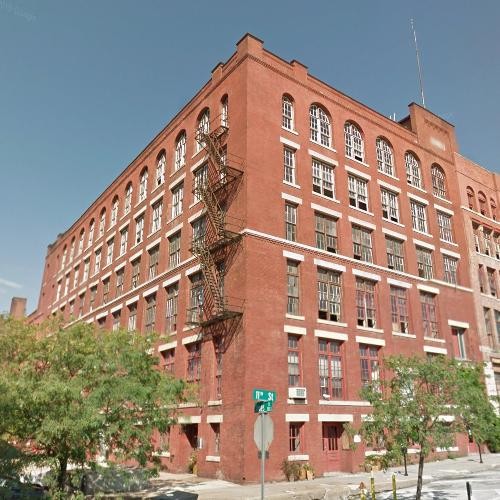 "Bemis Bag Company Building," built for theTrans Mississippi & International Exposition in Omaha, 1898.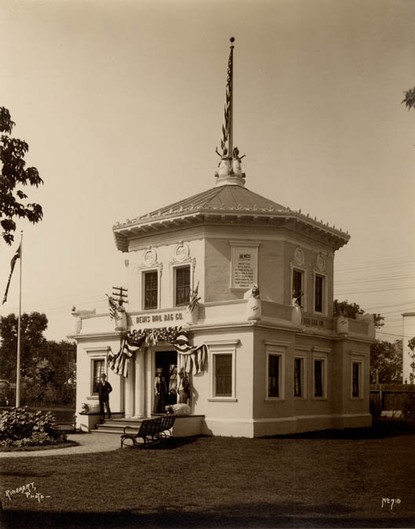 Backstory and Context
The Bemis Omaha Bag Company Building, which opened in 1887, stands as a reminder of the prominence of late 19th-century (Gilded Age) factory and warehouse building development in urban areas. The Bemis company achieved substantial success selling bags and sacks used for flour, grain, and other commodities throughout the nation. The Omaha building opened as the company's second branch; the company's origins date back Judson Bemis' small bag factory in St. Louis in 1858. The company eventually opened offices throughout the nation and invested overseas.
At a time when wooden barrels existed as the popular means through which to transport flour, Judson Moss Bemis (1833-1921) demonstrated deft innovation by producing cotton bags that could carry the fluor. As wooden barrels grew increasingly expensive during the latter half of the 19th century, the popularity of Bemis' increased and eventually led to the creation of Bemis Bro & Co. in 1871.
The mechanization and industrialization that grew after the Civil War -- the dawn of the Industrial Revolution -- dramatically changed the milling industry, especially by the 1880s and 1890s, and this included the milling of wheat and grains. The introduction of chilled steel rolls used in grinding wheat allowed for expanded and quicker flour production at a lower cost.
In 1882, eleven years after partnering with his brother in Boston, who aided in the handling of financial and business matters, Bemis opened his first branch factory in Minneapolis. It was there that advancements in milling technology showed the most promise.
Five years later, Bemis opened the Omaha location, not for its milling culture but because of its ever-growing strength as a railroad town -- a hub that efficiently (and economically) allowed for the transport of goods from California to Chicago and onto New York. As well, the Omaha location strategically allowed Bemis, Bro & Co. to compete with its competitor who had set up shop in Kansas City.
The Omaha branch initially employed sixty persons who manufactured burlap and cotton bags and dealt in grain bags and twine. The company's success led to two large additions to the Omaha location between 1898 and 1902; Nationally, the Bemis Company operated six factories and by the early 20th century managed foreign investments, too. Bemis also created a "company town" referred to as Bemis, Tennessee. The Bemis Company occupied the Omaha branch buildings until 1978 when it moved to new quarters.
The Bemis Bag Building stands as a monument of Gilded Age entrepreneurship and the resultant popularity of large warehouses, factories, and railroad-town industrial neighborhoods. Subsequently, the era gave birth to a rise in warehouse architecture, developed in Chicago and New York, that involved form over function with minimal ornamentation.
Sources
Sources:


"Bemis." Bemis 150. Accessed January 09, 2018. http://www.bemis150.com/content/timeline.asp.

Sennott, Stephon, R, ed. Encyclopedia of Twentieth Century Architecture. Vol 1. London: Fitzroy Dearborn, 2004.

Sodhi, Penny Chatfield. "Nomination Form: Bemis Omaha Bag Company Building." National Register of Historic Places. November 19, 1984. https://npgallery.nps.gov/GetAsset/f5d52ec6-89e2-47f7-b4b0-1850a2aaff9f/

White, Richard. Railroaded: The Transcontinentals and the Making of Modern America. New York. W.W. Norton, 2011.


Photo Sources:

Bemis Bag Company Building (Exposition Building, 1898): Omaha Public Library, accessed through https://web.archive.org/web/20080905190536/http://www.omahapubliclibrary.org/transmiss/research/clea...

Bemis Building: By PhotoMary - Own work, CC BY-SA 3.0, https://commons.wikimedia.org/w/index.php?curid=16923997

HIstoric Bemis Photo: Omaha Magazine, http://omahamagazine.com/articles/historic-buildings-of-the-old-market/

View from 614 S. 11th: Virtual Globetrotting, http://c1.vgtstatic.com/thumb/2/1/218214-v1-xl/bemis-omaha-bag-company-building.jpgBemis. Bemis 150. http://www.bemis150.com/content/timeline.asp.




Additional Information