Morgantown Glass Factory (1900-1989)
Introduction
The Morgantown Glass Company manufactured table glassware in Morgantown's Seneca neighborhood, now Sunnyside, for over seventy years. The company operated under numerous names including the Economy Glass Company, Old Morgantown, Morgantown Glass Works, Inc., and Morgantown Glassware Guild, which reflected changes in the company's business model and responses to larger trends in the industry. Morgantown Glass is most famous for producing the official White House crystal of John F. Kennedy, hand-chosen by First Lady Jacqueline Kennedy in 1961. The company was acquired by Fostoria Glass in 1965 and disbanded in 1971. The factory was demolished in 1989 to build the Morgantown Energy Associates power plant along the Monongahela River.
Images
The Morgantown Glass factory was conveniently located along the railroad and river, which provided the company was easy transportation. West Virginia and Regional History Center, WVU Libraries.
Jacqueline Kennedy selected this style of glassware produced by Morgantown Glassware Guild as the official White House crystal. Photo by Pamela Curtin.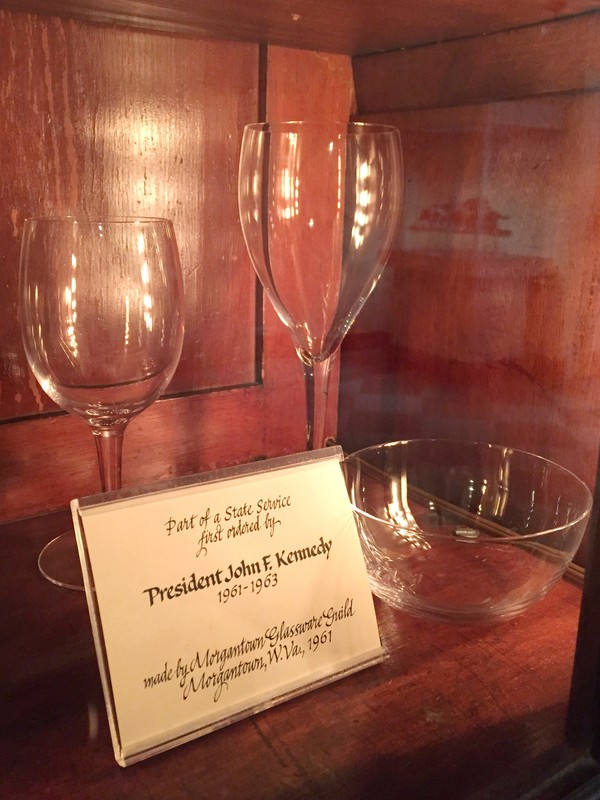 Backstory and Context
Frank Bannister established the Morgantown Glass Company in 1899 after gaining credibility in the glass industry.1 In 1900, the Morgantown Building-Investment Company granted land to Morgantown Glass Company. Additionally, "Lot 4, block 18 – Seneca" was also sold to Morgantown Glass in the same year, but the grantor is J. W. Wiles and Co, a "banker and developer."2 The factory sat on a plot of land bound by the Monongalia River to the west, the railroad to the east, the virtual extension of Sixth Street to the north, and Fifth Street to the south.
As indicated by the company's name, the original Morgantown Glass Company went through several periods of change from 1900 to 1971, when the factory ceased operation.3 Initially, the Morgantown Glass Company plant produced a generic line of blown glass tumblers and pressed tableware and tumblers; however, it expanded its offerings to include blown stemware and barware once the company reincorporated as Economy Tumbler in 1903. W. E. Hunter is credited with improving and rebuilding the plant between 1917-1919 which led the company to compete in colored glassware for both commercial clients and the home market.4
Based on the company's newly expanded product line, they reincorporated as Economy Glass Company. Later, in the 1920s, they began to advertise using the "Old Morgantown" label, drawing on the past. Yet another name change occurred in 1929, when the company became Morgantown Glass Works, Inc., until the plant's first closure in 1937. Joseph Haden, a respected figure in the local glass industry, is credited with "saving the company" when he reopened it as Morgantown Glassware Guild in 1939, using an employee-owned model inspired by a Weston glass plant. In this model, all workers contributed their skill to the company, reaping benefits from factory-made profits. Haden's sons eventually took over the company.5
The history of Morgantown Glass reflects both the expansion and eventual decline of the glass industry in Morgantown in the late nineteenth to the mid-twentieth centuries. Morgantown Glass peaked in World War II, when glass companies benefited from the high demand for American-made products. After the war, competition from European products led to the declining demand for American handmade glass, which led the company to discontinue operations as a worker's collective, and it reverted to an employee-only operation.6
Morgantown Glassware Guild managed to stay competitive for several decades by innovating and keeping abreast of lifestyle trends. Most notably, Morgantown Glassware Guild produced the official White House crystal of John F. Kennedy. In 1961, First Lady Jacqueline Kennedy ordered a set of glassware in a simple pattern called "The President's House," which contrasted traditions of ornate glassware. Mrs. Kennedy's choice ushered in an era of simple glassware on tables across America that remains to this day.7
In the late 1950s and early 1960s, larger glass companies began to make purchase inquiries of the Morgantown Glassware Guild.8 In 1965, President Samuel Haden wrote a letter to customers announcing the sale of the company to Fostoria Glass, based in Moundsville, WV. The factory ceased operations in 1971, despite Haden's assurance otherwise. After sitting vacant for nearly two decades, the parcels came into the hands of Morgantown Energy Associates (MEA) in 1989 which demolished the abandoned glass factory and built a new power plant on the site in 1991. The facility was the result of a partnership with WVU which relied on the power plant as a primary source for steam and heating.9
Sources
1. Jeffrey B. Snyder, Morgantown Glass: From Depression Glass Through the 1960s, (Schiffen Publishing Co, 1998).
2. Deed of Sale, J.W. Wiles to Morgantown Glass Company, 1900, Monongalia, Co, Monongalia County Records Office, Morgantown, WV.; J. W. Wiles, Morgantown's Suburbs, (J. W. Wiles, n.d.). 43
3. Snyder, Morgantown Glass.
4. Jerry Gallagher, A Handbook of Old Morgantown Glass (Payne Publishing, 2001).
5. Ibid.
6. Jerry Gallagher, A Handbook of Old Morgantown Glass, Payne Publishing, 2001, 178; Richard H. Slavin, The Pressed and Blown Glassware Industry: WVU, 1963, 6-7.
7. "White House Crystal: John F. Kennedy," Accession Number KN-C19469, John F. Kennedy Presidential Library and Museum, accessed January 2018 https://www.jfklibrary.org/Asset-Viewer/Archives/JFKWHP-KN-C19469.aspx
8. Gallagher, A Handbook of Old Morgantown Glass, 184, 196.
9. Morgantown Energy Associates, Financial Statements, 2011, 6.
Images:
"Economy Tumbler Company, Seneca, Morgantown, W.Va.," Photograph, 1920. West Virginia and Regional History Center WVU Libraries. Accessed January 2018.
Research compiled by Michelle Sloan. Edited by Elizabeth Satterfield and Pamela Curtin.
Additional Information