Clark R. Griggs House
Introduction
This red brick Italianate house was built in 1871 by Clark Robinson Griggs, a railway developer and mayor of Urbana. Griggs had arrived in Illinois in 1859. He worked as a farmer and then as a sutler (a merchant who sold provisions to an army) for the Union during the Civil War. Following the war, he became mayor of Urbana and contributed to the decision to locate the University of Illinois in Urbana-Champaign. Griggs himself never lived in this home since he moved east to manage his investments in the railway system. His son lived here instead. The Griggs House remains well-preserved into the present day.
Images
This Italianate house dates to 1871.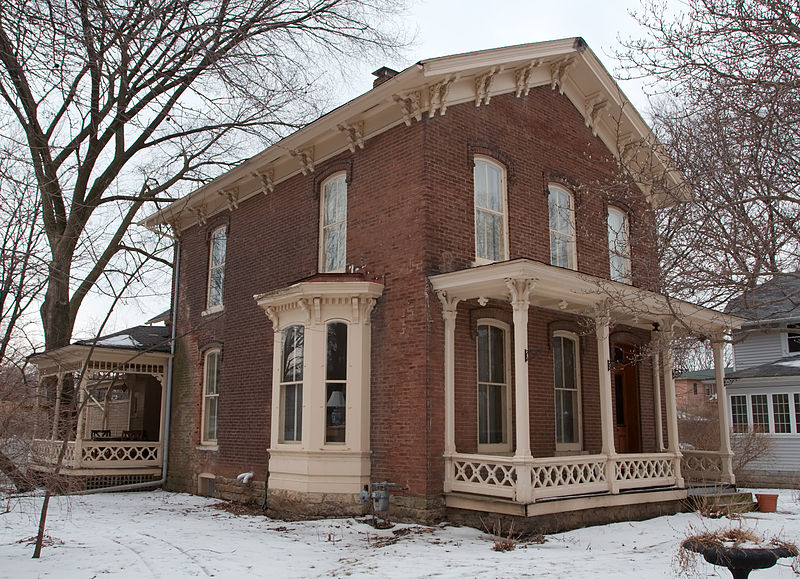 Backstory and Context
Architecture of the House
The Clark Griggs House features an asymmetrical layout and a front porch with wooden trim and balustrade. The foundation is made of random-cut limestone, and the house itself is brick. The interior preserves some original details, such as leather paneling in the stairway.
The house dates to 1871, plus two additions, most likely added in the 1880s and 1890s. Despite these early additions, the house retains a high level of architectural integrity and preservation.
Clark Griggs

Born in 1824, Clark Robinson Griggs served in the Massachusetts House of Representative before moving to Illinois in 1859. He bought a farm near Philo, Illinois, but his farming career ended early due to a machinery accident that crushed his hand. He then moved to Urbana and became a merchant, which led to his appointment as sutler to the
25th regiment Illinois Volunteer Infantry during the Civil War. After the war, he became involved in state politics and is perhaps most remembered for his role in deciding the location of the University of Illinois.
According to one biographer,
No man ever lived in Champaign county who exercised a greater influence or accomplished more good for the county than Clark R. Griggs. That splendid temple dedicated to learning, the University of Illinois, will always stand as a monument to his indomitable energy and perseverance. Its location here in Urbana was due to his labors, his perseverance and masterly management when its location was pending for settlement. The building of the great I., B. & W. railway is another result of his enterprise, sagacity and continued perseverance. The difficulties surrounding its building would have discouraged almost any other man, but the greater the difficulty the higher his courage rose. He absolutely knew no such word as fail. (Mathews, 63-64:
full citation below).
Sources
Image credit 1: https://commons.wikimedia.org/wiki/File:ClarkRGriggsHouse_Urbana_Illinois_4436.jpg.

Mathews, Milton, and Lewis McLean. Early History and Pioneers of Champaign County. Urbana, IL: Champaign County Herald, 1886. p. 63-64. Excerpt available online here: http://www.illinoisancestors.org/champaign/bios/earlyhis/griggsclark.html.

Miller, Patricia L. "National Register of Historic Places Inventory--Nomination Form: Clark R. Griggs House." U.S. Dept. of the Interior, National Park Service. July 12, 1978. Accessed January 02, 2018. http://gis.hpa.state.il.us/pdfs/200175.pdf.



Additional Information