Chemical Laboratory (Harker Hall)
Introduction
This historic Second Empire-style campus building was constructed in 1877 as a state-of-the-art chemical laboratory for the University of Illinois. Architect Nathan Clifford Ricker, who taught in the university Architecture Department, directed the project--his first major architectural work. The University of Illinois Law School occupied the hall from 1902 to 1927, and the hall was named after Oliver A. Harker, who served as Dean of the Law School from 1903 until 1916. It later contained offices and classrooms for the School of Life Sciences. Harker Hall was restored in 1991 to resemble more closely its original appearance. It now houses the University of Illinois Foundation.
Images
Built in 1877, this building originally served as the University's chemical laboratory. Harker Hall was completed in the same era as Altgeld Hall and the Natural History Building.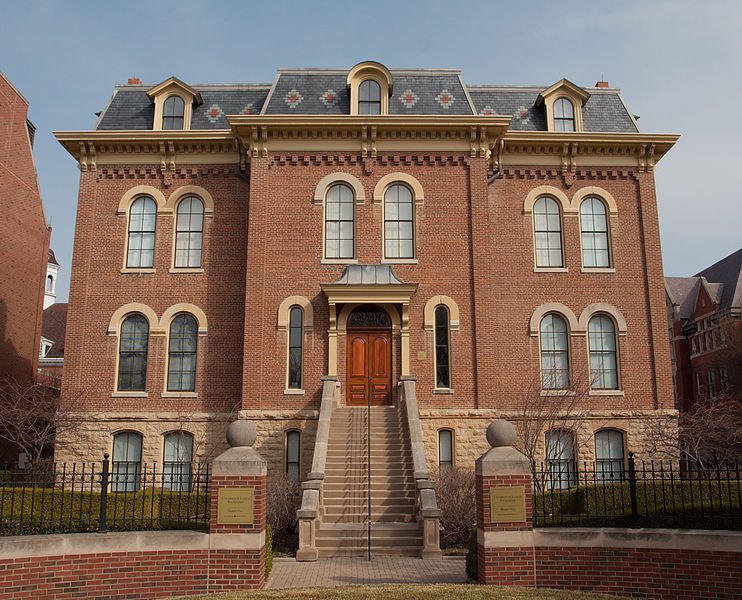 Backstory and Context
The University Board of Trustees decreed that Harker Hall must be built in Second Empire style to complement University Hall (designed by J.M. Van Osdel and demolished in the 1930s). Van Osdel served as a consultant on the project, but architect Nathan Ricker was ultimately responsible for the designs. Ricker also collaborated with Chemistry professor Weber to ensure that the chemistry lab building would be functional and up-to-date.

The hall is made of brick and features an I-shaped layout. Some of Ricker's own students worked as drafters on the project, and university architecture students produced millwork for the hall in the campus wood shop.

An 1896 fire caused by lightning strike damaged the building. Architect James White, one of Ricker's colleagues, took charge of restoring it and decided at this time to replace the old mansard roof with a hip roof. 1902 saw the construction of a new chemical laboratory on the university campus. The original laboratory building was then re-purposed for the new Law School, which operated in the building from 1902 and 1927. From 1927 to 1989, Harker Hall housed classrooms, labs, and offices for the School of Life Sciences.

A 1991 restoration returned Harker Hall to its earlier appearance. It regained its original mansard roof, and the brick Italianate exterior was restored. Interior restorations stripped away modern alterations and returned the interior to an 1870s aesthetic.



Sources
Image credit 1: https://en.wikipedia.org/wiki/File:HarkerHall_Urbana_Illinois_4557.jpg.

Cassens, Amy, Bret Johnson, David Garner, and Janice Stein. National Register of Historic Places Inventory--Nomination Form: Chemical Laboratory (Harker Hall). U.S. Dept. of the Interior, National Park Service. Accessed January 02, 2018. http://gis.hpa.state.il.us/pdfs/201427.pdf.

"Harker Hall." University of Illinois Foundation. Accessed February 01, 2018. https://uif.uillinois.edu/harker-hall.