African American Museum of Dallas
Introduction
This Dallas museum dates back to the holdings and exhibits of Bishop College, a Historically Black College in Marshall established by the American Baptist Home Mission Society. Thanks to over 50,000 donations and a successful bond election in 1985, the museum is housed in a modern building that includes a variety of galleries for African and African American art in addition to displays that preserve the history of African Americans in Texas. The museum offers a variety of programs and special exhibits that change throughout the year, in addition to exhibits of its major collection in African Art, African American Folk Art, and African American Fine Art that includes works from the early 19th century to the present. Visitors can also tour an exhibit that preserves the history and culture of the largest Black enclave in Dallas.
Images
This museum is made of ivory in the shape of a cross. The institution dates back to a smaller museum exhibit offered by the Special Collections department of Bishop College in 1974.

The interior lobby of the museum connects to each of the galleries and exhibit spaces.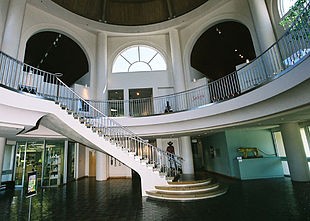 Learn more about African American history in Texas with this book from the University of Oklahoma Press.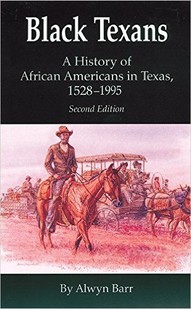 Backstory and Context
Bishop College was named in honor of Nathan Bishop, a leader in New England schools. After her husband passed away, Carolina Caldwell Bishop offered several large donations that helped to finance the creation of the school. With the help of white and Black religious leaders in Texas, the school began enrolling students in theology and liberal arts courses in 1881. Bishop College closed in 1988 due to low enrollment and a scandal that led to the loss of accreditation, librarians and community members saved the collection by creating this museum. The former campus was acquired by Paul Quinn College, which moved from Waco to Dalas in 1990.

The museum was established in 1974 by Dr. Harry Robinson as Southwest Research Center and Museum of African-American Life and Culture. The museum was located in a single room on the second floor of Bishop College's library. Thanks to Robinson's efforts, the museum's collections grew rapidly with major gifts of art as well as several matching grants. Bishop College experienced a financial crisis in the late 1970s that led to the museum becoming an independent organization in 1979. When the college declared bankruptcy in 1988, the museum moved to a series of temporary facilities throughout the city.

Thanks to a number of donations, grants, and a bond, the museum's directors were able to purchase land and hold a groundbreaking ceremony for their new facility on November 4, 1989. Plans for the building grew as a growing number of donations came in from around the country. Thanks to over 50,000 individuals and major corporate sponsors, the original $3 million construction plan was expanded to a 38,000 square foot facility that cost a total of $7 million.

The central lobby serves as a gateway for four individual vaulted galleries that offer a variety of art and history exhibits. The museum holds one of the largest and most significant African American Folk Art collections in the United States, as well as a small research library.There is also a studio and a theater for classes, lectures, and performances.
Sources
Handbook of Texas Online, W. Marvin Dulaney, "Dallas African American Museum," accessed June 26, 2016, http://www.tshaonline.org/handbook/online/articles/lbd04.

Handbook of Texas Online, Jack Herman and Peggy Hardman, "Bishop College," accessed June 26, 2016, http://www.tshaonline.org/handbook/online/articles/kbb11.

African American Museum, "About Us," (accessed 6/26/16) http://www.aamdallas.org/#!about/cipy.
Additional Information