Skunk Hollow (Free Black Community) Historical Marker
Introduction
For roughly a century, a small community of free Blacks and former slaves flourished along the New Jersey-New York state line. The community, called Skunk Hollow, began in 1806 when a former slave, Jack Earnest, purchased land in what is now Palisades Interstate Park. Residents of Skunk Hollow usually referred to it as "the Mountain." There is some information to suggest that the marker is no longer standing.
Images
Skunk Hollow historical marker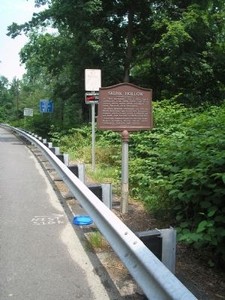 Backstory and Context
There is a little-known and nearly hidden piece of African American history that sits roughly on the boundary between New York and New Jersey on Route 9W. For nearly a century, that area was known as Skunk Hollow and it was a thriving community of free Blacks and former slaves.

Skunk Hollow, or "the Mountain," as residents called it, began in 1806 when a former slave named Jack Earnest bought five acres and 30 square rods of woodlot for $87.50. Earnest was born a slave nearby but was able to purchase his freedom. The land was rocky and not suitable for agriculture, and white settlers who had earlier attempted to make a life on that land had already given up and gone elsewhere. It is likely that Earnest was able to buy the land because of its undesirability to white farmers.

By the late nineteenth century, Skunk Hollow peaked with 75 residents. Though they were poor, a number of them were well-off compared to most African Americans of that time. Several of the community's families were apparently landowners. There was also a church at Skunk Hollow, but when the community's population declined, that congregation moved north and formed St. Charles A.M.E Zion Church.

Skunk Hollow's population peaked in 1880, but within about five years, the community declined precipitously. The exact reasons for the community's decline are not known, but it was likely tied to the fate of its most prominent citizen--Reverend William Thompson. Thompson purchased Jack Earnest's land following the elder man's death, and for much of Skunk Hollow's history, Thompson was both the financial and spiritual authority of the town. Within a few years of Thompson's death, the community had begun to decline.

Records indicate that Skunk Hollow was abandoned sometime between 1907 and 1911, while other records indicate that a few families managed to remain on the Mountain until the Great Depression. In the 1930s, the Rockefellers purchased the land, which they then donated to form Palisades Interstate Park. Most of the remaining buildings were demolished during the construction of Palisades Parkway.

The African American Historical Society of Rockland County erected a historical marker near the site of Skunk Hollow on Route 9W. Some information suggests that the marker has fallen over and has not yet been repaired.


Sources
Barbara, Philip. The Legends of Skunk Hollow. New York Times. January 10, 1982. Accessed December 29, 2017. http://www.nytimes.com/1982/01/10/nyregion/the-legends-of-skunk-hollow.html.


Additional Information