Gallagher Building, Omaha
Introduction
Built in 1888 as a St. Louis Flat building style, commercial entities occupied the lower floor while residential apartments existed on the upper floor. The Raba family proved to be its longest resident, operating a butcher shop and renting one of the apartments from 1905 until 1983. The masonry used represents a change from the old framing style, while the south-city location of the construction speaks to Omaha's 350% population growth in the 1880s that forced a geographical expansion away from the city's center.
Images
The Gallagher Building was constructed in 1888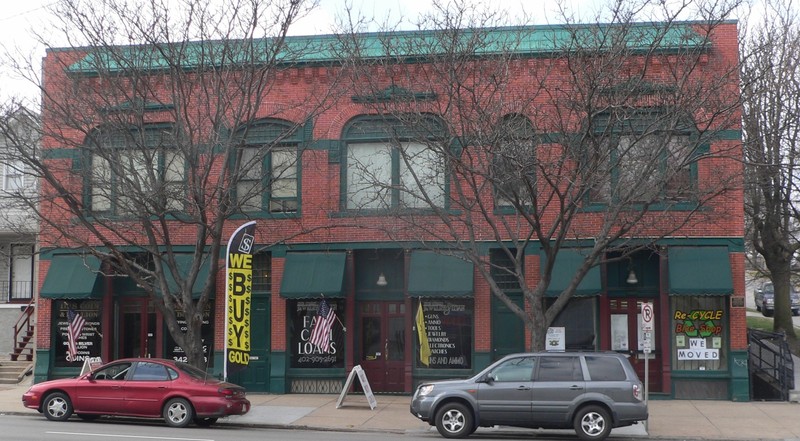 Backstory and Context
The Gallagher Building, a commercial-flat (or St. Louis Flat) building style, built in 1888 at 1902-06 South 13th in Omaha, Nebraska, primarily served commercial interests on the ground floor while residential units occupied upper floors. Though the building carries the Gallagher name, the family sold the property in 1905 to the Raba family, who operated a butcher shop and resided in at least one of the apartments until they sold the property in 1983.
Omaha's rapid growth from 30,000 to 140,000 (more than a 350% increase) during the 1880s resulted in geographical expansion, notably to the south in the latter quarter of the 19th century. The Gallagher building is located 16 blocks south of downtown where horse railway lines had been extended along South 13th in the mid-1880s; the street became a major transportation route. The area also developed into a Czech enclave.
The Gallagher Building represents the beginning of the second generation of construction activity along 13th Street where masonry replaced old-style framing methods.
In addition to the butcher shop, the building also hosted such businesses as a grocery store, barber shop, art restorer, and neckwear manufacturer,
Sources
Garver, Bruce M. "Czech-American Freethinkers on the Great Plains, 1871-1914," in Frederick C. Luebke, ed. Ethnicity on the Plains. Lincoln, NE: University of Nebraska Press, 1980.
Landholm, Dawn. "Nomination Form: Gallagher Building, Omaha." National Register of Historic Places. March, 1994. http://www.nebraskahistory.org/histpres/nebraska/douglas/DO09-Gallagher-Bldg.PDF
Larsen, Lawrence H. and Barbara J. Cottrell, Gate City: A History of Omaha. Lincoln: University of Nebraska Press, 1997.


Nebraska State Historical Society. https://history.nebraska.gov/
Photo By Ammodramus - Own work, CC0, https://commons.wikimedia.org/w/index.php?curid=18857384
Additional Information