Betty Friedan (The Feminine Mystique) Historical Marker
Introduction
The modern feminist movement traces its origins to many sources, one of which is the publication of The Feminine Mystique by Betty Freidan. The book explored and gave voice to a "silent" question asked by many women who felt at least partially unfulfilled with their roles as wives and mothers. While women in the early 1960s valued these roles and relationships, Friedan understood that many of them quietly asked themselves "is this all?" The significance of Freidan giving voice to this question can be seen by the response to the book as tens of thousands of women explored the question and challenged the notion that women should be defined primarily by these gendered roles and expectations. This book and the discussions it spurred led more women to express dissatisfaction with the limited gender roles and led to organizations and movements that challenged many of the expectations of American life. Friedan became one of the founders of the National Organization for Women (NOW) which brought many legal cases against companies that refused to hire or promote women on the same terms as men. At the time she wrote The Feminine Mystique, Friedan was living in Grand-View-on-Hudson with her family and this historical marker was dedicated in 2011 in commemoration of the significance of that work.
Images
This marker commemorating Betty Friedan was dedicated in 2011.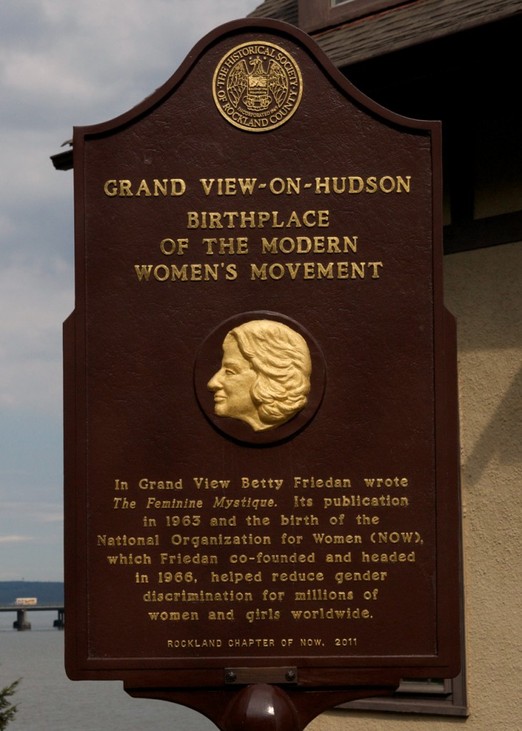 Betty Friedan. For more about her work and an examination of the significance of The Feminine Mystique, please consider the books and articles below.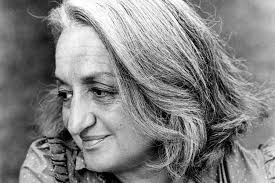 Backstory and Context
Betty Friedan had a comfortable upper- middle class life in Grand-View-on-Hudson at the time of her fifteenth college reunion in 1957. At her reunion, Friedan surveyed her Smith College classmates, most of whom--like herself--lived comfortable, outwardly happy lives as wives and mothers. Her surveys revealed that many women felt the same dissatisfaction that she felt; that doing what society expected of them left many of her contemporaries feeling the same lack of fulfillment that she felt.

She published the results in a series of articles, and later expanded that work into a book, The Feminine Mystique. The book was published in 1963 and was an immediate sensation. Many historians credit Friedan's work as launching second-wave feminism.

In 1966, Friedan and other feminists founded the National Organization for Women (NOW). The organization was primarily focused on securing women's rights, particularly equal employment opportunities and pay, and equal access to education. NOW also supported passage of the Equal Rights Amendment, reproductive rights, and LGBT rights.

In 2011, the Historical Society of Rockland County placed a marker in honor of Friedan in Grand-View-on-Hudson. The marker identifies the town as the "birthplace of the modern women's movement" and features an image of Friedan in profile. The marker was placed in front of the Village Hall, which has since been demolished because of damage sustained during Hurricane Sandy.
Sources
Betty Friedan. History.com. Accessed December 28, 2017. http://www.history.com/topics/womens-history/betty-friedan.

Pfingsten, Bill. Grand View-on-Hudson, Birthplace of the Modern Women's Movement. Historical Marker Database. Accessed December 28, 2017. https://www.hmdb.org/marker.asp?marker=84113.


Additional Information